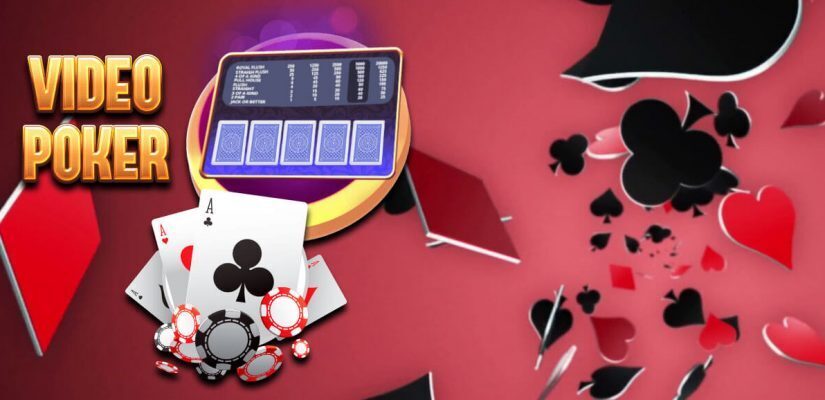 Video poker is all the rage these days.
Land-based casinos have offered different video poker games for decades, but it's never been easier than it is today to enjoy a similar experience from home.
Thanks to video poker apps and online casinos, you can play video poker even if you're not within 500 miles of a brick-and-mortar casino. As long as you have a device with a functioning internet connection or cellular signal, you can play real money video poker whenever and wherever you want.
So, if you're looking to play video poker online, which games should you play? The following are 10 exciting video poker games available over the internet right now.
Top-1o Video Poker Games
Jacks or Better
If you've played video poker games in the past, there's a good chance you've played Jacks or Better. This is probably the most common video poker game out there, available on the vast majority of machines at both land-based and online casinos.
This game is also sometimes called "Draw Poker." The full-pay version of the game is also called 9/6 Jacks or Better because of the payout structure. The payout for a full house is nine times the value of the original wager, while the payout for a flush is six times the risk.
Jacks or Better is an easy-to-learn video poker game based on five-card draw. You're dealt five cards at the beginning of the game, and you subsequently decide which to keep and which to throw away.
Your payout is based on the hand you have after your second draw. A pair of jacks or higher is the lowest-paying hand, which means a pair of tens or lower nets you nothing.
The best-paying hand is a royal flush, which will pay off at astounding 800-to-1 odds. The full payout structure is as follows:
Hand
Prize
Combinations
Probability
Return
Royal Flush
800
41,126,022
0.000025
1.9807%
Straight Flush
50
181,573,608
0.000109
0.5465%
Four of a kind
25
3,924,430,647
0.002363
5.9064%
Full House
9
19,122,956,883
0.011512
10.3610%
Flush
6
18,296,232,180
0.011015
6.6087%
Straight
4
18,653,130,482
0.011229
4.4918%
Three of a kind
3
123,666,922,527
0.074449
22.3346%
Two Pair
2
214,745,513,679
0.129279
25.8558%
Jacks or Better
1
356,447,740,914
0.214585
21.4585%
All Other
0
906,022,916,158
0.545435
0.0000%
Joker's Wild
Joker's Wild – or Joker Poker – is similar to Jacks or Better. However, instead of a standard 52-card deck, Joker's Wild features a 53-card deck that includes, of course, the joker card.
The joker acts as a wild card in this game, which means it can be assigned any value. While the payouts in this video poker game are comparable to those found in Jacks or Better, there are a few differences.
One of the main differences is that the payouts in Joker's Wild start with a pair of kings, which means pairs of queens or anything lower offer no payout. While the payout for pairs in Jacks or Better is 2-to-1, the payout for pairs of kings or aces in Joker's Wild is 1-to-1, or even money.
Because of the wild card, however, it is possible to draw five-of-a-king in Joker's Wild. That rare hand pays out at healthy 200-to-1 odds.
Deuces Wild
Deuces Wild is another very popular video poker game. Jacks or Better is probably the only game that gets more play, in fact. If you understood the gist of Joker's Wild, the name of this game should be enough for you to figure out how it works.
In Deuces Wild, the twos are wild cards. While Joker's Wild features just one wild card, the prevalence of four wild cards in Deuces Wild makes this a very fun way to play the game.
Needless to say, your odds of securing at least a pair skyrocket with so many more wild cards in the picture. The payout structure is also different. The lowest-paying hand in Deuces Wild is actually three-of-a-kind.
This video poker game also distinguishes between a royal flush and a wild royal flush. A traditional royal flush still pays out at 800-to-1. A wild royal flush, which includes a wild card as a filler to help you complete the hand, offers a slightly lower payout.
Tens or Better
Tens or Better is almost identical to Jacks or Better. Rather than a pair of jacks being the lowest-paying hand, however, a pair of tens is the lowest-paying hand. The payouts at the top are also slightly worse with an extra winning hand in play.
Loose Deuces Wild
Loose Deuces Wild features a slightly better payout for four-of-a-kind hands that includes one of the wild cards. The payout for a four-of-a-kind with twos is typically 200-to-1. In Loose Deuces Wild, however, that payout jumps to 5oo-to-1.
The better payout there costs you in terms of payouts with other hands, however. The straight flush typically pays off at 900-to-1, but the odds slump to 800-to-1 in Loose Deuces Wild.
The odds of securing a four-of-a-king completely comprised of deuces is also incredibly rare. While you'll only secure a royal flush once in about 40,000 hands, though, the odds of drawing four deuces is about 10 times better.
Bonus Poker
At first glance, Bonus Poker sure sounds a lot like Jacks or Better. The lowest-paying hand is a pair of jacks. The royal flush payout is still 800-to-1. There are no wild cards, either.
There is a different payout for four-of-a-kind hands in Bonus Poker, however. The four-of-a-kind payout in Jacks or Better is 25-to-1, regardless of the number value of the cards. In Bonus Poker, however, the payout is determined by the rank of the cards.
If you draw four aces in Bonus Poker, you'll get an 80-to-1 payout. Four deuces, threes, or fours pays out at 40-to-1. Any other four-of-a-kind hand has a 25-to-1 payout.
Again, though, your odds of actually drawing four-of-a-kind are incredibly low.
Double Bonus
Double Bonus Poker is, essentially, the same game as Bonus Poker.
The only difference between the video poker games is the payouts for four-of-a-kind hands are doubled in Double Bonus Poker. The names are pretty straightforward, aren't they?
Instead of the 80-to-1 payout on four aces, you'll get 160-to-1 in Double Bonus Poker. Four deuces, threes, or fours pays out at 80-to-1, while all other four-of-a-kind hands are 50-to-1.
In exchange, you're getting even money payouts instead of 2-to-1 on all two-pair hands.
Double Double Bonus
We're getting a little repetitive, aren't we? Double Double Bonus Poker features – you guessed it – different payouts than both Bonus and Double Bonus Poker.
Here are the payouts for this video poker game:
Four aces with a 2, 3, or 4: 400-to-1
Four deuces, 3s, or 4s with an ace, 2, 3, or 4: 160-to-1
Four aces with any other kicker: 160-to-1
Four deuces, 3s, or 4s with any other kicker: 80-to-1
Any other four-of-a-kind: 50-to-1
Triple Bonus Poker
Triple Bonus Poker multiplies the payouts for four-of-a-kinds by three:
Four aces: 240-to-1
Four deuces, 3s, or 4s: 120-to-1
Any other four-of-a-kind: 75-to-1
Pick'em Poker
You won't have quite as many decisions to make with Pick'em (or Pick A Pair) Poker. This makes the gameplay for this video poker game a little different than most of the other games on the list.
You start every round with two cards. You'll then get two more cards, and it's up to you to decide which of the second pair to keep. You'll then get two more cards, completing your final five-card hand.
So, you're stuck with four of the six cards you're dealt throughout the round. Without as much strategy involved in this game, it's very easy to learn and still offers advantageous payouts.
Conclusion
As you can see, there are all sorts of video poker games out there for you to play. Each game offers unique payouts and strategies, and you'll find most of them at the vast majority of top-ranked online casinos out there today.
There is all sorts of money to be made playing video poker online, so what are you waiting for?