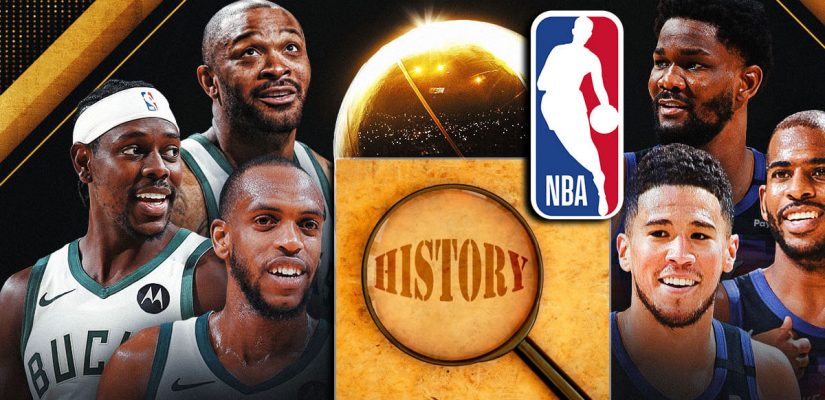 The 2021-22 NBA Finals will tip off on Thursday, June 2nd. We don't yet know which teams will square off in the championship round, but it's sure looking as though the Golden State Warriors will represent the Western Conference. The Eastern Conference Finals, meanwhile, are down to a best-of-three between the Miami Heat and the Boston Celtics.
This year's edition will be the 75th NBA Finals in the history of the league since its inception in 1946. If the Warriors go on to win it all, it will mark the franchise's seventh NBA title in their 12th attempt. If the Celtics win the title this year, they will break a tie with the Los Angeles Lakers for the most championships in league history with their 18th. Miami, meanwhile, is looking to win their fourth title in franchise history.
Top NBA betting sites have been updating their futures odds all year long. The Warriors are now overwhelming favorites to win it all, but Golden State isn't home-free just yet.
Of course, not every Finals series in the history of the NBA has been memorable. A lot can happen over three-quarters of a century, so we'll cut you some slack if you may have forgotten some of the best NBA Finals players of all time. The following are the most underrated NBA Finals players in league history.
Bill Walton
You may now know Bill Walton as the hippie, out-there college basketball broadcaster you hear every now and then on ESPN. However, back in his day, Walton was one of the NBA's most dominant centers. The UCLA product's pro career was unfortunately derailed by injuries, but he still accomplished enough to earn enshrinement into the Basketball Hall of Fame as a player.
Most notably:
Walton led the Portland Trail Blazers to the NBA title back in 1976-77. In 19 playoff games for Portland that year, Walton averaged 18.2 points, 15.2 rebounds, 5.5 assists, and over three blocked shots per game. In the Blazers' six-game series win in the Finals over Julius Erving and the Philadelphia 76ers, the lanky redhead posted incredible averages of 18.5 points, 19 rebounds, and more than five assists while playing nearly 38 minutes a night.
Walton's play helped the Blazers become just the second team in Finals history to erase a 2-0 series deficit before going on to win it all. Walton had a double-double in each of the series' six games, as well. Sadly, that was the last truly great season of Walton's playing career. He never started more than 46 games in any season after that, though he did play a key reserve role with the Celtics during their 1986 title run.
Shane Battier
Like Robert Horry, Shane Battier was more of a worker bee than a superstar during his standout career. Battier only averaged 8.6 points per game in his career, but he was one of the first "3-and-D" wings that are now so common around the league.
On offense:
Battier had little responsibility beyond standing in the corner and knocking down his open looks. Battier shot better than 38 percent from deep in his career, and he was a very important two-way cog on the Heat teams that won it all in 2012 and 2013.
In 2012, when the Heat beat the Thunder in five games, Battier logged a whopping 37.5 minutes per game and averaged nearly 12 points on red-hot 57.7 percent shooting from three-point country.
Chauncey Billups
The story of the NBA's history is littered with tales of dynasties, but we do see teams come out of nowhere to win it all every now and again.
That pretty perfectly describes the 2003-04 Detroit Pistons, who pulled off one of the biggest upsets in NBA Finals history when they swept a heavily favored and stacked Los Angeles Lakers side. Chauncey Billups earned the nickname "Mr. Big Shot" for his postseason exploits in leading those Pistons teams in the middle of the aughts. In 23 playoff games that year, Billups averaged 16.4 points, 5.9 assists, and 3.0 rebounds per game while shooting nearly 35 percent from three-point range.
Those number are hardly remarkable, but Billups stepped it up in a big way in the Finals. In Detroit's four-game demolition of the three-time defending champions, the Pistons' point guard averaged 21 points and 5.2 assists on blistering 51 percent shooting from the field.
Including 47.1 percent marksmanship from three-point range.
Billups would earn five All-Star nominations over the course of his career, but he is primarily known as the catalyst for that '04 Pistons squad. Billups earned NBA Finals MVP honors in the series, as well.
Tom Heinsohn
Much like Walton, Tom Heinsohn became known in his post-playing career as a bombastic broadcaster. He was an unabashed Celtics homer during Boston's home telecasts, but with good reason.
Heinsohn was tied to the legendary franchise for a whopping 60 years as a player, coach, and broadcaster. He spent most of that time next to play-by-play man Mike Gorman in the broadcast booth, but he is also enshrined in the Naismith Memorial Basketball Hall of Fame as a player.
Heinsohn, who earned the nickname "Mr. Celtic," was involved in some capacity with the team for each of their 17 championships to date.
Bill Russell and Bob Cousy may be the most well-known Celtics from their dynastic run of the 1950s and 60s, but Heinsohn played a massive role on those teams, as well.
Heinsohn earned Rookie of the Year honors in 1957 and went on to grab six All-Star nominations as he helped the Celtics win eight championships over the span of nine years.
For his career, Heinsohn averaged 18.6 points and 8.8 rebounds per game before he retired after the 1965 campaign. Heinsohn ended his brief career having won a title in all but one of his seasons with Boston as a player.
Jason Terry
We remember Dirk Nowitzki as the main man on the 2010-11 Dallas Mavericks squad that came out of nowhere to win it all, but the big German didn't do it all by himself. Nowitzki's exploits against the Miami Heat's "Super Team" that year drew most of the attention, but Jason "The Jet" Terry was Dirk's wingman for years in Big D.
Terry only won Sixth Man of the Year once in his career, but he made a name for himself as the Mavericks' sharpshooting reserve in the mid-to-late-2000s. Terry was the Mavs' second-leading scorer during that championship run, averaging better than 17 points per game while coming off the bench in all 21 games. In nearly 33 minutes per game in the Finals against Miami, Terry upped his scoring average to 18 points per game on sparkling 39 percent shooting from downtown.
Dallas ultimately won the series in six games, capping off what is still one of the biggest upsets in NBA Finals history. Terry won't be a Hall-of-Famer as a player, but he should be remembered as one of the more underrated NBA Finals players we've seen in recent years.
Gail Goodrich
Much like Heinsohn in Boston, Gail Goodrich spent years serving as an under-appreciated scoring threat for the Los Angeles Lakers. The former UCLA Bruin was a five-time All-Star and an All-NBA First Teamer in 1974, and he was eventually inducted into the Hall of Fame.
Goodrich only won one NBA title during his illustrious career, but it was a memorable one.
After losing in the Finals twice with the Lakers during his first stint with the team, Goodrich returned to Los Angeles in 1971. In his second year back, Goodrich was the team's leading scorer in their incredible run to a championship.
He averaged 25.6 points per game while shooting nearly 47 percent from the field in LA's five-game victory over the New York Knicks in the Finals.
Please Note:
That was the same season the Lakers won a then-record 69 regular-season games, buoyed by a still-record 33-game winning streak.
You may remember the aging Jerry West and Wilt Chamberlain as the primary headliners on that squad, but Goodrich was the driving force in the Lakers' championship charge.
Hakeem Olajuwon
Michael Jordan was the NBA in the 1990s. Had he not retired in 1993 to pursue a pro baseball career, perhaps Jordan's Bulls would have won eight consecutive titles. Unfortunately, we'll never know.
Someone had to win it all with Jordan out of the league, and the Houston Rockets made the most of the opportunity. Houston won back-to-back titles in 1994 and 1995, thanks, in large part, to the heroics of Hakeem Olajuwon. Olajuwon, of course, was taken by Houston first overall in the 1984 draft, two picks before Jordan went to Chicago.
Despite his status as arguably the greatest player in Rockets history, it's fair to suggest Olajuwon is still one of the most underrated NBA Finals performers we've ever seen. Olajuwon was only named as the NBA's Defensive Player of the Year once in his career despite the fact that he's still the game's all-time leader in blocked shots (3,740).
Please Note:
His defense spoke for itself, but Olajuwon was also one of the most gifted offensive centers of all-time. The Dream averaged 28.9 points, 11 rebounds, 4.3 assists, and four blocks during Houston's 1994 title run. A year later, he followed that up by averaging 33 points, 10.3 rebounds, 4.5 assists, and 2.8 blocks when the Rockets won it all again.
In those back-to-back Finals series against the Knicks and Magic, Olajuwon averaged 29.8 points, 10.3 rebounds, and 3.1 blocks across a total of 11 games.
Robert Horry
Robert Horry was in his second year as a pro when the Rockets won the first of their two titles in the mid-90s. By the end of his career, however, "Big Shot Bob" had won a total of seven championships with three different franchises.
Horry didn't earn many individual accolades over the course of his career. He was named to the All-Rookie Second Team with Houston in 1993, but he'll go down as one of the most clutch and underrated NBA Finals players in history.
Across a whopping 244 playoff games with the Rockets, Lakers, and Spurs, Horry averaged a modest 7.9 points per game. However, he shot better than 36 percent from three-point range, including an incredibly memorable buzzer-beater that helped the Lakers escape the Sacramento Kings in the 2002 Western Conference Finals:
Tony Parker
You may not have liked watching the San Antonio Spurs, but you'd be hard-pressed to find a team more respected around the league. Tim Duncan, Gregg Popovich, and David Robinson are still the faces of the Spurs' franchise, but let's not ignore the contributions of one Tony Parker.
Parker won four titles during his stellar career in San Antonio. The French-American point guard was a six-time All-Star in his career and earned Second-Team All-NBA honors thrice more. After the Spurs took him as a little-known prospect as the 28th overall pick back in 2001, he quickly developed into Popovich's preferred floor general.
Parker won NBA Finals MVP honors in 2007 when the Spurs won their fourth title, and third with Parker running the show. In that series, a rather easy four-game destruction of the Cavaliers, Parker scored 24.5 points per game on blazing 57 percent shooting from both the field and three-point range.
Jerry West
Jerry West is still the only player in the history of the NBA to win Finals MVP in a series his team did not win. Frankly, it's hard to imagine that ever happening again.
West won just one championship in his career:
As a part of that aforementioned 1972 Lakers squad. In the '69 Finals loss to the Celtics, however, West averaged nearly 32 points per game in about 38 minutes per outing. Unfortunately, his massive individual performance wasn't enough to lift an undermanned Lakers squad past the dynastic Celtics that year.
Few players in league history have a better overall resume than West does. The West Virginia native was  14-time All-Star, a 10-time First-Team All-NBA selection, and a four-time All-Defense First Team player. His silhouette is also literally the logo of the NBA.
PLACE YOUR BETS NOW!