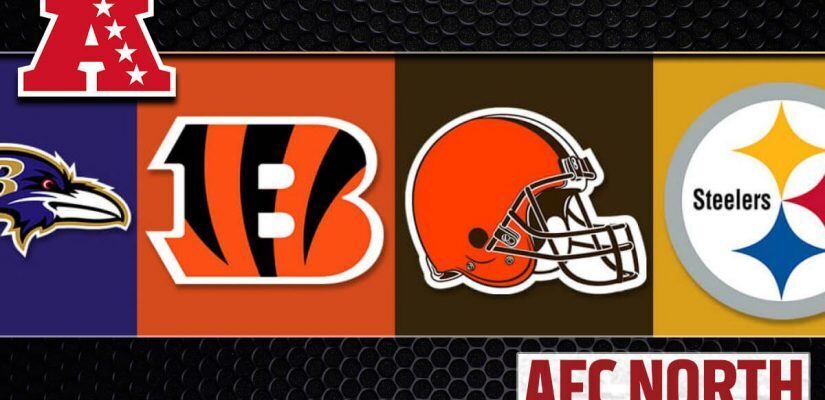 The AFC North has been one of the most unpredictable divisions in football over the past few years. Three different teams have won this division in the last three years, in fact, while the poor Browns are still looking to win it for the first time ever.
The parity should continue into the 2022-23 campaign. Three of the four teams have AFC North division odds of +235 or better, while the Steelers are a +1000 long shot. Last year's champ, the Cincinnati Bengals, made it all the way to Super Bowl 56.
Cincinnati will look to win back-to-back division titles for the first time since the 1981-82 season, which was about 20 years before NFL realignment made the AFC North into the four-team group it is today.
However, the Ravens (+165) currently have the best AFC North division betting odds of any team at NFL betting sites. Can Baltimore get back on top?
AFC North Division Betting Odds
Baltimore Ravens (+165)
Cincinnati Bengals (+210)
Cleveland Browns (+235)
Pittsburgh Steelers (+1000)
Baltimore Ravens (+165)
Just a couple of years ago, it looked as though the Ravens would go on to rule the AFC North for quite some time. However, Lamar Jackson and co. have struggled to live up to expectations since their memorable 14-2 outburst back in 2019. An 11-5 year followed that before a disappointing 8-9 finish just last term.
Jackson stormed his way to the MVP award back in '19, but he struggled through 12 games a season ago. He still racked up 767 rushing yards in just 12 games, but finished with nearly as many interceptions (13) as touchdown passes (16). His overall metrics have gotten steadily worse since that sparkling 2019 campaign.
These anonymous cowardly voices saying foolish things about Lamar Jackson are suffering from the EMOTIONAL DAMAGE he gave them. Outperforming their predictions or routinely torching their defense. Keep drinking that haterade and keep your QB tiers. Lj is in a league of his own.
— Robert Griffin III (@RGIII) July 28, 2022
However, he hasn't had the greatest weaponry with which to work, either. Injuries crushed the Ravens' backfield before last season even began, and the team is hoping the trio of JK Dobbins, Gus Edwards, and Mike Davis will be enough to carry them through 2022-23.
Baltimore ran for over 3,000 yards just two years ago, but those injuries halted the ground game last season. The Ravens also allowed a whopping 57 sacks last season, which prompted GM Eric DeCosta to make the offensive line a priority. Enter first-round rookie Tyler Linderbaum and free-agent signing Morgan Moses, who should come in and help right away up front.
There are still some question marks in the passing game, however. 2021 first-rounder Rashod Bateman is now being trusted with the WR1 gig following the departure of Marquise Brown, while Devin Duvernay, James Proche, and Tylan Wallace will slide into more prominent roles. All-Pro tight end Mark Andrews will have to play a big role once again.
Defense has been the Ravens' bread-and-butter for most of their franchise history, yet injuries played a huge role in their massive decline last season. The pass-rush is still iffy, but the team is hoping an upgraded secondary will help them get to opposing QBs with more regularity.
Marcus Peters is back after missing all of last year, while Marlon Humphreys will return after injuries sidelined him for five games last season. Marcus Williams and Kyle Hamilton have arrived to overhaul a thin safety position, as well.
The Ravens' +165 AFC North division odds are understandable, but I'm not at all sold that this is the best team of the four. I'd wait to bet on Baltimore once their odds almost inevitably slide after the season begins.
Cincinnati Bengals (+210)
Nobody had the Bengals going as far as they did last season. Now, though, they'll have to deal with legitimate preseason expectations for the first time in recent memory. Cincinnati's days of sneaking up on their opponents are over .
Protecting Joe Burrow at all costs should be the Bengals' top priority entering the new season. The former No. 1 overall pick was sacked a total of 70 times last season, playoff included. So, Cincinnati went out this offseason and snatched La'el Collins, Alex Cappa, and Ted Karras off the market in an attempt to fortify Burrow's protection.
Million dollar idea: It's like an Uber, but it's Joe Burrow and he picks you up in a golf cart pic.twitter.com/40SyRjpK3x
— Faux Joey Brrr (@FauxJeaux) August 2, 2022
Ja'Marr Chase is fresh off of one of the most prolific seasons any rookie pass-catcher has ever had. Tee Higgins' own 1,000-yard season was overshadowed as a result, while Tyler Boyd is about as productive as any third wideout in the league. Joe Mixon is back to continue to carry a heavy load out of the backfield, which means Cincinnati's offense shouldn't skip a beat.
The Bengals invested heavily into their defense last season, which wound up paying dividends right away. Cincy successfully stuffed Patrick Mahomes and the Chiefs' vaunted offense in the AFC Championship Game before coming up just shy against the Rams in the Super Bowl.
The Bengals added to their secondary with each of their first two draft picks this past spring, while Jesse Bates III is back on the franchise tag. There's no real reason to expect this unit to drop off at all, either, with most of the starters set to return for another go-round.
Cincinnati's +210 AFC North division betting odds look like a steal. This team won 10 games last year, fueled by a late second-half surge. Assuming they can pick up right where they left off, I see no reason to believe Cincinnati isn't the team to beat once again.
Cleveland Browns (+235)
The Browns have certainly had an offseason, haven't they? QB Baker Mayfield was alienated and then traded to the Carolina Panthers a couple of months after the team's controversial decision to trade the farm for Deshaun Watson.
The Browns then quickly gave Watson the biggest fully-guaranteed deal in NFL history despite a number of sexual assault allegations. Earlier this week, however, it was announced Watson would be suspended for just six games, which means the Browns may have their new QB on the field for the majority of the upcoming campaign. The NFL did appeal the decision, however, which could throw a wrench into things.
League has filed its appeal in Deshaun Watson suspension, per source.
— Adam Schefter (@AdamSchefter) August 3, 2022
Think what you will about Watson's allegations, but that's certainly good news for the Browns' on-field prospects. It's been quite some time since we've seen him on a football field, but Watson was one of the game's brightest young stars during his time in Houston. The Clemson product passed for over 4,800 yards with 33 touchdowns on a lowly Texans team back in 2020 before he missed all of 2021.
With Watson in the mix, the Browns' offense should be quite formidable. The two-pronged rushing attack of Nick Chubb and Kareem Hunt will return, while another newcomer, Amari Cooper, will replace Jarvis Landry as the WR1. The Browns have been a very run-focused team in recent years, but Watson's arrival should balance things out.
The defense is headlined by Myles Garrett, who set a new single-season sacks record just a season ago. Between Garrett, Denzel Ward, Jeremiah Owusu-Koramoah, Grant Delpit, and Greg Newsome II, Cleveland has quite a bit of high-upside talent at every level of the defense.
Whether the Browns can ultimately challenge the Bengals or Ravens atop the division may depend on how well they fare during Watson's suspension. Jacoby Brissett has been a capable backup over the years, and the early schedule sets up quite favorable. Cleveland will face winnable games against the Panthers, Jets, Steelers, and Falcons before Watson's scheduled return in Week 7 for a showdown in Baltimore.
As a result, Cleveland's +235 AFC North division odds look quite appealing. I still much prefer betting on the more proven Bengals at a comparable price, but there's a lot to like about what the Browns are building.
Pittsburgh Steelers (+1000)
No AFC North team has enjoyed more success than the Steelers over the years, but this team appears to be headed for a long-awaited rebuild. Ben Roethlisberger mercifully hung up his cleats after last season, with the Steelers' 42-21 playoff destruction at the hands of the Chiefs looking like a fitting final game for the future Hall-of-Famer.
Pittsburgh's starting QB job is legitimately up for grabs. It's probably safe to assume first-round rookie Kenny Pickett will get the nod at some point, but he'll have to battle with veterans Mitch Trubisky and Mason Rudolph in camp. It's not unreasonable to think Pickett could pretty easily win the starting job ahead of Week 1, but we don't yet know how Mike Tomlin plans to develop his first-year QB.
Kenny Pickett's looked like the best quarterback today. Just had a nice deep completion on the sideline to Steven Sims. About a 25-yard pass
— Brooke Pryor (@bepryor) August 2, 2022
It's safe to say Najee Harris will play a monstrous role in this offense once again. The former Alabama standout dominated the usage out of Pittsburgh's backfield as a rookie, carrying the ball a whopping 307 times for 1,200 yards with seven touchdowns. He also caught another 74 passes for 467 yards on his way to leading the NFL in total offensive touches (381).
The Steelers do have a lot of talent on defense, led by reigning Defensive Player of the Year, TJ Watt. If Pittsburgh bounces back from a subpar 2021 on that side of the ball, perhaps they can win more games than most expect. As of now, however, this team looks like a deserving afterthought at their lengthy +1000 AFC North division betting odds.
AFC North Division Prediction
Much like the AFC West, the AFC North could go in several different directions. The Ravens, Bengals, and Browns all have fairly favorable AFC North division odds entering the season, while the Steelers will be quite fortunate to crack .500 amid lots of uncertainty at quarterback.
It's difficult to overlook the Bengals at +210. Perhaps a letdown is in store after an unexpected AFC title, but this team is built to win right now. As long as they can keep Burrow upright, Cincinnati should be in the mix for one of the top playoff seeds in the conference again in 2022.
The Ravens (+165) and Browns (+235) are bigger wild cards. Both have the talent to make a run to the top of the division, but there are serious question marks with both.
Best NFL Bet: Cincinnati Bengals (+210)