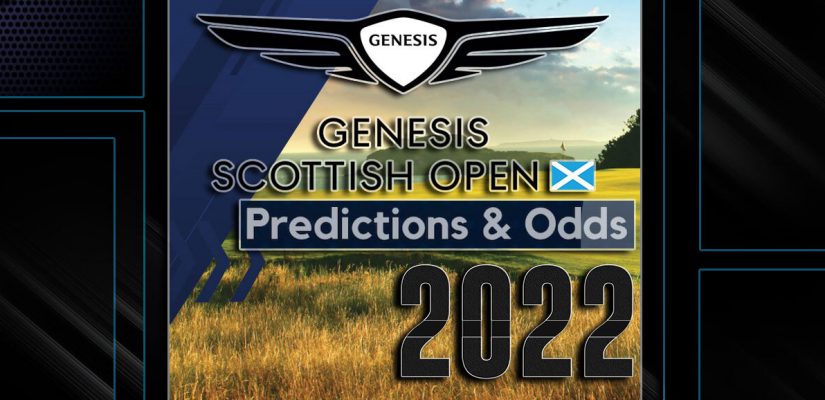 The PGA Tour is only a week away from returning to Old Course at St. Andrews. As a prelude to the Open Championship, the PGA Tour is at The Renaissance Club for the Scottish Open. The intention is to find winning Genesis Scottish Open picks. We have the latest Genesis Scottish Open odds at TheSportsGeek.
There is a tournament taking place on American soil this week as well. The Barbasol Championship is a lower-tire event in Kentucky. We're covering all tees on the golf course this week, as we have picks for the Barbasol Championship as well.
INTRO TO SCOTLAND
The PGA Tour remains in Scotland following the Scottish Open. This is a prep tournament for next weekend at St. Andrews, though with a purse of $8,000,000, it's not a small event.
Tiger Woods will be at St. Andrews for The Open Championship, but he isn't on the Genesis Scottish Open odds board. Prep tournaments for majors would probably do more harm than good with his injury history at his age.
Seems like @JonRahmPGA is getting a little more out of @TigerWoods these days 😏 pic.twitter.com/wzbJZD4BLQ
— PGA TOUR (@PGATOUR) July 5, 2022
There are elite players in the Scottish Open, though. Scottie Scheffler, Justin Thomas, Matt Fitzpatrick, and Justin Thomas are all in Scotland for a tuneup. Are any worth a bet in this tournament?
Let's get into the Genesis Scottish Open betting odds, and Scottish Open picks below.
Where is the 2022 Genesis Scottish Open?
The Scottish Open is played at The Renaissance Club in Edinburgh, Scotland. If you were wondering how far Edinburgh is to St. Andrews, this requires around a 2-hour drive to get to the Open Championship.
It's a short trip from The Renaissance Club to the historic Old Grounds at St. Andrews.
The Renaissance Club is a beautiful golf course on the coastline of Scotland. St. Andrews is St. Andrews, and nothing can change the history of those hallowed grounds. The Renaissance Club is a nice setting as well, though.
This is a par 71 course covering 7,303 yards designed by American course designer Tom Doak. If there is little wind, then expect plenty of success for golfers. It's not a difficult course under these circumstances. However, the wind is supposed to kick up this weekend, so it won't be easy.
Winds up to 40 MPH expected @ScottishOpen this week. 💨
A little watering from the agronomy team helps the sand stay in the bunkers overnight. pic.twitter.com/wzwDDCjQsr
— PGA TOUR (@PGATOUR) July 5, 2022
The course was designed with the wind in mind. That intended on being the main obstacle for golfers at The Renaissance Club when it was being designed. Windy conditions off the ocean can provide an extra challenge for players.
Genesis Scottish Open Betting Odds
The Genesis Scottish Open odds board has some of the biggest players on the PGA Tour in action. At the top of the odds for the Scottish Open are Rahm, Thomas, and Scheffler. All three have +1200 odds to win the Scottish Open this week.
It's hard to argue with the oddsmakers at Bovada. They will likely be evenly bet amongst the public. Scheffler is having the best season of the trio, but Rahm and Thomas are equally as talented, so I can agree with these odds.
The one notable name missing from the Scottish Open has to be Rory McIlroy. While there isn't McIlroy, nine out of ten players on the OWGR rankings are at The Renaissance Club. McIlroy noted in December that he was unlikely to play this tournament, so it's not like he didn't give any forewarning.
Genesis Scottish Open Odds are Courtesy of Bovada:
Odds
Golfer
OWGR
+1200
Jon Rahm
3
+1200
Justin Thomas
5
+1200
Scottie Scheffler
1
+1600
Xander Schauffele
11
+2000
Matthew Fitzpatrick
10
+2500
Collin Morikawa
4
+2500
Jordan Spieth
12
+2500
Patrick Cantlay
7
+2800
Cameron Smith
6
+2800
Sam Burns
9
+2800
Will Zalatoris
13
+3300
Hideki Matsuyama
14
+3300
Viktor Hovland
8
+4000
Joaquin Niemann
17
Genesis Scottish Open Picks
Jon Rahm (+1200)
I have to include Jon Rahm on my card at the Scottish Open. He isn't always at his best, but The Renaissance Club sets up nicely for a player like Rahm.
Rahm has a monster drive which will help him immensely in this event. In fact, Rahm is the best driver in this field. He should thrive at the Scottish Open through the wind. A solid tee shot will be required to win.
He averages 317.7 yards off the tee. McIlroy is the closest driver to Rahm, but he's not entering the Scottish Open. Cameron Young is a yard short of Rahm, but his all-around is not as strong.
Rahm is second in greens in regulation, with a success rate of 71.67%. He has a long, accurate drive and knows how to find the dance floor.
There isn't a lot not to like about Rahm at the Scottish Open.
If he had Genesis Scottish Open betting odds of around +1500, that'd be nice, but there is still some value to be had at Rahm winning at +1200. He's high on my list and has to be worth a bet to win the Scottish Open.
Genesis Scottish Open Odds
Will Zalatoris (+2800)
Will Zalatoris broke my heart when he couldn't hold on to win the U.S. Open. Zalatoris was leading, gave up a slim lead, and had a chance to force more than 18 holes on Sunday. He barely missed a putt, with Matt Fitzpatrick winning his first major a few weeks ago.
Zalatoris hasn't played since the loss at the U.S. Open. If you look past the loss, it's clear that Zalatoris is playing terrific golf at the moment.
There aren't any golfers on the Tour without a Tour title playing as well as Zalatoris right now. He's knocking hard on the door and will likely be let in soon.
Zalatoris has finished T2, T5, 2, T4, T6, T5 in six of his previous eight events.
The 25-year-old is unlikely to take his foot off the pedal. After a brief pause and to regroup his thoughts, expect Zalatoris to be back in the hunt.
READY TO BREAK OUT
It's only a matter of time before his consistency pays off for him. Zalatoris is T3 in top-10 performances this year.
He only trails Fitzpatrick in SG: Tee-to-Green at 1.826 as opposed to 1.870. Zalatoris is ahead of Thomas, McIlroy, and Rahm in this regard.
Genesis Scottish Open Odds