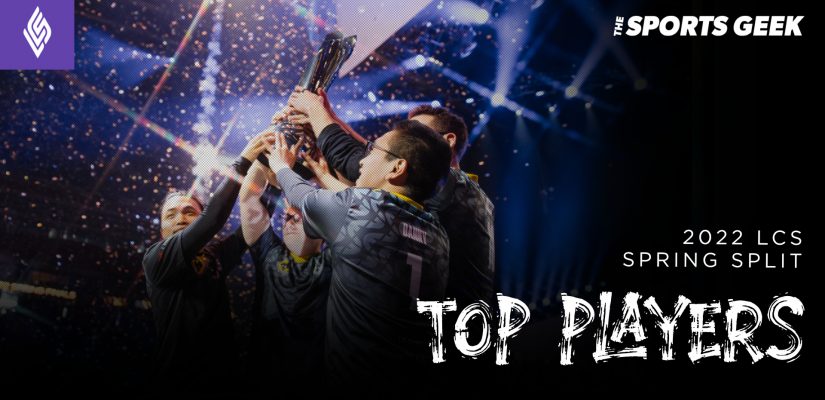 Many players stood out throughout the 2022 LCS Spring Split, so making any kind of Top 10 list is not only an exceedingly complicated challenge, but also one that is bound to aggravate and upset a certain part of the community — everyone has their favorites.
Be that as it may, we've tried our hardest to come up with a list that is both accurate and objective. All players listed down below delivered in one way or another. Some of them might not have etched their names in history, but their accomplishments and stellar plays are nonetheless worthy of our utmost praise and commendation.
This most recent split was absolutely spectacular from an entertainment standpoint and that's in no small part because of the way in which the current meta has been set up. It allows for experimentation and is a lot faster than we've come to expect. The LCS, despite being a fiesta-heavy region, definitely reveled in such a context, and the same holds true for its most prominent players as well.
All in all, it's been one heck of a ride.
So, without any further ado, let's take a closer look at the very best 2022 LCS Spring Split players — those whose performances and highlight reel plays still linger in the back of our minds!
Gabriël "Bwipo" Rau — Team Liquid [Top]
This talented Belgian is still as coin flip as ever, but whenever he was "on" his plays and impact were simply mind-blowing. As far as roster signings go, Team Liquid knocked it out of the park with this one. There's really no other way to say it.
THERE'S STILL WORK TO BE DONE
Granted, he still hasn't been fully integrated into the team — as evidenced by his lows — but that, too, will happen in a few months' time. Bwipo has thus far been absolutely incredible and we can't wait to see how high he'll be able to soar once all is said and done.
His vast champion pool and overall effectiveness — to say nothing of his cerebral playstyle — were a huge boon to Team Liquid, which, frankly, should come as no surprise. He's a one of a kind player and the things he did and the plays he made left no one indifferent. Heck, he was the best performing top laner for the vast majority of the split. Then, for some odd reason, Team Liquid sort of regressed as a whole, and that, naturally, showed in Bwipo's play as well.
Regardless, he's still an incredible player and we're certain that his best days are yet to come.
FUTURES BETTING — 2022 LCS Summer Split:
Lucas Tao Kilmer "Santorin" Larsen — Team Liquid [Jungle]
Where does one even begin with this seasoned veteran? Santorin was as clutch and consistent as ever, even when Team Liquid failed to "hit the mark." His ability to influence the map and make the right play at the right moment blew us all away.
AN ABSOLUTE LEGEND
He's as consistent a player as they come; whatever he might "lack" in flashiness and highlight reel plays he more than makes up for in sheer stability and overall effectiveness. Santorin is the foundation around which Team Liquid plays and that isn't going to change any time soon.
There's really nothing for us to criticize him for and that's a rarity, all things considered. Most players fluctuate in terms of their performance, but somehow, some way, Santorin keeps delivering — even against the most unfavorable of odds.
He is, without a shadow of a doubt, at the very core of Team Liquid's success and we can't wait for him to once again step foot on stage with his equally talented teammates and show us what they've been working on!
FUTURES BETTING — 2022 LCS Summer Split:
Will Team Liquid Win Summer?
Kim "Ssumday" Chan-ho — 100 Thieves [Top]
Ssumday's most recent split in the LCS was his best one yet. And that, in short, is simply astounding. He's been amazing for years but only now was he truly able to spread his proverbial wings and style over his opposition — most of which was quite formidable.
And the things he did and the ease with which he did them really blew us away. There's no other way to put it — Ssumday had an MVP-worthy split and we're glad beyond measure that he was able to truly leave a mark and get his due. Well, he's an LCS champion so it's not like it would make sense for us to expect anything less than a series of mind-blowing performances.
He was undoubtedly one of the biggest reasons why 100 Thieves were able to persevere and mount a comeback mid-split, and if he keeps playing this darn well he will no doubt stand a chance at reclaiming the LCS throne come Summer Split.
FUTURES BETTING — 2022 LCS Summer Split:
Will Ssumday Gap Everyone?
Can "Closer" Çelik — 100 Thieves [Jungle]
Closer is arguably the best and most impactful jungler that North America has to offer. Robert "Blaber" Huang and Santorin are obviously worthy adversaries, but when Closer brings his "A game" it feels like there's no one in the LCS that can truly go blow-for-blow.
100 Thieves struggled mightily throughout the split, and whenever the going got rough, it was this talented Turk that ended up making a difference. And, better yet, it feels like he's nowhere near reaching his full potential — Closer still has a ways to go before fully realizing and harnessing his innate talents and that, in short, is not something his opponents will be glad to hear.
He ultimately failed to go the "whole nine yards," but it surely wasn't for a lack of trying. Much like Ssumday, Closer, too, was one of our biggest frontrunners to win the highly coveted "MVP of the Split" award and, frankly, he's way more deserving of it than Cloud9's (admittedly quite talented) top laner — the one that was eventually exploited beyond measure.
Either way, Closer has made his presence known and is held in as high esteem as possible by both his peers and analysts alike.
FUTURES BETTING — 2022 LCS Summer Split:
Will Closer Win MVP Next Split?
Kim "Berserker" Min-cheol — Cloud9 [ADC]
The odds were always stacked against Berserker, what with him having an inexperienced support by his side and a role swapped mid laner. But even in such a context he had somehow managed to make waves and dominate beyond measure.
He is, without a doubt, one of the most hype roster signings in recent history — and that's really saying something given just how many exceptional players opted to cross the Atlantic and compete in the LCS.
Berserker was often the difference-maker, the one player who was somehow always able to find — and make — the game-winning play. His laning wasn't anything to write home about, but once the mid and later stages of the game came around he always pulled off the seemingly impossible.
His games on Aphelios were absolute masterclasses. There's really no other way to say it. If he was that darn good and dominant whilst having Kim "Winsome" Dong-keo as his support, just imagine what he'd be able to accomplish with a more seasoned ally by his side — one that would aid him in the laning phase a lot better and, in doing so, truly unlock his inherent potential.
There are many rumors circulating online and, well, most of them point to Jesper "Zven" Svenningsen role swapping to support. That, if true, could be just what the "doctor ordered."
We'll find out soon enough.
FUTURES BETTING — 2022 LCS Summer Split:
Will Berserker + Zven Pan Out?
Kim "River" Dong-woo — Dignitas [Jungle]
Putting any Dignitas member on this list sure does feel weird, but River's more than earned it: he was the biggest catalyst on his team and the one player who truly gave Dignitas a fighting chance.
The fact that he ultimately failed to leave much of a mark should in no way diminish his valiant efforts. He did the best he could with the meager means he was given. And so, with that in mind, we'd be remiss if we didn't give him his due.
FLAWED BUT STILL AMAZING
He was somewhat "figured out" by the end of the split, but that, too, changes very little — River was one of the most enigmatic and impactful junglers in the LCS throughout the vast majority of the split, and we can't help but wonder just how much more success he'd be able to attain if he had had better, more capable teammates.
That's probably the biggest reason why he opted to move to North America and compete for Dignitas — to make his presence known and, hopefully, get a better offer further down the line. Whether said offer will come his way still remains to be seen, but he's definitely earned it.
FUTURES BETTING — 2022 LCS Summer Split:
Will River Switch Teams in 2023?
The Whole of Evil Geniuses
We don't remember the last time any team impressed us as much as Evil Geniuses just did. To put simply: they brought the house down in the most tremendous of fashions. Their tremendous miracle run — which echoes much of what G2 pulled off over in the LEC — will be long remembered and talked about.
To go through FlyQuest (3:1), Cloud9 (3:0), Team Liquid (3:0) and then finally 100 Thieves (3:0) is a journey and a path more treacherous and challenging than we could ever imagine. Each and every single one of these teams presented a unique kind of puzzle, some of which seemed nigh impossible to solve.
But Evil Geniuses always found a way, in spite of the odds.
And the fact that they did so within such a short period of time only makes their momentous triumph that much more impressive. They made it look easy, too. As if they were from a completely different region. We didn't know how to react and process their dominance and, frankly, that still holds true, even though we're now a few days removed from their spectacular performances.
Evil Geniuses took one heck of a gamble by not signing Nicolaj "Jensen" Jensen and Peter "Doublelift" Yiliang. They opted to stick with their rookies and it paid off in spades. They are now only the sixth organization in North American history that has claimed the LCS throne. For so long it was reserved for the TSMs and Cloud9s of the world, but these new greenhorns obviously didn't care much for their predecessors and the many dynasties that came before — they wanted to build their own.
Everyone's been signing their praises and, well, there's a very good reason why. They "came online" at just the right moment and if they can keep course and not regress or "slip" they could very well end up leaving some kind of a mark at the forthcoming 2022 Mid-Season Invitational.
The odds of it happening are quite slim, granted, but at least they have a shot.
FUTURES BETTING — 2022 LCS Summer Split:
Mohamed "Revenge" Kaddoura — Immortals
Putting anyone from Immortals on this list sort of feels… wrong. They were, quite frankly, abysmal throughout the vast majority of the split. Still, the one player who had tried his utmost to win and push his team over the finish line was none other than Revenge, a top laner that was widely overlooked and ignored coming into 2022.
That, however, is a mistake no one will repeat ever again. He's not a towering giant by any stretch of the imagination, but whatever he might lack in inherent talent he more than makes up for in sheer grit and determination.
He's a brawler at heart and he'll trade blows no matter the odds — a great virtue that has given his team a fighting chance on more than one occasion. And, needless to say, he's done more than enough to impress and has, therefore, earned ample praise and commendation.
We just hope that he'll remain in high spirits despite the fact that Immortals as a whole seems to have imploded. We'd love to see him sign for another team and get a fresh start in 2023 — he's more than earned it.
Milo "Pridestalkr" Wehnes — Golden Guardians [Jungle]
We knew Pridestalkr was good. That was a well-known fact. We didn't, however, think he'd bring the house down as quickly (and fervently) as he did. Pridestalkr's dominance began from day one — he wanted to make a statement and, needless to say, he has succeeded admirably (and in record time, too).
His playstyle might be a bit selfish, but it's hard to blame him: he didn't have the best of teammates to help out and "support." It's not that they're bad or mediocre (not by a long shot), but they're not as aggressive and mechanically gifted as he is.
Pridestalkr actually ranks first in most jungling metrics which — in a region stacked with exceptional junglers — is quite a feat.
And, much like with Revenge, we'd also love to see Pridestalkr compete under someone else's banner. The Golden Guardians are a great team overall but they do have a relatively low skill ceiling. He's not going to leave as big of a mark as he could for as long as he keeps wearing their jersey, and he probably knows it, too.
Where he could go next, however, is anyone's guess, seeing how most top-tier teams already have well-performing junglers. Be that as it may, Pridestalkr has made his case and we're sure that an alluring offer will come his way at some point in the future.