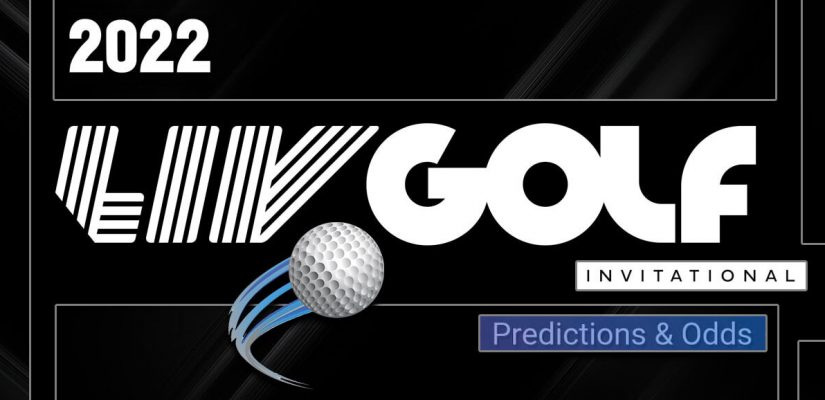 LIV Golf is in the U.S. for its first American tournament. We have the latest LIV Golf Invitational Portland odds, and the best LIV Golf Invitational Portland picks at Pumpkin Ridge Golf Club.
Lookin' good Pumpkin Ridge 😍#LIVGolf pic.twitter.com/Tywg8Gs6l4
— LIV Golf (@LIVGolfInv) June 29, 2022
The inaugural LIV Golf tournament was completed on June 11 at Centurion Golf Club in London. Charl Schwartzel won and broke the record for the biggest prize at a golf tournament.
He took home $4.75 million in the richest tournament of all time.
Along with a guaranteed contract, the purses for LIV Golf events are the biggest we've seen in golf. That said, LIV Golf's players aren't without criticism because of the connection to Saudi Arabia.
Brooks Koepka was initially a critic of LIV Golf, but he made the jump after looking at a LIV paycheck. That may have been part of his plan to ring out a higher contract. His buddy Bryson DeChambeau had already joined LIV.
Rory McIlroy has been the biggest shamer of LIV Golf, so don't expect to see him playing a LIV event anytime soon. However, PGA members continue to drop their status with the PGA Tour and go to LIV.
We are one for one at LIV, with Schwartzel cashing us in at +2500. The LIV Golf Invitational Portland odds board hopefully has a winner for us this week as well.
When you give golfers a drone 😅#LIVGolf | @MajesticksGC pic.twitter.com/bhWvd7yGhe
— LIV Golf (@LIVGolfInv) June 30, 2022
Just a refresher that this isn't a typical golf tournament. Also, remember that you can find the top golf betting sites for LIV Golf Invitational Portland odds and more golf events at TheSportsGeek.
There are only three rounds, with no cuts, and a shotgun-style start.
Tee times are not a thing in LIV Golf. The 48-player tournament features players opening their tournaments on different holes simultaneously. Get the best LIV Golf Portland Invitational odds and picks below.
LIV Golf Portland Invitational Betting Odds
The LIV Golf London winner is back, looking to defend his title in Portland. Schwartzel is not well-liked to win the LIV Golf Portland by oddsmakers. He is listed at +2500, with nine players with smaller odds to win the second LIV Golf tournament.
The Schwartzel bet worked out well a few weeks ago, but I'm not so quick to point back to him. The LIV Golf Portland Invitational betting odds favorite can be accurately predicted without looking at the board. Dustin Johnson is once again the favorite to win this week.
Johnson will be the LIV Golf odds favorite or close to it every week. Oddsmakers know that the public will back him regardless of his form or the course.
For me to consider betting the favorite of a tournament, I'd want to see him playing better golf recently.
He finished -1 to par to finish T7 at the London tournament. Johnson collected most of the money from the public, which should be the case on the LIV Golf Portland Invitational odds this week.
LIV Golf Portland Invitational odds are courtesy of Bovada:
Odds
Golfer
OWGR
+700
Dustin Johnson
17
+1000
Louis Oosthuizen
21
+1000
Talor Gooch
38
+1200
Abraham Ancer
22
+1200
Brooks Koepka
19
+1600
Bryson DeChambeau
31
+3000
Charles Howell
181
+1800
Kevin Na
33
+1800
Patrick Reed
39
+2000
Sergio Garcia
63
+2500
Charl Schwartzel
125
+2500
Pat Perez
170
+2500
Sam Horsfield
81
+2800
Brenden Grace
128
LIV Golf Invitational Portland Predictions
Brooks Koepka (+1200)
Brooks Koepka was one of the most opposed golfers to LIV Golf when the Super League was announced, and golfers were jumping ship. Apparently, the moneybag wasn't large enough at the time because Koepka quickly changed his opinion.
Koepka will debut at LIV Portland in the second tournament of this young series. In his last tournament on the PGA Tour, Koepka finished 55th in the U.S. Open.
Koepka didn't miss the cut, but he was well back going into Sunday. He was never a threat and flamed out for another disappointing major performance.
This season hasn't been a complete waste for Koepka, though.
The 32-year-old finished T3 at the Phoenix Open, T16 at the Honda Classic, and another solid showing in T12 at the Valspar Championship.
He also had a solid match play effort at the WGC Dell Technologies in T5. With most of his competition out of the way on the LIV Golf Tour and no pressure on a guaranteed contract, expect Koepka to hold his own with a big chance to win in his debut.
LIV Golf Invitational Portland Odds
Kevin Na (+1800)
Kevin Na disappointed last week at LIV London in the inaugural tournament. He was one of the first PGA players to announce their departure from the PGA Tour.
At the time, Na was one of the biggest names leaving the PGA Tour behind. Na wasn't playing his worst golf this season before departing.
Despite his lackluster showing at Centurion, he had a solid go at the Charles Schwab Challenge. Na finished T7 following an acceptable performance at the PGA Championship.
He made the cut and finished T23, which would have been good enough to beat most of the players in this field. There was nothing wrong with his out at the Masters, though.
Na notched T14 at Augusta National for a finish that he could be happy with in the 2022 Masters.
After struggling at the U.S. Open, Na should be able to get back in the mix on the final day. I'm not betting Na as a betting favorite under +1000, but he's carrying some value into Thursday at +1800.
LIV Golf Invitational Portland Odds