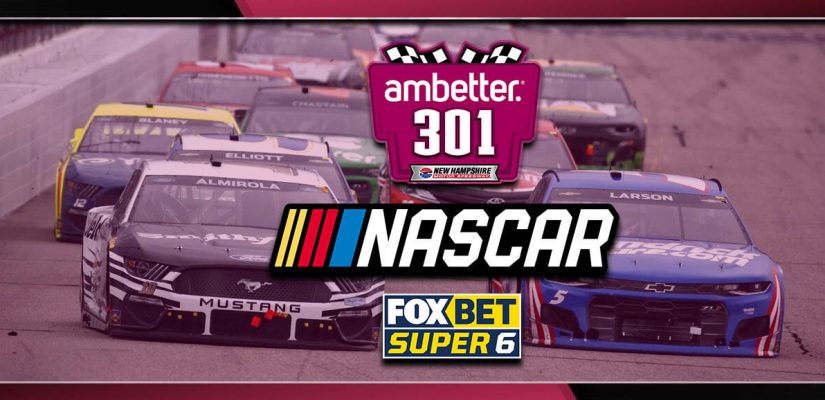 We're in New Hampshire for the Ambetter 301 at New Hampshire Motor Speedway. This track isn't a fan favorite by any means, but the set-up at New Hampshire Motor Speedway provides good racing.
The Fox Bet Super 6 is a free NASCAR contest only accessible through the app. You can make your own picks or follow our Ambetter 301 Super Six picks. There is some luck involved in winning the grand prize, but there is no entry fee required.
Chase Elliott is coming off a win last week, as he continues to run a successful campaign. Elliott is leading the Cup Series with 684 points over Ryan Blaney's 637 points. There isn't a clear favorite for New Hampshire on Sunday.
After qualifying, Elliott and Martin Truex Jr. are the co-favorites to win the 1.058-mile event at +700. Denny Hamlin and Kyle Bush are +800, with Blaney at +850. In other words, you aren't going to find a clear consensus.
If you want a sportsbook experience for the Ambetter 301, check out the best NASCAR betting sites online for 2022. Meanwhile, head below for our best Ambetter 301 Super Six picks.
1. Which of these Drivers will finish in the worst position at the end of Stage 1?
The Fox Bet NASCAR question makers start us off with a tough one out of the gate at New Hamshire Motor Speedway. This group includes top-class drivers, with the six of them with a chance to win the Ambetter 301.
The smartest move for this question is going to go with the most inconsistent driver.
All of them can win, but a driver like Chase Elliott and Ross Chastain are the most consistent in the Cup Series. And while Larson hasn't won as much as he'd want this season, he hangs around.
Kyle Busch could win, but he's also the most erratic driver. He qualified P17 and likely isn't going be at his worst. Busch finished P38 and P37 in his last two races at New Hampshire after qualifying P5 and P1.
He should be fine through Stage 1, but likely not enough to pick a way through the rest of the drivers in this field. Kyle Busch looks like the most opposable.
Ambetter 301 Super Six Picks
2. How many Chevys will finish in the Top 10 at the end of Stage 1?
I'm a Toyota fan and happy to report that there are four Toyotas in the top-5. There is one Chevy, with Chase Elliott qualifying P2 for Sunday.
If Elliott doesn't have any trouble with his car, and it's only been minor issues so far this season, he's going to be in the top-10 at the end of Stage 1.
That's one Chevy very likely to finish in the top-10. William Byron? Probably. He qualified P6 and should be strong this afternoon.
I'm looking at one more Chevy to have a good chance to move up quickly. Tyler Reddick or Ross Chastain could be whom I'm looking at in this regard. That leaves us with three.
Ambetter 301 Super Six Picks
3. Which of these Drivers will finish in the worst position at the end of Stage 2?
The first question has all elite drivers finish the worst. This is the opposite, with lower-tier drivers featured. That doesn't make the question any easier, but I have a more confident inclination.
Bubba Wallace was fast in qualifying and will start P4 on the grid.
Ty Dillon did not look good in qualifying and practice hasn't suggested otherwise. He was the second-slowest in P35. Cody Ware was the only driver that was slower in qualifying.
Ricky Stenhouse Jr. at P24 is the next closest driver to Dillon on the grid at the green flag.
The most logical answer has to be Ty Dillon to finish the worst at the end of Stage 1.
Ambetter 301 Super Six Picks
4. Which Joe Gibbs Driver will finish in the Top 5 at the end of Stage 2?
Joe Gibbs Racing has an above-average chance of winning this week at New Hampshire Motor Speedway. Chris Bell could be a dark horse to win this one.
Bell qualified P6 and might be better than advertised on Sunday. However, the most likely top-5 Stage 2 performer as to be Martin Truex Jr.
Truex Jr. was well-liked by the oddsmakers before qualifying and he had a fast car in qualifying. He leads the field around to the green flag at New Hampshire Motor Speedway after P1 in qualifying on Saturday. In four of his previous six runs at New Hampshire, he's finished in the top-5.
I'm going to side with more than one of Joe Gibbs' cars. Hamlin is +800 at the sportsbooks with one of the top odds to win the race. He can move up near the front of the field by the end of Stage 2.
Ambetter 301 Super Six Picks
5. Which manufacturer will have more cars in the Top 10 and how many cars will they have?
Toyota is well-represented near the front of the field and has the pole-sitter. Martin Truex Jr. has had success on this track before and is working with a strong car on Sunday.
Kurt Busch, Bubba Wallace, and Christopher Bell also start in the top-5 for Toyota. One of these drivers likely flounder. Bubba and his team can't get out of their own way, so I wouldn't be surprised to see another mishap for him.
Bell has quietly been racking up solid performances, while Kurt can make it work on a smaller track. Denny Hamlin is also high on my list do run well. This leaves with us four Toyotas over two or three Ford Mustangs in the top-10.
Ambetter 301 Super Six Picks
6. Which driver will have the better finish at the end of the race and by how many positions?
Christopher Bell and Bubba Wallace both qualified well, but as I noted, Wallace's team always seems to find a way to mess something up. He should have a win by this point in the season.
Wallace has just one top-5 performance with 345 points. He's going to get his win eventually. I don't know if it's happening at New Hampshire, though, and Bell is the more consistent driver.
Bell is coming off a strong performance in his second attempt at New Hampshire Motor Speedway. He was the runner-up in one of the best performances of his career.
Bell qualified in the top-10 last year as well, so his team has put together a quality set-up for him to run on this track. I'm going to side with Bell to have another solid performance, while Bubba drops back away from the front runners. Bell is my final selection for the NASCAR Ambetter 301 Super Six picks card in New Hampshire.
Ambetter 301 Super Six Picks