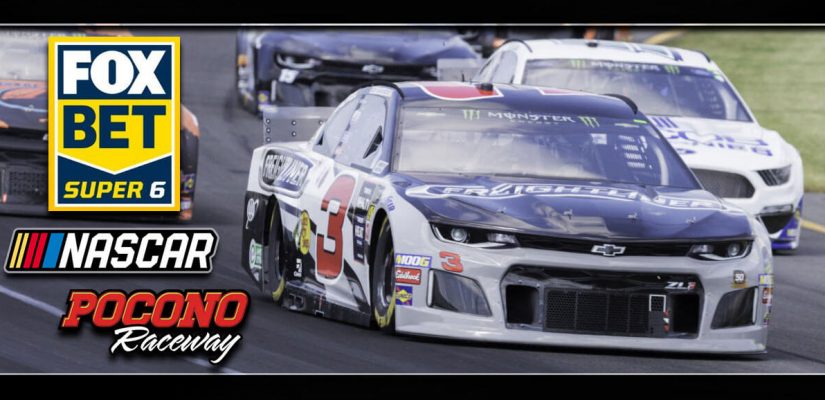 The NASCAR Cup Series is at Pocono Raceway for a unique three-corner race in Pennsylvania. Like road racing, this is one of those love-hate events. Road race haters can probably tolerate Pocono, but it's far from a traditional oval.
The three-corner race requires decent braking, similar to a road course race. However, there are still elements of an oval track, so this one has a little for everyone. Pocono has been a fixture on the Cup Series schedule since 1974.
The proliferation of road racing in NASCAR has made Pocono a little less attractive for oval-purists. When it was only Watkins Glen and Sonoma on the schedule, Pocono had more of a place on the schedule.
We saw some top drivers run well in qualifying on Saturday. The top-5 of the grid is loaded with talent, including Denny Hamlin, Kyle Busch, Chase Elliott, and Kyle Larson. That's an impressive group at the front.
Let's get into our 2022 NASCAR at Pocono Super Six odds and picks for July 24, 2022, below. For a more traditional sports betting experience, check out our best NASCAR betting sites.
1. Which of these Drivers will finish in the best position at the end of Stage 1?
This is the same opening question as last week, except they are flipping worst for best. It's a tough question, especially considering how well this group should run at Pocono on Sunday. Expect a few of these guys to have a good day.
Chase Elliott is going to be well-respected on the Fox Bet Super 6 app
The public is going to be on Elliott after he qualified P3. He's the most consistent and first in the Cup Series standings, so even without the solid qualifying session, Elliott would have been a popular selection.
I'm going to lean against the public and side with Kyle Larson. Larson is going to have his race soon. He's done well at Ponoco in recent outings and has to be close in this one.
Larson qualified right behind Elliott in P4. He finished runner-up at Pocono last year and in the top-10 in three straight races on this track. Larson is my first play on the Pocono Super Six.
NASCAR at Pocono Super Six Odds
2. How many Chevys will finish in the Top 10 at the end of Stage 1?
Toyota and Chevy are both represented in the top-5. Toyota has the first two cars with Denny Hamlin and Kyle Busch, while Chevrolet has Chase Elliott and Kyle Larson.
Elliott and Larson both have a good chance of winning the whole thing, so they should be up there at the end of Stage 1. Is there another Chevy likely to be involved? Daniel Suarez qualified P9 and might have a chance.
I have either Suarez or Tyler Reddick in the top-10 at the end of Stage 1 as well. That gives us three Cheyvs in the top-10.
Note that this is Stage 1 and not the end of the race. If Reddick doesn't get into the top-10 with Elliott and Larson, maybe that driver is Alex Bowman.
NASCAR at Pocono Super Six Odds
3. Which of these Drivers will finish in the worst position at the end of Stage 2?
Fox Bet wasn't too creative for question 3, as this is the same question with the same drivers as last week. That's fine with me. It represents some lower-tier drivers well, which makes this question one of the trickiest to answer correctly.
Ricky Stenhouse Jr. was expected to break out this season, but is unfortunately mentioned in a group of drivers that includes Justin Haley and Cole Custer.
Bubba Wallace had a strong performance last week in P3 behind Elliott and Bell at New Hampshire. He should have another decent run at Pocono. His car is tuned well at the moment and Wallace appears in sync with his team.
Haley and Custer didn't have the best qualifying and likely didn't get involved. Haley qualified P30 and Custer P32.
The public will likely default to Custer at P32, but it's probably a toss-up. Let's go with Haley to finish the worst at the 2nd of Stage 2.
NASCAR at Pocono Super Six Odds
4. Which Coca-Cola Driver will finish in the Top 5 at the end of Stage 2?
Denny Hamlin is the easy answer here, but he's going to be a heavy public play. If you want to win the most out of this $1,000 pool, you are going to have to take some chances. It's a free contest, so you can afford to take a chance.
Denny Hamlin may very well be in the top-5, but he may have some company with his Coca-Cola teammates. Hamlin won at Pocono three races back in 2020.
Hamlin also did the same a year earlier in 2019. He's P14, P4, P1, P2, P1 in his previous five starts at Pocono. Is there another driver that can get into the top-5?
Daniel Suarez qualified well in P9 while Joey Logano has a chance from P14. More than one driver looks good.
NASCAR at Pocono Super Six Odds
5. At the end of the race, which manufacturer will have more cars in the Top 10 and how many cars will they have?
This is a different question that I haven't seen this year, or at least in a while. We have Hendrick pitted against Joe Gibbs for the most cars in the top-10.
Joe Gibbs Racing currently has six drivers, including Christopher Bell, Kyle Busch, Denny Hamlin, and Martin Truex Jr. Hendrick Motorsports has Chase Elliott, Kyle Larson, William Byron, and Alex Bowman.
Hendrick is stacked with Elliott and Larson, but statistically, you might have a better chance of going with Joe Gibbs. They have six drivers, with four that I could very easily see in the top-10.
That said, there is someone that is likely to drop out. I'll go with Joe Gibbs having three drivers in the top-10 at the checkered flag versus two for Hendrick.
NASCAR at Pocono Super Six Odds
6. Which driver will have the better finish at the end of the race and by how many positions?
Kyle Busch is one of the favorites to win at Pocono at +550. He's a co-favorite with Denny Hamlin on the NASCAR at Pocono odds board. Naturally, Busch will be a popular pick for the sixth Super Six question.
He will start P2 behind Hamlin on the grid. Busch was clocked at 53.098 seconds in qualifying, while Larson is P4 with a time of 53.250 seconds.
Busch is the defending winner at Pocono. Along with winning the most recent race on this track, he was runner-up in an earlier race at Pocono as well.
The driver behind Busch last year was Larson. Larson hasn't won since the second race of the season. In any case, he's still hanging around and going to be a big threat in the playoffs. Larson has been quiet recently, but he likely has a good run on Sunday.
NASCAR at Pocono Super Six Odds