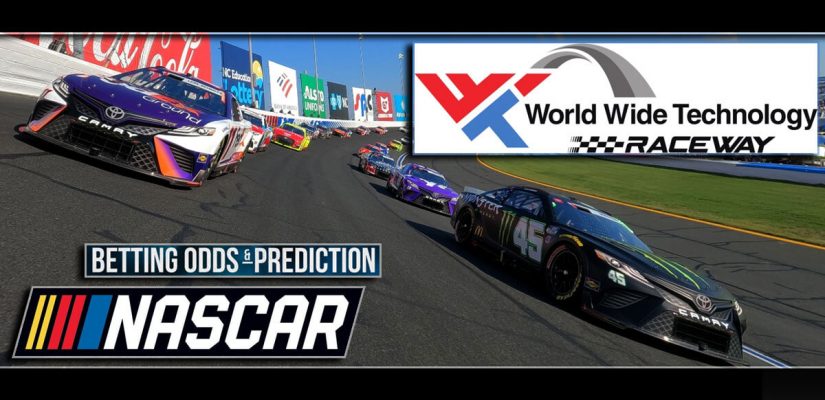 The NASCAR Cup Series is finally at WWT Raceway in Madison, Illinois this weekend. Traditional stock car fans haven't been too thrilled with more road courses added to the schedule, but a stop at WWTR at Gateway for the Enjoy Illinois 300 is sure to impress. TheSportsGeek has the best NASCAR St. Louis odds for Sunday.
Going into the 15th Cup Series race of the season, Chase Elliott continues to lead the standings. He has the lead with 489 points over Ross Chastain's 455 points. Kyle Busch is not that far back with 452 points.
Bucket list win ✅ #TeamToyota pic.twitter.com/gTRL9jFht6
— Denny Hamlin (@dennyhamlin) May 31, 2022
Denny Hamlin is coming off a win in the marathon known as the Coca-Cola 600. He outlasted the competition in a race that saw 17 DNFs. Many of the drivers who didn't finish were victims of unfortunate circumstances after getting caught up in an accident.
Change Of Gears
Being in the right place in a 600-mile race is part of having success in the Coca-Cola 600. There's a lot that has the chance to go wrong in a 5-hour race. We are going from a 600-mile race at Charlotte Motor Speedway to 240 laps on a 1.25-mile track over 300 miles of racing.
There was some speculation whether St. Louis could support a NASCAR Cup Series, but the public has responded favorably. The racetrack is sold out for Sunday afternoon, with approximately 57,000 tickets accounted for the Cup Series race.
World Wide Technology Raceway (Gateway Motorsports Park)
This is a new experience for many drivers, but the Nationwide/Xfinity Series ran here from 1997 to 2010. The NASCAR Truck Series has made regular appearances at Gateway Motorsports Park.
However, the Cup Series has never raced in the St. Louis area, with the belief that it wouldn't work. In 2010, there were rumors that the facility was going to close and new development was going to go on the land.
The fact that the Cup Series is racing here is a big win for Illinois and Missouri racing fans.
There is clearly a market for NASCAR racing at WWT Raceway.
Darlington Raceway is often regarded as the most difficult track on the schedule. This 1.25-mile track is similar to what you will find at Darlington.
That view though … 🤩 pic.twitter.com/7P1nakVobi
— NASCAR (@NASCAR) June 3, 2022
There are no shortcuts to success at Darlington. The NASCAR St. Louis odds are going to be similar to what you'd find there. The betting favorite is what you would most weeks on the Cup Series schedule, though.
Cup Series St. Louis Odds
If you have a good feel for this distance, you can probably estimate what the WWTR race odds will be for this Sunday. Everything has to be working well, including a good driver, pit crew, and car. Darlington requires a sharp driver to win.
It's tough to win if none of the above are true. Depending on just a fast car doesn't work at Darlington and isn't going to cut it at WWT Raceway.
Kyle Larson is the NASCAR St. Louis odds favorite at WWTR, which comes as a surprise to no one that has followed Cup Series odds this season.
Larson is the auto-favorite every week for anything that isn't a superspeedway. He's a good driver and nearly erased a terrible start last week to win, but something has been off for him.
He caught some breaks last season, but Larson had had a fast car often in 2022. It's just been hard on him to do anything with it consistently, though. Larson is ninth with a win and six top-5 performances.
Cup Series leader, Chase Elliott, is the second favorite to win at WTTR this weekend. There are four drivers with the third-best odds, which includes Denny Hamlin, Kyle Busch, Ryan Blaney, and William Byron. Find the top NASCAR betting sites for the WWTR race odds at the link and below.
Cup Series St. Louis Odds
NASCAR St. Louis Odds are Courtesy of Bovada:
Year
Driver
Team
+550
Kyle Larson
Hendrick Motorsports
+600
Chase Elliott
Hendrick Motorsports
+800
Denny Hamlin
Joe Gibbs Racing
+800
Kyle Busch
Joe Gibbs Racing
+800
Ryan Blaney
Team Penske
+800
WIlliam Byron
Hendrick Motorsports
+900
Ross Chastain
Trackhouse Racing Team
+1000
Joey Logano
Team Penske
+1200
Martin Truex Jr.
Joe Gibbs Racing
+1400
Alex Bowman
Hendrick Motorsports
+2000
Kevin Harvick
Stewart-Haas Racing
+2000
Tyler Reddick
Richard Childress Racing
+2500
Chase Briscoe
Stewart-Haas Racing
+2500
Kurt Busch
23XI Racing
WWTR NASCAR Picks
Kevin Harvick (+2000)
It's tough not to like Kevin Harvick to win at WWTR with these odds. Harvick has a liking for tracks that bring out the best drivers on the track. Experience will be appreciated this weekend at WWTR.
He has the experience and most importantly, experience with having success around this distance of 1.25 miles. Darlington is slightly longer at 1.366 miles, but WWTR shares a lot of the same characteristics.
Harvick has thrived at Darlington in his career. He's likely going to get involved towards the end of this race as well.
Harvick has finished in the top-6 in nine straight races and top-10 in 14 straight outings at Darlington. That includes two wins and 11 top-5 performances.
He had a great trip at Charlotte for the Coca-Cola 600, with Harvick finishing P3 ahead of Chase Briscoe and behind Kyle Busch.
This week, you have to like his veteran instincts in the first Cup Series race at WTTR.
NASCAR St. Louis Odds
Denny Hamlin (+800)
Could Denny Hamlin repeat after capturing the 2022 Coca-Cola 600? It's very possible, as the schedule sets up very nicely for him right now. Coming off a win in Charlotte, the Cup Series is at WWTR for a track that he should run well at in Madison.
WWTR is a driver's track and Hamlin will likely be rewarded again this weekend. He's figured out how to tame Darlington and should have a fast run at the WWTR crown.
Hamlin had a disappointing showing at Darlington a few weeks back. He was unable to win back-to-back races in South Carolina after finishing P21.
Before that race at Darlington, he finished P1, P13, P5, and P1. Hamlin had won two of the previous four races. After finishing P21 at Darlington, he responded nicely, going P4 at Kansas and the win last weekend.
There's a lot to like about Hamlin right now. He and his team are confident heading to a track they should like. This race should be within reach.
NASCAR St. Louis Odds
NASCAR St. Louis Prediction
Kyle Busch (+800)
If you want an experienced driver that should have a good car, Kyle Busch has to be high on your shortlist to win. Busch is coming off another solid run at a win last week.
The No. 18 Toyota came short of Denny Hamlin, but finishing P2 at the Charlotte 600-mile marathan must have felt good.
Busch is 3rd in the Cup Series standings with 452 points. He has a win on the dirt at Bristol after stealing one on the final lap. WWTR could be a good spot for him to find his second win of the season.
He's always liked going to Darlington, which should translate well to WWTR on Sunday. He ran into some bad luck with accidents in his last two races there, but otherwise, he has finished well.
Busch finished in the top-10 in 10 of 12 races at Darlington before running into trouble in the September race and a few weeks ago. He's my third and top pick to win at the Gateway Motorsports Park.