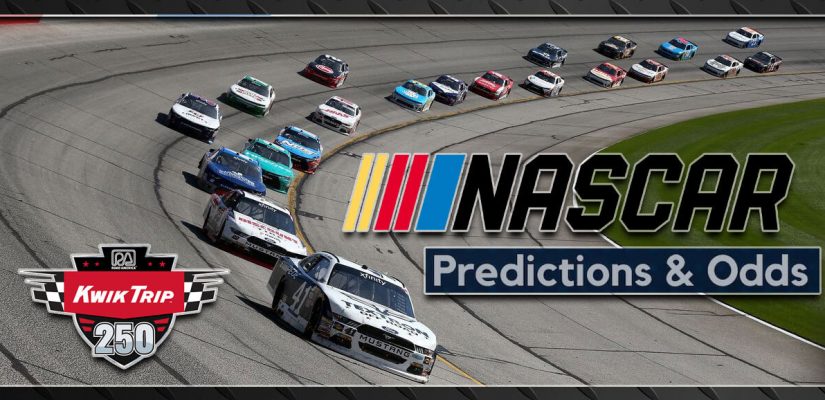 Road racing is a polarizing subject when it comes to NASCAR. Hardcore decade-long fans probably don't care for road races, but NASCAR needs to attract a young fanbase. The NASCAR Cup Series is on the road at Road America in Wisconsin.
4.048 miles of pure (Road) America 🤘 pic.twitter.com/myX7QcgnHx
— NASCAR (@NASCAR) July 1, 2022
Around 20 years ago, there was only Watkins Glen and Sonoma for road racing. NASCAR is attempting to ride the F1 wave and introduce more road courses; some feel it's too many for stock car racing.
More Road Racing
Ready or not, we have our third road course of the season, only two races after the Toyota Save Mart 350 at Sonoma. TheSportsGeek has the latest Kwik Trip 250 odds and what we hope are winning Road America picks.
Chase Elliott is coming off a delayed win at the Ally 400. There were stoppages because of rain, with the Cup Series points leader building on his lead with a win.
It was the second win for Elliott and his fourth top-5 finish in 2022.
Elliott has 586 points over Ross Chastain with 556 points. He's consistently good on any type of track, which is what makes Elliott so dangerous.
That includes road courses, where Elliott can win as well. Daniel Suarez won over Cole Buescher in the latest road course at Sonoma. Ross Chastain won the first road race at the Circuit of Americas in Texas.
Let's get into the Kwik Trip 250 odds and our top picks for NASCAR at Road America this Sunday. If you're looking for the best NASCAR Kwik Trip 250 odds, we suggest line shopping at our recommended NASCAR betting sites.
Kwik Trip 250 Betting Odds
The Ally 400 winner at Nashville last week is the betting favorite for the Kwik Trip 250. It's not even close. Chase Elliott is a +400 favorite while Kyle Larson is the second favorite on the Kwik Trip 250 odds board at +700.
Wins at @NashvilleSuperS.
Repeat at @roadamerica? @chaseelliott | @TeamHendrick pic.twitter.com/s9ZYdn1WPB
— NASCAR (@NASCAR) June 30, 2022
There might have been a race where Larson was a +400 favorite earlier in the season. However, I don't recall anything below +400, so Elliott is one of the biggest favorites we'd had so far in 2022.
If you're confident in Elliott winning back-to-back races, you'll have to pay for it at the highest odds for the Kwik Trip 250. After Larson, Ross Chastain is the third favorite to win on Sunday. Check out all of the Kwik Trip 250 odds from Bovada as of Friday night.
Kwik Trip 250 Odds are Courtesy of Bovada:
Odds
Driver
Team
+400
Chase Elliott
Hendrick Motorsports
+700
Kyle Larson
Hendrick Motorsports
+850
Ross Chastain
Trackhouse Racing
+1200
Kyle Busch
Joe Gibbs Racing
+1200
Martin Truex Jr.
Joe Gibbs Racing
+1400
A.J. Allmendinger
Kauling Racing
+1400
Austin Cindric
Team Penske
+1400
Christopher Bell
Joe Gibbs Racing
+1400
Daniel Suarez
Trackhouse Racing
+1400
Denny Hamlin
Joe Gibbs Racing
+1400
Ryan Blaney
Team Penske
+2000
Joey Logano
Team Penske
+2200
Tyler Reddick
Richard Childress Racing
+2200
William Byron
Hendrick Motorsports
Kwik Trip 250 Predictions
Ross Chastain (+850)
Ross Chastain has been on the heels of Chase Elliott in the Cup Series standings this season. He was in a good position to take over the lead last week, but Elliott stole a win and has edged ahead by 30 points.
Chastain might be the most underrated driver on the Cup Series grid. While Elliott is the master of top-10 performances, Chastain has often been closer to the front.
He has finished an impressive eight times in the top-5 this season.
There isn't another driver that has eight top-5 performances. Larson is second with seven and then two drivers with six. Along finishing consistently up front, Chastain has two wins.
One of the wins was a road course on March 27 at COTA in Texas. Chastain started P16 and had a nice run picking through through the field.
He also had a solid performance two races back at Sonoma. Chastain qualified P7 and finished P7 at the checkered flag.
He's one of only three drivers that finished in the top-10 at both road courses this year. Expect him to have a chance, and with his Kwik Trip 250 odds at +850, Chastain is worth considering.
Kwik Trip 250 Odds
Kyle Larson (+700)
It isn't often you are not going to see Kyle Larson as the betting favorite. Okay, it's a given that Larson isn't going to be the favorite at Daytona or Talladega; he's not a fan of superspeedways. Otherwise, Larson is the consensus favorite with the public.
Despite finishing P29 and P15 in the first two road courses in 2022, he's always a threat to have a good run on the road. Note that Larson finished P2, P1, P16, P1, P3, P1 in six road assignments in 2021.
Larson was running badly before a lengthy rain delay last week. When it was all done, Larson finished an impressive P4. It did not look like at all early on that Larson would be a top-5 performer at Nashville.
Larson at +400 or +500 to win at Road America wouldn't be the best value. However, we're getting up to +700 on a road course, where Larson has traditionally felt comfortable even though he's faltered thus far in 2022.
It's worth noting that Larson won the pole for the Xfinity race on Saturday.
In the Cup Series, Larson has seven top-5 finishes and two wins. He's only sixth in the Cup Series standings, but one of the favorites to win the Cup Series playoffs. No, Larson is not done this year, and a win at Road America isn't out of the equation on Sunday.