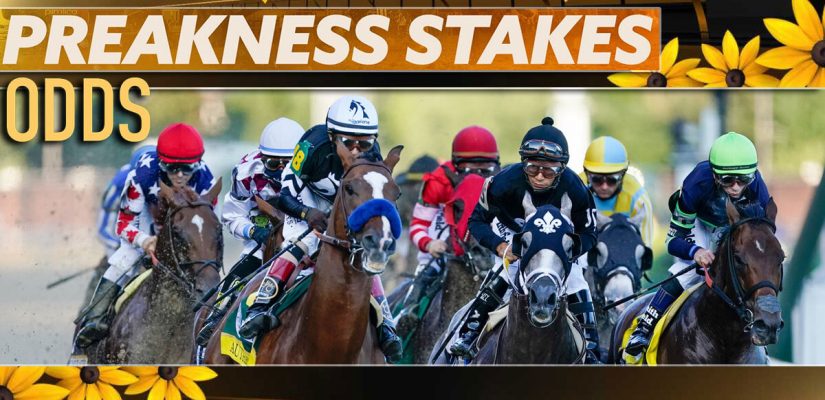 The 2022 Preakness Stakes is one of three races that is part of the Triple Crown of horse racing. A horse must win the Kentucky Derby, Preakness Stakes, and Belmont Stakes to win the Triple Crown. TheSportsGeek is looking at the best Preakness Stakes odds and potential Preakness Stakes winners.
When Rich Strike crossed the finish line, their lives changed forever. #KyDerby pic.twitter.com/1GRJ5qZnOk
— Kentucky Derby (@KentuckyDerby) May 8, 2022
Upset To Open The Triple Crown
The first event of the Triple Crown was a wild finish at Churchill Downs. In the most prestigious race in North America, Rich Strike shocked the world with an 80-1 win after being a late fill-in for a scratch. Rich Strike wasn't even in the field when I posted my Kentucky Derby picks.
My first pick was Epicenter in the Kentucky Derby. He had a strong race, but couldn't hold on in the stretch. Epicenter edged ahead of Zandon, but Rich Strike was on the rail kicking to the front. If you're looking for his Preakness Stakes odds, that's not possible.
Rich Strike points to the Belmont Stakes and bypasses a race that doesn't play to his strengths at Pimlico Race Course. The Preakness Stakes is a half-furlong shorter race than the Kentucky Derby. This isn't a race Rich Strike would care for at Pimlico.
#Preakness147 https://t.co/N8ZKnLsJxm
— NBC Sports (@NBCSports) May 16, 2022
The public that doesn't follow horse racing probably doesn't understand the move, but it makes perfect sense if he's going to have success at Belmont Park. Rich Strike isn't built to win at shorter distances, but the Belmont Stakes feels like a marathon.
Along with Epicenter, Happy Jack and Simplification are returning from the Kentucky Derby to go to the Preakness Stakes. Zandon will not be participating, so it only leaves Epicenter from the top-3 Derby horses.
Let's get into the best Preakness Stakes odds, and our Preakness picks for May 21, 2022. We also have the best Preakness Stakes betting sites for the big day at Pimlico.
What Time is the Preakness Stakes?
The Preakness Stakes is this coming Saturday on May 21 at Pimlico Race Course. Post time for the Preakness Stakes is at 7:01 p.m. EST. The race should begin shortly after the top of the hour at Pimlico. The total prize money available for the card is $2,983,000 spread across 14 races.
The Preakness Is A Party
Pimlico Race Course is in Baltimore, Maryland. It can be cheaper and better than the Kentucky Derby, depending on what kind of experience you are looking for at the racetrack. If you want a party, the Preakness is going to be the right place to be on Saturday.
Coverage of the 147th Preakness Stakes will begin at 4:30 p.m. EST on NBC. With no Triple Crown bid and Rich Strike to talk about, this is all about the gambling on Saturday.
Preakness Stakes Winners
The Preakness Stakes is the second stanza of the Triple Crown. A win at Pimlico after winning the Kentucky Derby results in a thrilling Belmont Stakes. We won't have that in 2022.
The last Triple Crown winner is Justify in 2018 following a Triple Crown win for American Pharoah in 2015. American Pharoah ran down the Triple Crown for the first time since Affirmed did it in 1978.
In my book, the most memorable recent Preakness Stakes winners were California Chrome (2014), Justify (2018), and Swiss Skydiver (2020). California Chrome was a Derby and Preakness winner, but failed to follow up in the Belmont Stakes.
Swiss Skydiver is known for being the fifth filly to win the Preakness. Just two years later, another filly is looking to win at Pimlico Race Course. Secret Oath is the next filly with a chance to go down in the history books as a girl to win a Triple Crown event.
The trip from Secretariat in 1973 still stands as the fastest time in the Preakness at 1:53.
Year
Horse
Trainer
2021
Rombauer
Michael W. McCarthy
2020
Swiss Skydiver
Ken McPeek
2019
War of Will
Mark E. Casse
2018
Justify
Bob Baffert
2017
Cloud Computing
Chad Brown
2016
Exaggerator
J. Keith Desormeaux
2015
American Pharoah
Bob Baffert
2014
California Chrome
Art Sherman
2013
Oxbow
D. Wayne Lukas
2012
I'll Have Another
Doug O'Neill
2011
Shackleford
Dale Romans
2010
Lookin At Lucky
Bob Baffert
2009
Rachel Alexandra
Steve Asmussen
2008
Big Brown
Richard Dutrow
Odds For The Preakness Stakes
The Preakness Stakes is a small nine-horse field on Saturday. It would have been nice with two or three more horses, but there are fewer horses to handicap at least.
Epicenter The One To Beat?
There is no surprise that Epicenter is the favorite to win the Kentucky Derby. After closing as the post-time favorite in the Kentucky Derby, Epicenter placed 2nd, returning a decent profit if you had him in a place bet.
There was no chalk at the 148th Kentucky Derby, so Epicenter still returned plus money to place at Churchill Downs. Against this field at Pimlico Race Course, Epicenter's Preakness Stakes odds are almost even.
By post time, you might be eating the chalk on him. There's a good chance that his Preakness odds will be less than even money on Saturday. Is there better value to be had for your Preakness Stakes betting, though?
(2) Creative Minister
+1000
(4) Secret Oath
+450 (3/1)
(7) Armagnac
+1400 (14/1)
(9) Skippylongstocking
+1800
2022 Preakness Stakes Predictions
Epicenter should be close at the wire in this race, but I'm not thrilled at even money or thereabout going into Saturday.
He's listed as the one to beat, though Early Voting and even the filly, Secret Oath, who won the all-filly Kentucky Oaks could be a threat.
A Preakness Win For The Girls?
Secret Oath is the most interesting prospect in the Preakness Stakes as the female of the group. She is fresh off the biggest win of her career in the $1,250,000 Kentucky Oaks (Gr. 1) on May 6.
It isn't her first time running against the boys. Before her Oaks win, she ran in the $1,250,000 Arkansas Derby (Gr. 1) and kept on well. Secret Oath showed 3rd in the Grade 1 event on April 2 at Oaklawn Park.
Calm and confident. #SecretOath #Preakness147 pic.twitter.com/9qJzJuuDxI
— Preakness Stakes (@PreaknessStakes) May 16, 2022
Cyberknife finished 18th in the Kentucky Derby after an Arkansas Derby win. She was 3 lengths behind Cyberknife at the wire in that one. There is decent value on her Preakness Stakes odds if you like the filly.
Early Voting's odds for the Preakness Stakes look like they'll make him a good value bet. Early Voting is 2 for 3 and is coming off more of a break than Epicenter, Secret Oath, Happy Jack, and Simplification.
He won back-to-back assignments on December 18 and February 5 at Aqueduct in Queens. Early Voting beat Matt Doyle by 1 ½ lengths in an $80,000 event. He followed up in his stakes debut with a win.
Early Voting defeated Un Ojo by 4 ½ lengths in the $250,000 Withers Stakes (Gr. 2). He still didn't have elite speed readings, though. Despite not winning the $750,000 Wood Memorial Stakes (Gr. 2) on April 9, he jumped from an 81 to a 102-speed rating.
After a brief layoff, Early Voting is open to greater improvement for Chad Brown. Looking at the Preakness Stakes odds board, Early Voting looks like the best value to bet at Pimlico. I'm also going 5-8-4 for the trifecta.