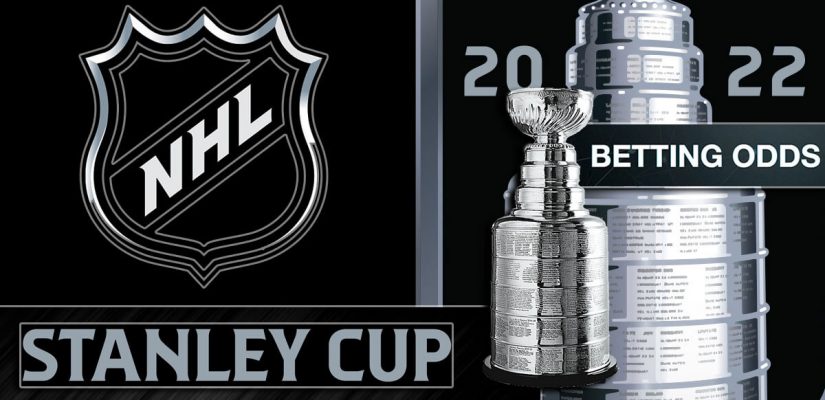 We can forgive you if you didn't pay too much attention to the NHL's regular season. It's a long slog that overlaps almost perfectly with the NBA season. The NFL, Major League Baseball, and various global soccer leagues also knife into the 82-game hockey campaign.
However, now is the time to start giving the NHL some attention. The Stanley Cup Playoffs began earlier this week, and you can easily argue that hockey's postseason is the most exciting one of them all. In the playoffs, whatever happened during the regular season almost barely matters. Parity is king in the Stanley Cup Playoffs, which makes betting on the NHL postseason unlike anything else.
Of course, Stanley Cup betting sites try their best to set their odds as accurately as possible. Because of the uncertainty and unpredictability, however, there is almost always edge to be found if you know where to look for it.
Please Note:
Stanley Cup odds will shift with each passing day as the first-round series continue to play out over the course of the next couple of weeks.
Which teams are the best bets to win it all later this summer? Read on for our Stanley Cup predictions.
Stanley Cup Betting Odds
Colorado Avalanche:
(+300)
Carolina Hurricanes:
(+700)
Toronto Maple Leafs:
(+900)
Tampa Bay Lightning:
(+1100)
Pittsburgh Penguins:
(+1700)
New York Rangers:
(+1800)
Washington Capitals:
(+2500)
Los Angeles Kings:
(+6500)
Nashville Predators:
(+9000)
The playoffs started earlier this week. It's still too early to get a firm idea as to how each of the first-round series will play out, but here's where the matchups stand through the first three days:
Avalanche lead Predators 1-0
Wild and Blues tied 1-1
Flames lead Stars 1-0
Oilers and Kings tied 1-1
Capitals lead Panthers 1-0
Maple Leafs and Lightning tied 1-1
Hurricanes lead Bruins 2-0
Penguins lead Rangers 1-0
Thanks to the NHL's new broadcast rights deal with ESPN and Turner Sports, it's a lot easier to find playoff action on TV than it was during the NBC days. ESPN and ESPN 2 have playoff action just about every night, while certain games can be found on the streaming platform, ESPN+, as well. TNT, TBS, and ABC will also air games throughout the Stanley Cup Playoffs.
Colorado Avalanche (+300)
The Avalanche are the early betting favorites to win it all this summer, and with good reason. The Avs finished 56-19-7 in the regular season, and their 119 points ranked first in the Western Conference. Colorado was six points better than second-place Minnesota in the Central Division.
Their plus-78 goal differential ranked second in the West, trailing only Calgary's plus-85 mark.
In Game 1 of their series against the Predators, we saw just how dominant the Avalanche can be. Colorado romped Nashville on their way to a 7-2 victory on home ice. The Avs jumped out to an easy 5-0 lead after the first period, essentially ending the game before the Preds had a chance to catch their breath.
Nathan MacKinnon or Sidney Crosby? 🤔😂
📺: ABC pic.twitter.com/VTDGDmyC9O
— ESPN (@espn) April 2, 2022
If the series continues that way, Nashville would be lucky to win a game. Nathan MacKinnon supplied a couple of goals with an assist, giving us a glimpse into why he's the early favorite to win the Conn Smythe Trophy later in the year. Mikko Rantanen picked up a game-high three assists, which was par for the course for him after finishing with 56 helpers during the regular year.
This series may well end in a sweep, which should give the Avs plenty of time to rest before their second-round matchup.
This team was in the hunt for the Presidents' Trophy with Florida all year long, and there's no reason to believe, as of now, that the Avs aren't capable of taking home the franchise's second-ever Stanley Cup title. At the current +300 Stanley Cup odds, you can easily argue Colorado is a bit undervalued by oddsmakers.
Calgary Flames (+600)
The Avs' Stanley Cup betting odds are twice as good as the next-best team, the Calgary Flames, who check in at +600. The Flames' 111-point regular season was likely a little on the unlucky side, as their plus-85 goal differential was the second-best in the entire NHL. Only the Panthers (plus-94) were better in that regard over the course of the 82-game marathon.
Calgary yielded just 208 goals this season, which was the third-fewest of any team.
Only the Hurricanes and Rangers were more stingy defensively. The Flames' ascent toward the top of the West was a bit of a surprise after a relatively quiet offseason. Calgary's brass was confident in their roster, and that gamble paid off in a big way during the season.
Johnny Gaudreau just became the 14th player in NHL history to score 90 even-strength points in a single season. #Flames
Joins Gretzky, Lafleur, Lemieux, Kurri, Yzerman, Bossy, Esposito, Jagr, Hodge, Dionne, Coffey, Stastny, and Trottier.
— Mike Gould (@miketgould) April 29, 2022
Johnny Gaudreau, a legitimate Hart Trophy contender, is coming off of the most prolific season of his career. The 28-year-old finished the season with 40 goals and 75 assists, and he assisted in Calgary's lone goal in their 1-0 win over Dallas in Game 1 of their opening-round series.
Please Note:
Only Connor McDavid (123) racked up more points this season than Gaudreau (115), who finished tied for second with Florida's Jonathan Huberdeau in that regard. We've seen over the years that you can ride a hot goaltender to a title, and the Flames are set up well in that category with Jacob Markstrom between the pipes.
The Flames are one of the most balanced and deepest teams in the field, so it's easy to see why they're a standout here at the current +600 Stanley Cup odds. I don't expect Calgary to encounter much trouble with Dallas in the first round.
Florida Panthers (+650)
The Panthers finished with the best record in the NHL at 58-18-6, good for 122 points. This was the franchise's first-ever Presidents' Trophy and just their third-ever division title. The Panthers will be looking to win the Eastern Conference for the second time ever and the first time since 1996, and they're still looking to lift the Stanley Cup for the first time.
Obviously, this is their best chance yet to accomplish that goal.
The Panthers' +650 Stanley Cup betting odds are likely only this low because they suffered a disappointing upset 4-2 loss to the Capitals in Game 1 of their first-round series. The Panthers scored a whopping 340 goals this season, which was a franchise record for a single season and easily led the NHL. A plus-94 goal differential ranked first, too.
With COL shootout loss to NASH, Panthers clinch Presidents' Trophy for first time — including home-ice advantage throughout the playoffs
— Elliotte Friedman (@FriedgeHNIC) April 29, 2022
Florida added veteran Claude Giroux before the deadline in an attempt to fortify an already-talented roster. Huberdeau and Aleksander Barkov is arguably the league's most prolific forward duo, so it was a bit surprising to see Florida muster just two goals in their opening game.
With this team facing legitimate expectations for the first time, whether they can perform under pressure remains to be seen. The Presidents' Trophy jinx is becoming a thing, too. Finishing with the best regular-season record in the league hasn't often translated to a Stanley Cup trophy in recent years.
Just two teams have won the Stanley Cup after winning the Presidents' Trophy since 2004-05, which is rather remarkable. The last team to do it was the Chicago Blackhawks nearly a decade ago. Remember what we said about parity in the playoffs? Florida is an awesome value at their current +650 Stanley Cup odds, but they certainly won't breeze to a championship.
Carolina Hurricanes (+700)
The Hurricanes have jumped out to a 2-0 lead in their first-round series over the Bruins, which is a rather important development for this team. Boston was a trendy pick to give Carolina some trouble, but the Canes have taken care of business thus far.
Going into Boston and picking up where they left off will be the hard part, of course.
The Hurricanes have already won more games over the Bruins in this series than they had in either of their previous two postseason matchups combined. Boston dominated Carolina, 8-1 on aggregate, between 2018 and 2020.
David Pastrnak's collision with Antti Raanta knocks Hurricanes goalie out of Game 2 https://t.co/mJRYURb5xV pic.twitter.com/qeY0ir9x5y
— Boston.com (@BostonDotCom) May 5, 2022
The Hurricanes' reliance on long-distance shots means their offense is a bit prone to dry spells, but that hasn't been an issue so far in this series. Carolina has put 10 goals on the board, while Boston has mustered just three of their own.
So far:
The absence of star netminder Frederik Andersen hasn't impacted the Canes at all. Antti Raanta looked the part as the fill-in starter in Game 1. Unfortunately, he was knocked out with an injury of his own in Game 2, which forced Pyotr Kochetkov into action. Kochetkov held his own when pressed into duty, but this is quickly becoming a major concern for the Canes.
Some stability between the pipes would be preferred for a deep playoff run. Andersen returning sooner than later would give me more confidence in Carolina's chances to win it all, but I think they're a bit overrated at the current +700 Stanley Cup odds. We can find much better value elsewhere.
Toronto Maple Leafs (+900)
The Maple Leafs have been an exceptional regular-season team in recent years, but whether they will actually advance beyond round one is the burning question for this team. Toronto put together yet another stellar campaign, finishing with 115 points and second to Florida in the Atlantic Division.
Florida and Carolina were the only Eastern Conference sides to top the Leafs' plus-62 goal differential. That said, the Maple Leafs have been ousted from the first round in each of their last five trips to the postseason.
This in spite of the fact that Toronto has racked up at least 95 regular-season points in three of those seasons. Auston Matthews put 106 points on the board this season and became the first NHLer since steven Stamkos over a decade ago to score at least 60 goals. Toronto can score, as evidenced by their 3.8 goals-per-game average, which ranked fourth in the league.
Maple Leafs fans right now pic.twitter.com/Fw5sSMtNck
— Blake Garman (@FrostedBlakes34) May 5, 2022
The Maple Leafs' first-round draw against the Lightning certainly wasn't ideal. Having to get past the two-time reigning Stanley Cup champions is a tall order. Tampa Bay didn't alter its roster much, so this will be an incredibly difficult test for a Maple Leafs team desperate to find some postseason success.
Things got off on the right foot with a 5-0 win in Game 1, but Tampa Bay stormed back to level the series with a 5-3 triumph in Game 2. Winning both games at home would have instilled the Leafs with some much-needed confidence, but heading down to Tampa and coming away with at least one victory looks absolutely vital to their long-term hopes.
Given their tough path, the Maple Leafs are a tough team to trust at those +900 Stanley Cup odds. Getting past the Lightning would make me feel quite a bit more optimistic about their chances, but I'd prefer to wait until after the series before putting any money on Toronto to win that elusive title.
Tampa Bay Lightning (+1100)
You won't often get a team with such a favorable track record at such long NHL Stanley Cup odds. The Lightning are in search of their third consecutive title, yet you can get them at +1100 to accomplish the feat right now.
Please Note:
Tampa Bay picked up that much-needed win in Game 2 to even the series before the scene shifts to Florida for Games 3 and 4. As mentioned, this is still largely the same team that won it all last year, though the Lightning did add veteran winger Brandon Hagel from Chicago ahead of the deadline.
Stamkos is also completely healthy, which wasn't even the case when they won their back-to-back titles. Frankly, you can argue this year's squad is even more dangerous than the two title teams, which is an awfully scary thought for the rest of the Stanley Cup hopefuls.
Let's even it up. #GoBolts pic.twitter.com/u7jDPELqJN
— Tampa Bay Lightning (@TBLightning) May 4, 2022
If they do win it all, the Lightning will become just the fourth team in league history to lift Lord Stanley's Cup three times in a row.
The Maple Leafs, Canadiens, and Islanders are the only other teams to have done the deed in the past. This team finished with 108 points during the regular season, yet it feels almost as though they're flying under the radar at this point. They should not be flying under any radar. Bet on the Lightning's +1100 Stanley Cup odds while you still can.
Given their vast amounts of playoff experience and the Maple Leafs' history of playoff failures, Tampa Bay going on to win this series would hardly be a shocking outcome.
Edmonton Oilers (+1700)
Edmonton has the NHL's best player in Connor McDavid, which is enough to make them worth a look at those +1700 Stanley Cup betting odds. Edmonton has won five Stanley Cups in franchise history, though they're in search of their first win since the 1980s.
Please Note:
The Oilers finished the season 49-27-6 and with 104 points, good for the second-most in the Pacific Division behind only Calgary.
Edmonton endured an upset loss to the LA Kings in Game 1 of their first-round set before bouncing back with a dominant showing in Game 2 to even things up. The Oilers put six goals on the board in a much-needed shutout win in Game 2, led by a pair of goals and an assist for Evander Kane. McDavid supplied two assists, while Leon Draisaitl added his second goal of the series.
Most Oilers goals since January 29 (Evander Kane's first game with the team)
Leon Draisaitl 28
Evander Kane 24
Connor McDavid 24 pic.twitter.com/Jd3R2LKsxV
— Sportsnet Stats (@SNstats) May 5, 2022
Edmonton has advanced past the first round just once in four playoff appearances since appearing in the Stanley Cup Finals back in 2006. This is just McDavid's fourth career playoff appearance, though he has made the most of his limited opportunities in the past. McDavid came into this playoffs with 11 goals and 11 assists through his first 21 playoff games, though team success has proven to be elusive.
The Oilers have won just one playoff game in their last two postseasons combined.
Getting past a veteran-laden Kings team in the first round surely won't be easy, but Edmonton is an interesting long-shot given their star power at +1700.
Who Will Win the Stanley Cup?
As usual, the race for the NHL title is as wide-open as it gets. Teams like Colorado, Florida, and Calgary are worthy favorites, but entering the playoffs with the best Stanley Cup odds is almost meaningless. In this league, favorites don't typically win, for whatever reason.
So, that presents you, the noble hockey bettor, with some interesting value opportunities.
I do think the Avalanche look the part as the early betting favorite, so taking a shot on Colorado's +300 Stanley Cup betting odds has plenty of merit. Star power, good defending, and a free-flowing offensive style could be enough to seal the deal.
I have questions about the Panthers given their lack of experience, but this team has the potential to be a dynasty in-the-making if they can put it all together. If you're looking for more value, I see no reason to overlook the Lightning, looming as relative long shots at +1100 Stanley Cup odds. If Tampa Bay gets past Toronto in the first round, those odds will drop considerably. Get the value while you still can.
I'll rank my favorite value bets to win the 2022 Stanley Cup below:
Tampa Bay Lightning:
(+1100)
Colorado Avalanche:
(+300)
Toronto Maple Leafs:
(+900)
PLACE YOUR BETS NOW!