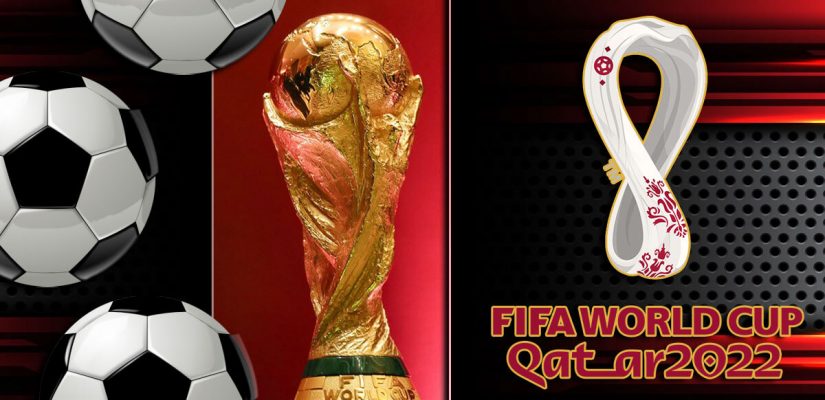 The 2022 World Cup will look a little different than previous iterations. Because the summers in Qatar tend to be rather steamy, this year's edition of the World Cup will take place in the fall. The festivities will officially kick off on November 21st, which means Thanksgiving this year will come with a side of soccer.
While we still have to wait about six months for the world's biggest sporting event to begin, World Cup betting sites have already updated with a slew of offerings. It's never too early to bet on something as massive as the World Cup, right?
We already know 29 of the teams that will occupy the 32-team field, with the final three squads to be determined via playoffs later in the summer.
Costa Rica will take on New Zealand in one playoff matchup.
Peru will take on the winner of the UAE/Australia match.
While the victor of Ukraine/Scotland will face Wales for the final World Cup spot.
As you may have expected, Brazil is currently favored to capture yet another World Cup title later this fall. Are the Brazilians the best bet to lift the trophy in 2022?
2022 World Cup Odds
United Arab Emirates:
+100000
FIFA is reportedly planning to expand the field for the 2026 World Cup. That year's competition, which will take place in the United States, Canada, and Mexico, will consist of a whopping 48 teams. As you can see in the World Cup odds above, 32 teams is already too many.
The vast majority of the sides that will descend upon Qatar this fall have virtually no chance of actually winning the World Cup.
22 of the 37 teams still in contention for a spot in the field face odds of +10000 or longer to win the tournament. You can add Senegal (+5000), Serbia (+8000), and Switzerland (+8000) to the list of long shots, if you want, as well. Even Croatia (+4000) and Uruguay (+5000) are fringe contenders.
Of course, we know why FIFA wants to expand the field in four years. It's all about the money. The more teams are involved in the competition, the more global interest the World Cup will generate.
Still, this is easily the most fun soccer competition in the world.
It's one of the most popular global sports betting events, as well. Billions of dollars will change hands between now and the end of the World Cup later this year. Which teams are the best bets to win?
Brazil (+450)
I certainly understand why Brazil is a +450 favorite. Brazil's five World Cup victories are the most of any country since the event launched back in 1930. They've also finished as runners-up twice. As usual, the 2022 squad will be absolutely loaded with world-class talent at every position on the pitch.
This will be the third straight World Cup in which Brazil will enter as betting favorites, though they haven't actually won the tournament since 2002.
Brazil was humiliated by Germany back in the 2014 World Cup before a rather unlucky exit in 2018 at the hands of Belgium in the quarterfinals. The Brazilians scored an astounding 40 goals while conceding just five in World Cup qualifying, which is no small feat given the level of competition in the South American confederation.
Brazilian football produces complete footballers.Fabinho & Casemiro are two of the purest DMs but they've added attacking skills.Fabinho has 8 goals this season, Casemiro created 7 big chances (6 goals last season). Guimarães is now a goalscorer.The ability to mould them is high.
— Premier League Panel (@PremLeaguePanel) May 4, 2022
Brazil should be quite strong in defense, with Liverpool goalkeeper Alisson and Man City's Ederson vying for starting duties. Fabinho and Casemiro give Brazil arguably the best central midfield duo of any team in the competition, while Vinicius Jr. and Neymar should supply most of the goal-scoring.
Please Note:
Neymar finished the qualifying rounds with eight goals and eight assists across 11 appearances, so there's still plenty of gas left in the tank if he can stay healthy. There is no discernible weakness in this side, which makes them worthy favorites.
Still, Brazil's +450 World Cup odds are a little too favorable considering 20 years have passed since their last title. This is the top-ranked team in the world, however, per FIFA's international ranking system.
France (+600)
The reigning World Cup champions disappointingly crashed out of Euro 2020 in the Round of 16 with a loss in penalties to Switzerland. Few saw that coming considering Les Bleus entered the competition as betting favorites, but this is another team with an embarrassing amount of on-paper talent.
Is France as dominant as it should be? Probably not.
However, sometimes having a transcendent talent like Kylian Mbappe leading the way can help mask those imperfections. Mbappe tied Antoine Griezmann for the team lead with four goals during the 2018 World Cup run on his way to winning Best Young Player. Mbappe, who may make a big-money move to Real Madrid from PSG before the 2022 World Cup, has only improved since then.
2006 World Cup Quarter-Finals
Zidane vs Brazil pic.twitter.com/U8Lijn3DFP
— Stop That Zizou (@StopThatZizou) May 1, 2022
France has won the World Cup twice in the past, with their other triumph coming on home soil in 1998. Didier Deschamps, the current manager, was the captain of the '98 squad.
Please Note:
Les Bleus will play in Group D, which will also feature Denmark, Tunisia, and the winner of the Peru/UAE/Australia playoff.
Denmark (+2500) is the only other side in the group with reasonably good 2022 World Cup odds, which means France should face very little trouble advancing to the knockout stages.
England (+600)
Once again, England will try to bring it home. The Three Lions were on the verge of winning their first major international trophy since 1996 at last year's Euros before losing to Italy in a heartbreaking fashion in the final. That setback came on the heels of a promising fourth-place showing in Russia in 2018.
England is currently ranked fifth in the FIFA rankings, just behind Argentina. As is the case with most of the top-ranked team in the field, England have gobs of talent all over the pitch.
Harry Kane, who led all scorers with six goals at the 2018 World Cup, figures to lead Gareth Southgate's line once again. Raheem Sterling was one of the bright spots at least year's Euros, while Phil Foden and Jadon Sancho appear primed for more prominent roles.
⚽️ Most Premier League goals and assists by English players this season:
⚪️ Harry Kane – 2⃣0⃣
🔵 Mason Mount – 1⃣9⃣
⚒️ Jarrod Bowen – 1⃣8⃣
✅ Bowen was 15/8 to score or assist against Arsenal.
🏴󠁧󠁢󠁥󠁮󠁧󠁿 He's 13/2 to start England's first World Cup match. pic.twitter.com/JdD2pmbNOL
— Betfair (@Betfair) May 1, 2022
Southgate has too many quality outside backs vying for minutes between Luke Shaw, Trent Alexander-Arnold, Kyle Walker, and Keiran Trippier. Every single one of those players would be an unquestioned starter for the vast majority of teams in the world.
However, the Three Lions' primary weakness is in the midfield. Mason Mount, Declan Rice, and Jordan Henderson appear to be the favorites to log the most minutes, but teams like Brazil and France, in particular, have legitimate game-changers at this position. The absence of any dominant midfielder is what may ultimately cost England in its quest to win another major trophy.
England's +600 FIFA World Cup odds are understandable, but I much prefer the value on France at the same number.
Spain (+750)
Things have gone downhill for Spain after the "Golden Generation" that won the Euros in 2008 and 2012 and the World Cup in 2010. While a couple of those players (Sergio Busquets, Sergio Ramos) still remain, the Spanish side we'll see later this year in Qatar is largely comprised of new faces.
Spain was drawn with Germany in Group E.
But they'll also face Japan and either Costa Rica or New Zealand, which should make advancing a fairly easy task. Getting through the group hasn't been the hard part in recent years, however. Spain has yet to win a knockout game at a World Cup since winning the whole thing 12 years ago.
Spain not selecting Thiago lately is wild, but is great for Liverpool #LFC
— Charlotte Coates (@CACoates96) May 2, 2022
Once they do advance, Spain will likely face a very tough draw against either Belgium or Croatia in the Round of 16.
Please Note:
If they're lucky enough to get past that round, Brazil or Portugal could be waiting in the quarters. The path to the final is a tough one for Spain, and they'll certainly have to earn it.
La Roja took Italy to a shootout in the semis of last year's Euros, which shows they're capable of hanging with anybody.
Argentina (+750)
Lionel Messi finally won an international competition with Argentina at last year's Copa America. This generation's best player came close to winning the 2014 World Cup, when his side fell at the hands of Germany in the final.
Argentina subsequently advanced to the Round of 16 four years ago in Russia before losing to France. That team was never a serious threat to actually win it, however.
This side is likely listed with +750 World Cup odds on reputation more than anything else. Manager Lionel Scaloni has gotten the best out of the team since taking over, however, with an impressive unbeaten run through CONMEBOL qualifying.
Pulisic with Messi during 2016 Copa America 🇺🇸 pic.twitter.com/Sts0niB7Gu
— All About Argentina 🛎🇦🇷 (@AlbicelesteTalk) April 28, 2022
Argentina faces a fairly difficult Group C that also features Poland, Mexico, and Saudi Arabia. This isn't a particularly good version of Mexico, however, while Poland are lacking in quality outside of star striker Robert Lewandowski. Argentina is still a solid -180 favorite to finish atop the group, and with good reason.
Please Note:
Argentina will lean heavily on Messi and Angel di Maria to pull the strings in midfield, while Inter Milan's Lautaro Martinez will be tasked with converting his chances in front of goal. Emi Martinez has established himself as Scaloni's first-choice goalkeeper, with Nicolas Otamendi and Cristian Romero entrenched as the starting pairing in central defense.
This is Messi's best and likely last shot at winning a World Cup while he's in something resembling his prime. Given the two teams have the same +750 World Cup odds, the more well-rounded Spain side looks like the better bet.
Germany (+1000)
The 2014 World Cup champs bowed out in shocking fashion with a last-place group finish at Russia 2018 before another mediocre showing at Euro 2020. This will be the first time in nearly 20 years the team will enter a major tournament without Joachim Low patrolling the touchline.
Hansi Flick will take the reins this fall in Qatar.
The Germans are ranked just 11th in the world, which seems a bit low given the team's tremendous success over the years.
Germany has won the World Cup four times, good for second-most of any team behind only Brazil. The Germans went 9-0-1 in European qualifying with 36 goals scored and just three allowed. If that sounds impressive, that's because it is.
🚨| OFFICIAL: Toni Kroos retires from international football. #rmalive
— Madrid Zone (@theMadridZone) July 2, 2021
Longtime cornerstones Manuel Neuer and Thomas Muller are still here, but the side has added more pace and youth with youngsters like Serge Gnabry, Leroy Sane, and Jamal Musiala primed to play featured roles in Qatar. Ilkay Gundogan and Leon Goretzka will keep the German midfield humming along nicely at both ends of the pitch. Germany will miss the retired Toni Kroos, however.
Germany is a bit weak defensively on the flanks, which will make them vulnerable against foes with speed on the wings.
Belgium (+1200)
Belgium is actually ranked second in FIFA's world rankings behind Brazil, which makes their +1200 2022 World Cup odds rather surprising. Belgium have been hyped up before every major tournament since 2014, yet they're still looking to secure their first major championship. Perhaps that's why oddsmakers are bearish on the Belgians' chances in 2022.
Belgium has a "golden generation" of its own right now, but the clock is ticking.
The injury-plagued Eden Hazard is likely past his prime, while Romelu Lukaku is in the midst of a disappointing campaign for Chelsea at the club level. Kevin De Bruyne is still one of the best players on the planet, and the Man City man will be at the heart of everything Belgium wants to do in Qatar.
#WorldCupPhotoOfTheDay
Alisson 🇧🇷 beaten by the snoter from Kevin de Bruyne 🇧🇪 in the quarterfinal of #WorldCup #Russia2018. Belgium beat Brazil by 2-1 in a stunning match where we witnessed the best of Brazil and Belgium attack and worst of Brazil defence. pic.twitter.com/pLt2mlN3WV
— Faisal Caesar (@faisalyorker1) May 4, 2022
There is some youth on the way, however. Jeremy Doku was one of the breakout stars of Euro 2020, while the 22-year-old Albert Sambi Lokonga could help extend the Red Devils' World Cup window a bit further.
That said, failure to win it all this fall may haunt the Belgians for quite some time. As is the case with Messi's Argentina, this side won't be at its peak for much longer. Group F won't be easy with an upstart Canada and an established Croatia side in the draw, but I think Belgium's +1200 World Cup odds are a bit low given the bevy of talent still in the squad.
Who Will Win the 2022 World Cup?
As mentioned, we can go ahead and write off at least 60 percent of the field, which makes betting on FIFA World Cup odds a little less complicated. The cream tends to rise to the top in this sport. While there could be a few unexpected surprises along the way – Croatia made the final in 2018, after all – I largely expect the form to hold.
Can you bet on Brazil?
Sure. The talent alone puts them in play. I just don't think their 2022 World Cup odds (+450) offer all that much upside. You can get a more experienced and, arguably, more talented French side at a more favorable +600 number. We saw just four years ago what this team is capable of doing, even if it's not playing at its highest level. It's scary to think of what France may look like if they ever put it all together.
If you're looking for even more value, Spain (+750) and Belgium (+1200) stand out the most. Belgium finished third in 2018, and they'll likely be betting favorites in the vast majority of their games in Qatar this fall. I wouldn't be shocked if Belgium's World Cup odds improved considerably between now and then, which makes +1200 look like a number to exploit.
Here's how I'll rank my favorite bets to win the 2022 World Cup:
PLACE YOUR BETS NOW!