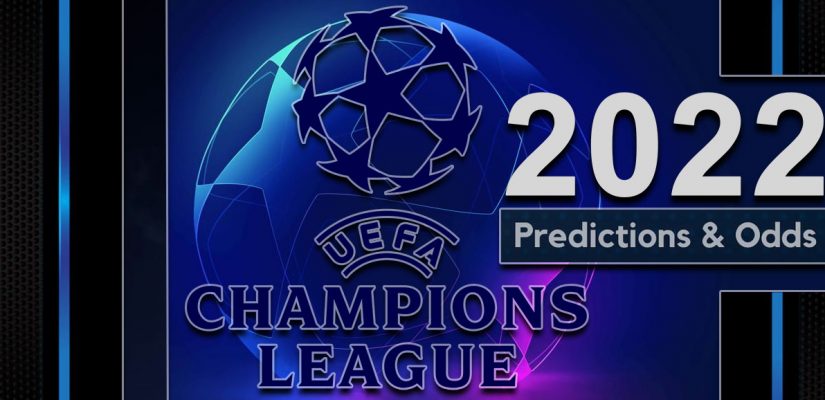 Nowadays, there is no true soccer offseason. While the 2021-22 European domestic and international campaigns are in the rearview mirror, most major clubs will spend the summer traveling the world playing a variety of exhibition games in an attempt to garner new fans in different countries.
Before you know it, the 2022-23 season will get underway. Most major European leagues will kick off in August, with a World Cup set to follow in the fall. The next calendar year is littered with soccer action, which means you'll probably spend plenty of time visiting your favorite soccer betting sites.
Most UEFA Champions League contenders will spend the next few months tinkering with their squads in an attempt to gear up for another run at Europe's most prestigious club trophy. Earlier this month, Real Madrid pulled off a 1-0 upset win over Liverpool to win the European Cup for a record 14th time.
However, Los Blancos are not the early favorites to win it for the 15th time next year. The updated UEFA Champions League odds have a pair of English squads at the top, while the reigning champions sit a distant fifth.
How should you bet the 2022-23 Champions League? Here's an early look at the contenders.
2022-23 UEFA Champions League Odds
Manchester City (+275)
Liverpool (+500)
Paris St. Germain (+500)
Bayern Munich (+600)
Real Madrid (+1000)
Chelsea (+1200)
Barcelona (+1400)
Juventus (+2500)
Tottenham Hotspur (+2800)
Atletico Madrid (+3500)
Inter Milan (+3500)
AC Milan (+4000)
Borussia Dortmund (+5000)
Ajax (+6500)
Napoli (+6500)
RB Leipzig (+6500)
Manchester City (+275)
We've seen this movie before. Manchester City will once again open as betting favorites to win the Champions League, but the next time they win it will be the first. City have opened as the betting favorite in each of the last three seasons, though European success continues to elude the club.
Domestic success is will within City's grasp. Pep Guardiola's squad managed to hold off Liverpool to win the English Premier League for the second year in a row and for the fourth time in the last five seasons. Last year's title required some second-half heroics after the team fell into a 2-0 deficit against Aston Villa in the season finale, but their talent ultimately won out.
As usual, however, the team came up short in the Champions League after bottling a late lead of their own in the semifinal round against Real Madrid. Already this summer the Citizens have spent big money in an attempt to bolster what is already the most talent-laden roster on the planet.
City unveiled star striker Erling Haaland earlier this week, who arrives after developing into one of the most lethal strikers in the world over the past few seasons with Borussia Dortmund. Haaland scored a whopping 62 goals in 67 appearances over just two-and-a-half seasons with the German club.
Posting a bit too much today, but this is how excited I am 🙃 pic.twitter.com/AJhnFiGbLh
— Erling Haaland (@ErlingHaaland) June 13, 2022
Of course, scoring goals has never been a problem for City under Guardiola. This team led the Premier League with 99 goals this past term, and the addition of Haaland should make them even more lethal in front of the net. Whether this team can overcome the mental hurdles required to win the Champions League remains to be seen.
Liverpool (+500)
Liverpool had dreams of completing the rare quadruple a season ago, but they had to settle for a mere double in the end. The Reds took City to the final day of the Premier League campaign, while they also came up short in their quest to win Champions League for the second time in a four-year span. Liverpool did win the FA and EFL Cups, however, so the season was far from a letdown.
Change is in the air on Merseyside this summer, as well. Longtime winger Sadio Mane is on the verge of leaving England to sign with Bayern Munich, but Jurgen Klopp has already brought in Mane's replacements. Winger Luis Diaz is primed for an even bigger role last season after coming over in January as a midseason signing from Porto. Earlier this week, Liverpool unveiled a new striker of their own in Darwin Nunez, who bagged 26 goals in 28 games in the Portuguese top-flight with Benfica last term.
It's worth noting the 2023 Champions League final will take place in Istanbul. That's good news for Liverpool, as their memorable 2005 come-from-behind victory over AC Milan in the final also took place in the Turkish capital. The 2021 final, which had to be moved to Portugal because of the pandemic, was originally slated for Istanbul, as well.
Assuming they can stay healthy, there is no reason to believe next year's Liverpool team won't be as good as the most recent one. If anything, swapping a 30-year-old Mane for the younger Diaz and Nunez in the regular squad rotation could make them even more dangerous in attack.
Welcome to Liverpool! @Darwinn99 How may I assist you? 😜 pic.twitter.com/YvuzVJBfvg
— Trent Alexander-Arnold (@TrentAA) June 14, 2022
Liverpool has made the final three times in the last five years, which makes their +500 UEFA Champions League odds for next season look quite tempting. We know this team has the mettle to win this very competition.
Paris St. Germain (+500)
Paris St. Germain aren't so different from Manchester City. Domestic success hasn't been the problem. PSG are one of the richest clubs in the world, and they've spent lavishly over the past decade.
To this point, however, PSG have yet to reach the European mountaintop. The closest they came was an appearance in the 2020 UEFA Champions League final, where they were beaten by a far superior Bayern Munich side. PSG made the semis the following year, but every other UCL quest since 2016-17 has ended in the round-of-16.
Between Kylian Mbappe, Lionel Messi, and Neymar, you probably won't find a more talented attacking trio anywhere else in the world. Messi isn't getting any younger, but Mbappe recently spurned overtures from Real in order to remain in his native France. Neymar has struggled to stay healthy in recent years, which has complicated PSG's plans for European glory.
Ligue 1 is otherwise lacking in terms of world-class competition, which means this side is rarely challenged in league play. Despite the impressive array of talent, this team often looks unprepared and overwhelmed by other more battle-tested sides in this tournament. Despite winning the French league again this past year, PSG decided to sack manager Mauricio Pochettino as a result of another early Champions League exit.
I'll believe PSG are capable of winning this competition when I see it. For now, their +500 Champions League odds look like a very easy fade.
Bayern Munich (+600)
As mentioned previously, Liverpool's loss is likely to be Bayern Munich's gain this summer. Sadio Mane's arrival appears imminent, which should bolster Bayern's attack in 2022-23. The 30-year-old was a regular Ballon d'Or and Golden Boot contender in England, so he should be up for the task after making he move to Germany.
However, it appears Robert Lewandowski's days in the Bundesliga are numbered. The legendary Polish striker has accomplished everything there is to accomplish since arriving in Munich in 2014, and he's reportedly ready for a new challenge. A move to Barcelona looks like the most likely outcome, but no deal has been struck just yet.
This team is still incredibly stacked at just about every position on the pitch, and winning yet another German top-flight title should be a fairly simple task. The team was disappointingly ousted in the quarterfinals of last year's Champions League by Villarreal, however. In spite of the talent, Bayern's 2020 UCL triumph is still the club's only appearance in the final in the last decade.
Sadio Mané is set to join Bayern on a permanent deal from Liverpool, here we go! Agreement set to be reached after direct meeting between the two clubs today. 🚨🇸🇳 #FCBayern
Personal terms already 100% agreed on a three year deal.
Deal called by @Plettigoal is now finally done. pic.twitter.com/bbMN6MuEIm
— Fabrizio Romano (@FabrizioRomano) June 17, 2022
Mane is outstanding, but I'm skeptical that he will be able to duplicate Lewandowski's incredible track record in front of goal. The German giants mustered just one goal across those two legs against Villarreal, so I'm not yet sold on Bayern as one of the clear-cut favorites. At +600, their Champions League odds may be a bit inflated.
Real Madrid (+1000)
Real Madrid's +1000 odds to win Champions League almost looks like a typo. Real Madrid are the most successful European club of all time. While Los Blancos have not been as consistent in the few years since Cristiano Ronaldo's departure, the Champions League does seem to bring out the best in this squad, for whatever reason.
Bale, Marcelo and Isco have all been added to Real Madrid's legends section on their website 🏆👏 pic.twitter.com/4WbPq5Mmpj
— ESPN FC (@ESPNFC) June 16, 2022
They looked like a team of destiny this past year, using late heroics to get past both Paris St. Germain in the quarterfinals and Man City in the semis. A timely Vinicius Junior goal in the final was enough to get past Liverpool despite the fact that Real were largely outplayed over the course of the 90-minute contest.
Los Blancos lost out on the chance to sign Mbappe, and the likes of Karim Benzema (34), Luka Modric (36), and Toni Kroos (32) aren't getting any younger. Madrid did beat Liverpool to the signature of French midfielder Aurelian Tchouameni, while this team has a good habit of developing young talent. As always, there are plenty of youngsters rising through Real's pipeline all the time.
Carlo Ancelotti will be back again next season. The Italian manager has won at just about every stop other than Everton over the course of his career, and you can bet this team will be right in the thick of everything again next term. While Real did get lucky en route to their 2022 UCL crown, there's just something about this team in this competition.
Who Will Win the 2022-23 Champions League?
The UEFA Champions League is the best club soccer competition in the world on an annual basis for a variety of reasons. Getting the chance to watch the world's best square off in pursuit of the coveted trophy every year is a thrilling experience.
Betting on Champions League can be profitable if you time those wagers well enough. The fact that Manchester City has never won it before has no real bearing on their chances to win it next term. This is the most impressive collection of talent in the competition, and it's probably only a matter of time until they finally seal the deal.
City's +275 odds are appealing enough. If you want value, both Liverpool (+500) and Real Madrid (+1000) stand out for very obvious reasons.
I'll rank my favorite way-too-early 2022-23 Champions League futures wagers below:
Real Madrid (+1000)
Manchester City (+275)
Liverpool (+500)
Bayern Munich (+600)
PSG (+600)