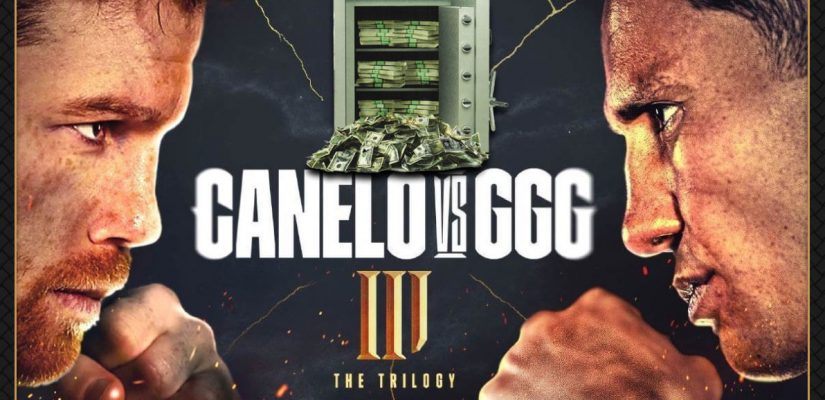 Canelo vs Gennady Golovkin III is scheduled for September 17th, 2022. In less than four months, we'll have a rubber match to complete one of the most epic trilogies in boxing history. You'll be able to bet on Canelo vs GGG 3 on all major sportsbooks, but we're focused on thinking about the Canelo win. The opening odds are available at Betonline.ag, so let's analyze the boxing's greatest living trilogy and the Canelo Alvarez odds. 
Canelo vs GGG 3 Rematch Odds
Currently, only money lines are available for this bout, though all boxing betting sites will host an array of betting options. 
Bout Bet 
Odds
Gennady Golovkin
+300
Saul Canelo Alvarez
-400
After losing the last bout, GGG comes in as the underdog. Canelo is the favorite despite being served up his first loss by Bivol in May. Gennady has only ever been the underdog against Canelo. 
Canelo vs GGG rematch set for September this year 🥊 Who's winning? pic.twitter.com/XNWKH1nkoy
— My Mixtapez (@mymixtapez) May 23, 2022
Canelo looks green in this fight one weigh in.
Betting Odds History for GGG vs Canelo 
Canelo is the favorite for the first time in their three fight series. From opening to closing odds, GGG was a decent favorite in both bouts. With a draw and loss to his name, Gennady is now a bigger underdog than Saul Alvarez ever was. 
Fighter
GGG
Canelo
Fight One
-175
+190
Fight Two 
-205
+275
Fight Three 
+300
-400
The switch to Canelo has a couple of root causes. 
Canelo won the last fight with Gennady, giving him his only loss
GGG hasn't sought out challenges the way Canelo has since their last fight
Boxing pundits see a Canelo knockout due to GGG's age
Why You Should Bet Big on Canelo Over GGG
Genady is one of the greatest boxers to ever do it, so why are so many boxing analysts bullish on a Canelo win? Let's look closely at the stats and build our top betting pick for Canelo. 
Betting on Canelo's Power
Canelo went to a draw in fight one and defeated Gennady in the rematch. The compubox punch stats showed Alvarez landing far fewer jabs and was outpointed by GGG in both fights, which makes these matches tough to judge. 
Compubox Stats for GGG vs Canelo
Fighter
Canelo
GGG
Fight 1 Total Punches 
169/505
218/703
Fight 1 Total Power Punches 
114/272
110/342
Fight 2 Total Punches 
292/622
234/879
Fight 2 Total Power Punches 
143/366
116/332
Canelo was outboxed on paper in both bouts. I had him down in fight one. But the story of fight two is about Canelo's decision to throw with intention. It was clear that Canelo's power won him rounds, and that serving up the harder, more devastating punching overall won Canelo the rematch and the judges' scorecards. 
Gennady 'GGG' Golovkin 40 years young today. On the eve of his return vs Murata he's highlights of the 1st Canelo fight where most observers thought he clearly won..#GGG #GGGMurata #boxing pic.twitter.com/GBuwEEnIj1
— Sweet Pugilsm (@DreamsR4Real999) April 8, 2022
GGG's Age
The Canelo Alvaraz betting odds reflect Golovkin's age more than anything else. Canelo's power is stunning, but the eight year difference in the fighters age is even more pronounced as GGG approaches forty-one. 
Canelo has knocked out three of his last four opponent's, and GGG's chin will fade at some point, as will all fighter's. If the Bivol match taught us anything, it's to remember that all fighters are human despite often seeming indestructible. 
Canelo's Return to Middleweight
Canelo has now fought from Welterweight to Light Heavyweight. The fifteen pound difference between Bivol and GGG is night and day for Canelo. Cutting weight from a heavier weight class tends to make fighter's slower, but stronger. I expect to see Canelo tough to move, and heavy in the ring against Gennady. Canelo vs GGG odds reflect this change in weight, recognizing that Canelo is going to come in as one of the strongest hitters GGG has ever faced. 
PLACE YOUR BETS NOW!
What This Means for Bettors
Focus on finishing props and not Over props, despite the first two fights going to decision. I see the Canelo money line getting stronger, moving into the -600 range as with Bivol. Analysts see a finish against the aging champion. 
Betting on Canelo's Hunger
Canelo was served up the third loss of his career, and GGG has only ever lost to Canelo. Why are we so sure that Canelo will win? Canelo chooses comeback fights meaningfully. He doesn't take fights he doesn't think he can win. 
Saul Alvaraz is a fighter that's focused on taking on the greatest, most exciting challenge available to him at all times. Another win against GGG will solidify his legacy as an all time great, and put the loss to Bivol behind him in a big way. 
Canelo's Losses and Next Fight
After Saul loses a fight, he always comes back with a serious win. His loss to Mayweather was followed up with the round ten TKO of Angulo and win over Lara. The draw with GGG was the immediate rematch win and TKO of Rocky Fielding in round 3. After this loss to Bivol, we'll see a comeback performance, which usually involves early TKO's and forward moving intensity from Canelo. 
Betting on Canelo's Growth 
Canelo is now 31, and he was only 26 in his first bout with Golovkin. Since his GGG bouts, he's put up some of the best performances of his career against Saunders, Plant and Callum Smith. Canelo is a more seasoned boxer now, gaining experience that he needed in the first two fights with Gennady. 
GGG Betting Odds
Three times your money on a champion like Gennady is tough to pass up. Looking at Golovkin's fight since the Canelo loss, we see three TKO wins and a decision with Sergiy Derevyanchenko. None of these performances were over proven champions, mostly gatekeeping people from the top five while Canelo is away. Charlo seems to be hoping that Gennady ages out of competition, and he may be in luck. In GGG's last three, I haven't seen anything that would indicate evolution in his style that can bring him a Canelo win. 
Bet on Canelo at Betonline.Ag
Canelo odds are currently available at Betonline.ag. This sportsbook is offering The Sports Geek readers a %50 matching bonus up to $1000. Currently, it's the only sportsbook with Canelo vs GGG odds on offer. Take advantage of these early odds and get excited about the biggest Middleweight fight of 2022. 
PLACE YOUR BETS NOW!