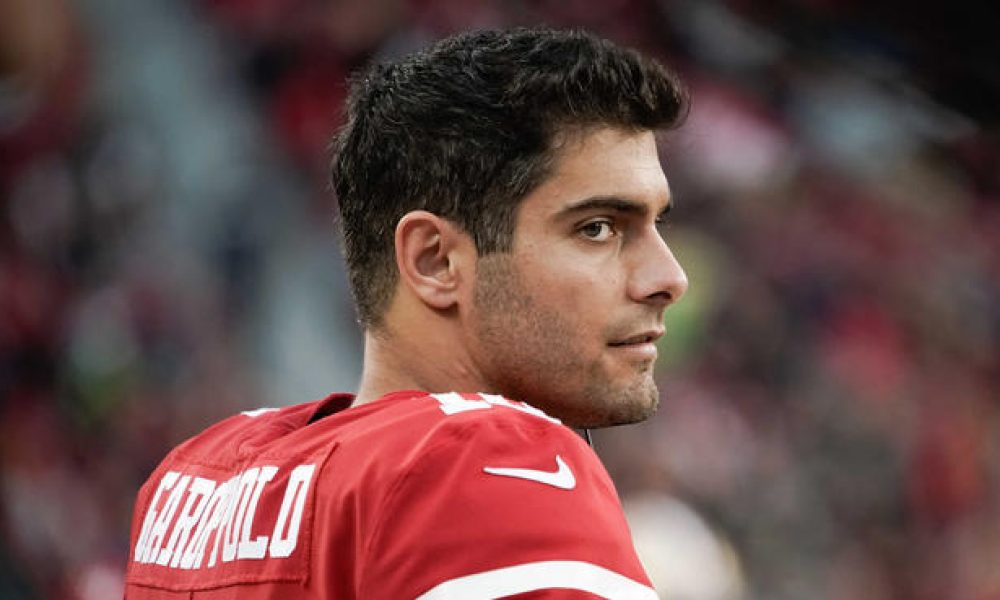 Nov 26, 2017; Santa Clara, CA, USA; San Francisco 49ers quarterback Jimmy Garoppolo (10) watches the game against the Seattle Seahawks during the fourth quarter at Levi's Stadium. Mandatory Credit: Stan Szeto-USA TODAY Sports
Since the start of the offseason, there has remained uncertainty around San Francisco 49ers quarterback Jimmy Garoppolo's future with the franchise.
Garoppolo has moved through the offseason recovering from shoulder surgery, which ESPN is reporting that he is still on schedule with his recovery.
The 49ers have yet to clear the air concerning his future for the 2022 season. Garoppolo is in the final year of his contract, and there hasn't been any discussion toward a contract extension.
Meanwhile, Trey Lance is poised to take the next step making his claim as the team's long-term future under center. Lance played sporadically in his rookie campaign, but San Francisco is expected to play him more extensively, likely as the starter.
The 49ers haven't put any external pressure on him to grasp the starting job, but the writing on the wall. However, Garoppolo is in a tough spot as there isn't any clarity whether the team will lean on him to start the 2022 or if he will be traded well before next season.
It's likely that the trade market picks up once he recovers from his surgery and passes a physical. Although he isn't a game-changing talent under center, he's proven that he can lead a team to consistent success.
That alone could lead to increased demand for his services before the upcoming season. If a team were to trade for him, it would require the franchise to take on his $24.2 million salary, but that financial figure could decrease if an extension is put into place.
Facebook Twitter LinkedIn