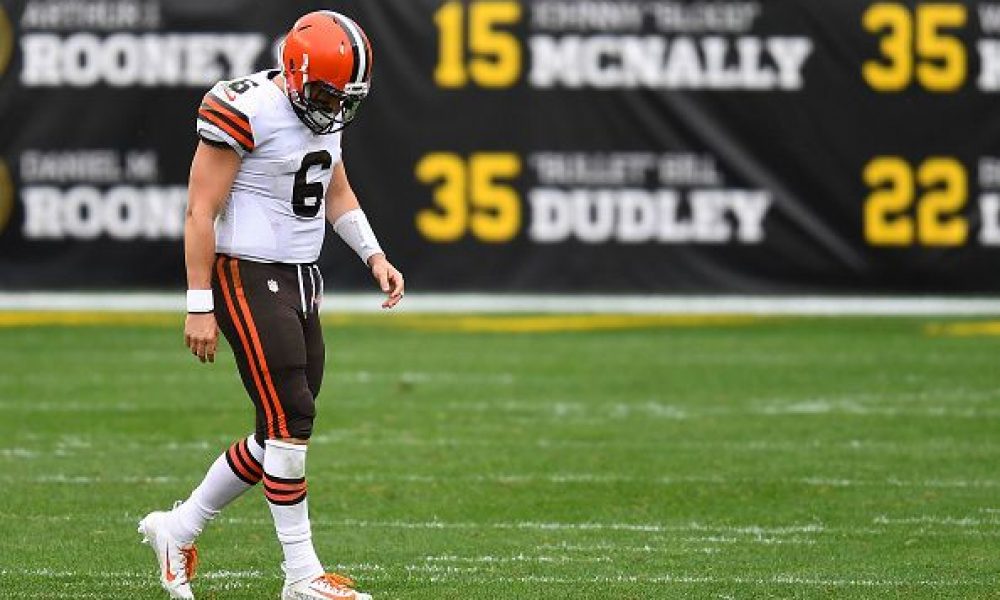 (Photo by Joe Sargent/Getty Images)
Baker Mayfield has been making a lot of noise about how his move to Charlotte is a fresh start. However, according to general manager Scott Fitterer, he's going to have to earn it.
Baker Mayfield ought to outperform Sam Darnold at training camp. However, the philosophy behind the Baker Mayfield trade was one of competition rather than stardom.
"This is an open competition," Fitterer said. "The reason why we added Baker was to make the group better as a whole. Our philosophy is to have competition not just in the quarterback room, but every position. So, if we see an opportunity where we can get better, where we (can) add a player and it makes sense for us as a team, makes sense for us financially, makes sense for us just from a position standpoint."
Want $250 to bet on NFL futures?
Sign up now!
"With Baker being out there, having the conversations, it made sense for us. I think the competition is going to make Sam better. Sam really had a nice spring for us, stepped up, showed a lot of edge, threw the ball really well and I think competition will be good for him, it will be good for P.J. (Walker), it will be good for Matt Corral, you know, the young guy that's going to be in the room learning. And it's good for Baker — this is a fresh start for him. So, I think overall, this is a very healthy situation for us all to be in."
Read: Jacksonville Jaguars Could Be Sleeper For Playoffs In 2022
"I think when you're at any level as high as this in the NFL nobody has the mentality of being a backup. We're at this level because we compete to be the very best," Mayfield said. "That's why Sam's here as well, and that's why Matt Corral just got drafted, and P.J. Walker competed and fought through a lot of adversity as well. So my intention is to become the best quarterback I can be, help this team win, and that's why I'm happy to be in Carolina."
Facebook Twitter LinkedIn