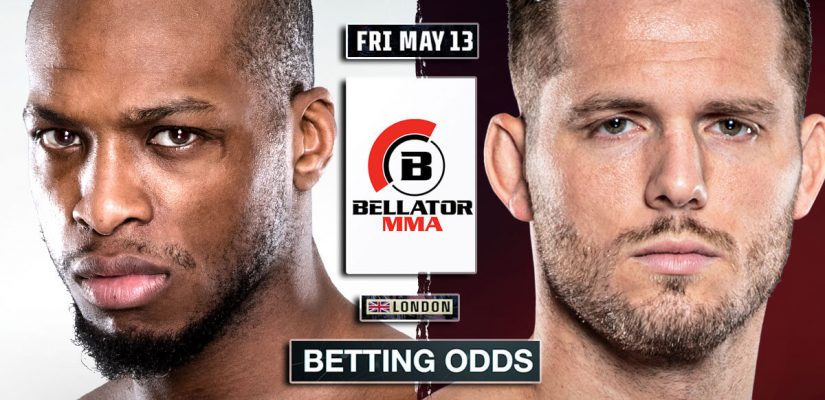 The Bellator Welterweight Interim Title is on the line, and you can bet on the full thirteen fight card. We've analyzed and predicted the outcomes of the Bellator 281 full card, including the main event, MVP vs Storely. 
Bellator 281 airs on May 13th, 2022 at 1:00 PM ET. Click any of the bet now buttons to place money on our top picks. If Bellator 281 is your first ever time betting on an MMA promotion, rest assured we're linking you to our most trusted MMA betting sites. 
Bellator 281 Odds and Prediction for the Main Event: Michael Page vs Logan Storley
MVP is coming off an upset win over Douglas Lima as a +130 and a very narrow decision. Lima is the only man to defeat Page and the rest of his career has been at -250 to -1600. 
Logan was the underdog in his last win over Neiman Gracie at +170 and lost to Yaroslaav Asomov at +179. 
Interim Title Fighters
These two are fighting for the interim belt. Asamov is the champion, and was scheduled to face MVP but withdrew due to complications involving the Ukraine conflict. MVP has spent this camp training for an extraordinary grappler, and he's getting one in Storely. However, we know that Asamov is a superior grappler, and Storely's 5'9 frame will be dwarfed by the 6'3'' Welterweight that is Page. 
Betting on Page and Storely's Finishing Rate
Page has been a knockout, karate style striker for the majority of his career, and has racked up four knockouts over his last five fights alone. Against undefeated grapplers like Ross Houston and athletes like Paul Daley, MVP has found himself winning decisions. 
Storley's Ground Game
Storley is another animal. He worked over Neiman Gracie while avoiding the submission loss in spite of constant grappling exchanges. He's went to decision three times in his past five fights, and as the competition gets stiffer, Storley is forced to eke out grappling centered decision wins.  
Top Bellator 281 Betting Odds for Page vs Storely 
Betting Pick  
Odds 
Michael Page Money Line
+210
Logan Storley Money Line
-285
Over 3.5 Rounds 
-155
Storely by Points 
+135
Page by TKO
+375
Nearly everyone sees this fight going to a decision. Storley is yet to finish an opponent of MVPs caliber, and Page tends to go to decision with short, high level grapplers. That said, MVP knows he needs a knockout win. 
MVP's Submission Skill
If put on his back, I'm not sure that Page can't submit Storley. His leg locking game and rubber guard are world class, and while Neiman is best submitting from top position, Page is best attacking subs off strikes and over sprawl, places Storley will no doubt find himself over the 25 minute fight. 
💥 Friday's main card is ꜰᴜʟʟ ᴏꜰ ꜰɪɴɪꜱʜᴇʀꜱ. 👊
𝒫𝓇𝑒𝓁𝒾𝓂𝓈
🇺🇸 | YouTube | 1p ET / 10a PT
🇬🇧 | @BBCiPlayer | 6pm BST
𝑀𝒶𝒾𝓃 𝒞𝒶𝓇𝒹
🇺🇸 | @SHOSports | 4p ET / 1p PT
🇬🇧 | @BBCThree | 9p BST#Bellator281 #BellatorLondon pic.twitter.com/vazX8x5E5n
— BellatorMMA (@BellatorMMA) May 12, 2022
This card is packed with finisher and we look closely at the under and no decision props.
Storely's Fight with Amasov
Asamov was Storely's only loss, and the game plan was simple enough: defend the takedown and land the jab. If MVP can do these two things, he'll win the same way Amasov did. The early rounds showed Amasov losing grappling exchanges, but outlasting Storely. After about six takedown attempts Storley had gassed. Now he's supposed to beat a taller fighter than Amasov on short notice?
Betting Pick for Bellator 281 Main Event
Our betting pick is Michael Page at +210. The underdog is a better MMA fighter. Storley will look to win through ground control and if MVP can create the scramble and stand again and again, Storely will hold on and try to inch out rounds, failing to do as much damage as Page. Take the payout of $210 per $100 wagered. 
PLACE YOUR BETS NOW! 
Bellator 281 Odds and Prediction for the Co-Main Event Lyoto Machida vs Fabian Edwards 
The Dragon is back as the underdog. Machida has fumbled his last three at +285 to +335. This is his fourth fight in a row as an underdog. He beat Chael Sonnen at -390 in his last win in 2019. Edwards is a 29 year old up-and-comer with his only two losses over his last two bouts, including an undefeated amatuer record of 10-0. He lost to Vanderford and Steenis as a +220 and +140. 
Fabian Edwards Steps Up in Competition
Edwards won three of his last four wins by decision, including a split decision to 13-2 Mike Shipman. Edwards was once considered a finisher dangerous on the ground and standing, but with fumbling a couple decision losses has left many convinced we'll see a long fight with anyone with fundamental striking defense. 
Top Bellator 281 Betting Odds for Machida vs Edwards
Betting Pick  
Odds 
Machida Money Line
+128
Edwards Money Line
-157
Over 2.5 Rounds 
-270
Fight Completes 1 Full Round, Yes 
-600
Machida by Points 
+190
Lyoto is the underdog, and should be at 43 years old. He's looked slower in his last few fights, but has two finishes since being in his 40's. Edwards will look to be the first fighter that's finished Machida since Brunson in the UFC, 2017. 
Betting on Props for Machida vs Edwards
We think the top bets include Over 2.5 Rounds and Fight Completes 1 Full round. These two fighters are unlikely to demonstrate knockout power, and Lyoto is tough to finish unless you're willing to grapple with him. Edwards will use his reach and play the outside as he usually does, playing right into the point fighting style of Machida. 
Bellator 281 Co-Main Event Betting Pick 
Our pick is the Fight completes 1 Round prop bet at -600. This prop pays out at $0.15 per dollar wager. A second round finish is always possible with an aging fighter on a losing streak. Play it safe.
PLACE YOUR BETS NOW!
Bellator 281 Odds and Prediction for Denise Kielholtz vs Kana Watanabe 
Kielholtz is coming off a loss to the former champion Velaquez at +330. She was on a four fight winning streak that included four finishes as the favorite from -110 to 130. 
Denise faces rising star Kana Watanabe, a fighter coming off her first ever loss to Liz Carmouche for title contention. She was the underdog to Liz, but has upset other Bellator athletes including Sugiyama at +185 and Alejandra Lara at +175. 
Size vs Technique
Watanabe is known for being a spectacle of weight cutting. She's huge for the flyweight division, and was an international Judo champion. She's powerful, and it's carried her through better strikers and grapplers in MMA. 
Denise is a fantastic BJJ fighter and boxer. She has multiple kickboxing wins and submission finishes in MMA. Kielholtz should win this fight as long as she can stay aggressive early and avoid giving up control time and rounds to Watanabe, who will seek a decision win. 
Top Bellator 281 Betting Odds for Kielholtz vs Watanabe
Betting Pick  
Odds 
Kielholtz Money Line
-260
Watanabe Money Line
+200
Under 2.5 Rounds 
-130
Kielholtz Inside the Distance 
+110
Watanabe by Submission or Decision
+330
Kielholtz has a real opportunity to finish in this fight. Carmouche showed that Watanbe doesn't have the best striking acumen, and that if she can't gain the clinch early you can put her away. Kana will be looking at Kielholtz only losses and not the Veta Arteaga Guillotine finish and Velasquez's domination of control time not mattering to the judges. 
Betting Pick for Kielholtz vs Watanabe at Bellator 281
Our betting pick is the Under 2.5 Rounds prop bet at -130. This bet offers $77 per $100 wagerd in returns. Kielholtz will likely get the finish, so this bet covers her win as well as any Watanabe upset slam finishes or other insane outcomes. 
PLACE YOUR BETS NOW!
Bellator 281 Odds and Prediction for Paul Daley vs Wendell Giacomo 
The contentious career of Paul Daley is on an upswing. He's 3-1 over his last four, coming off a +262 loss to Jason Jackson after three wins as the favorite. Giacomo is a little known Brazilian fighter, ranked #22 in the country. He's coming off an LFA decision win as a -175 favorite and is taking a massive step up in competition against Daley. 
Top Bellator 281 Betting Odds for Daley vs Wendell
Betting Pick  
Odds 
Daley Money Line
-325
Wendell Money Line
+250
Daley by TKO
-125
Fight no Decision 
-225
Giacomo by TKO or Submission
+450
Daley has proved himself devastating in the majority of wins, though he went on a three decision streak in 2018-2019. Wendell has never been knocked out, but none of the fighters he has faced have been very qualified. Daley haters will be happy to see the GIacomo TKO or Sub prop, a good bet if you don't want to see Daley have his hand raised.
𝙏𝙞𝙘𝙠, 𝙏𝙞𝙘𝙠, 𝘽𝙊𝙊𝙈 💥
Explosive KO artist @Semtex_170 returns on May 13th at The @OVOArena.#Bellator281 #BellatorLondon pic.twitter.com/nctH8mjXz6
— BellatorMMA (@BellatorMMA) April 30, 2022
Daley has a history of sudden, violent knockouts. It's really only about 40% of his bouts.  
MMA Breakdown and Betting Pick for Daley vs Wendell
Wendell looks athletic but green and Daley looks as sharp as ever. This one is worth considering the Daley Money line at -325. At 39, Daley is at a pivotal moment in his career, and I believe his boxing style has turned into a quality sprawl and brawl game plan. Bet Daley for $30.77 per $100 wager. 
PLACE YOUR BETS NOW! 
Bellator 281 Odds and Prediction for Luke Trainer vs Simon Biyong 
Trainer is undefeated at 5-0. He's been the favorite in his only fights with odds, but this is his lowest ever odds ranking at -280. Biyong was the underdog in his loss to Christian Edwards at +208. 
Trainer vs Biyong's Quality of Opponents
Trainer has faced two Bellator level opponents and several local level opponents as a pro. He lost via armbar in 2017 during his amatuer career to now 5-2 Piotr Chmielecki.
Simon fought for RIZIN facing 24-12 Vitaly Shemetov, and defeated undefeated South African Quintin Rossouw in 2019.
Top Bellator 281 Betting Odds for Trainer vs Biyong
Betting Pick  
Odds 
Trainer Money Line
-300
Biyong Money Line
+225
Will the Fight Go the Distance, No
-325
Trainer by TKO or Sub
-165
Biyong by Decision
+600
The oddsmakers have little faith in Biyong, and after comparing fight tape I see why. Biyong is good, but Trainer is a rare kind of athlete. The loss to Christian Edwards looks less impressive after seeing Edwards two fight losing streak, and Trainer has been able to finish all five of his professional bouts. 
Bellator 281 Betting Pick for Trainer vs Biyong
The Bellator 281 odds support a finish, but we're striking with the Trainer money line. In a 2019 exhibition tournament, Trainer won two fights via decision. We don't see him keeping up a finishing streak forever, and for that, bet the -300 money line for a $33 return per $100 wagered. 
PLACE YOUR BETS NOW!
Bellator 281 Odds and Prediction for Daniel Weichel vs Robert Whiteford 
Whiteford has laid low since leaving the UFC, fighting in eastern Europe for the last four wins. He lost to Martins and Elkins as a -105 and +140 in his last two UFC appearances. He faces Weichel, a fighter who is 2-2 over his last four, including a loss as the favorite to Pedro Carvalho at -230. Weichel has had a tough break over his last six fights, facing top talent in multiple split decision losses. 
Top Bellator 281 Betting Odds for Weichel vs Whiteford
Betting Pick  
Odds 
Weichel Money Line
-165
Whiteford Money Line
+131
Over 2.5 Rounds 
-220
Weichel by Points
+135
Whiteford by Points
+275
Neither fighter is racking up many finishes lately, with Whiteford earning one over six fights, and Weichel's last finish coming from Brian Moore in 2016. Neither fighter is looking to lose, and will fight with self preservation in mind, especially this late in their careers. 
Steer clear of any fight ending props or under bets. 
Betting Pick for Weichel vs Whiteford
Our betting pick is the Whiteford money line at +131. He's been smarter with his career, and hasn't been hurt in his last four wins. His losses at the UFC level were narrow, and he's a fighter that comes in with a game plan and executes it. Oddsmakers and bettors overestimate Weichel time and again. This is our top underdog pick of the night, and the Bellator 281 odds payout $131 per $100 wagered at Bovada. 
PLACE YOUR BETS NOW!
Bellator 281 Odds and Prediction for Oliver Enkamp vs Mark Lemminger
Enkamp is coming off a loss after three first round finishes. He was let go from the UFC after back to back losses, but has been a ground game finisher for all other promotions. Lemminger just lost to Neiman Gracie, but has defeated ground focused fighter Demarques Jackson. This is a classic striker versus grappler matchup. 
Top Bellator 281 Betting Odds for Enkamp vs Lemminger
Betting Pick  
Odds 
Enkamp Money Line
-213
Lemminger Money Line
+171
Enkamp By Submission
+350
Lemmingter by TKO
+400
No Decision 
-220
The oddsmakers see it my way. The Bellator 281 betting odds show either fighter could find a finish in their respective domain. Enkamp's the favorite, mostly due to Lemminger losing three of his last four. 
Lemminger's been finished twice, and Enkamp has been finished in one of his two losses.
'The Karate Kid"s crowning moment 🥋👑@OliverEnkamp is capable of the spectacular – will we see more of this at #Bellator281?
He faces @MarkLemmMMA on May 13th 🎟️🔗 https://t.co/BSY8cf8GJM pic.twitter.com/zLhyQIHR0q
— Bellator Europe (@Bellator_Europe) May 1, 2022
Enkamp was still maturing as a fighter in his UFC run. A bit too early.
The No Decision prop pays out nearly as well as the Enkamp money line, and both fighters have a solid chance at finishing this fight. No decision pays out at $45.45 per $100 wager. 
PLACE YOUR BETS NOW!
Bellator 281 Odds for Kate Jackson vs Elina Kallionidou
Jackson is a former TUF athlete that went to Bellator after her reality show appearances. She's lost her last two against Bellator's current top five including Lima Macfarlane and Denise Kielholtz. 
Elina is a Greek MMA champion who's 1-2 over her last three. She has power, but lacks the level of training needed to hang with the big players. She's also 23 with an 8-4 record. She could go places if she stays with it for the long haul. 
Top Bellator 281 Betting Odds for Jackson vs Kallionidou
Betting Pick  at Betonline.ag
Odds 
Jackson Money Line
-170
Kallionidou Money Line
+145
Over 2.5 Rounds 
-215
These Bellator 281 odds are only available at Betonline.ag. 
Jackson is the favorite, given her high pedigree of competition. Elina has a number of first and second round finishes, each against lower level fighters. Her last loss was to the 7-9 Bec Rawlings, indicating that Elina is still green when it comes to developing a winning game plan. 
Betting Prediction for Jackson vs Kallionidou
Tread lightly on this bout. Jackson is our betting pick at -170, but Kalliondou has the skill to finish if she slips up, even once. Take the Jackson money line, paying $58 per $100 wagerd but keep this one off any big bets or parlay tickets. 
PLACE YOUR BETS NOW!
Bellator 281 Odds for Alfie Davis vs Tim Wilde 
Davis is coming off a loss after a four fight winning streak. The London Shootfighters representative has gone to decision for his last six fights, though he has eight pro career finishes. 
Wilde upset Yves Landu in his last outing. He's not much to look at, but Tim is an unassuming knockout artist, but has multiple submission losses. 
Top Bellator 281 Betting Odds for Davis vs Wilde
Betting Pick  
Odds 
Davis Money Line
-130
Wilde Money Line
+107
Under 2.5 Rounds 
+165
Davis by Submission 
+700
Davis is a complete fighter and hasn't been knocked out in his MMA career. It's no secret Wilde wants a finish, and because of that we think Davis will have a winning game plan. This could be the first of Davis's bouts in the last seen to finish, and his first submission in five years. 
Expect Davis to hunt the sub, and for Wilde to get left swinging at air. 
Our betting pick is the Davis money line at -130. We're not risky enough to take the submission prop, but you might be if you're looking for a bigger payout. 
PLACE YOUR BETS NOW!
Bellator 281 Odds for Andrew Fisher vs Attila Korkmaz 
Fisher is 36 and has been active since 2007 as a pro in over 28 bouts. He's currently on a four fight winning streak, though three of them were in 2017. Fisher faced a no contest in late 2021, and competed for the first time in seven months. 
Korkmaz Is 2-2 over his last four fights, all four by decision. He was a wrecking ball against younger, less experienced fighters but hasn't found his rhythm against higher level opponents.
Top Bellator 281 Betting Odds for Fisher vs Korkmaz
Betting Pick  
Odds 
Fisher Money Line
-175
Korkmaz Money Line
+135
Over 2.5 Rounds 
-220
Fisher by Points
+125
Korkmaz by TKO
+600
I think we'll see Korkmaz swinging for the fences, looking to elevate his career. Neither fighter has had many finishes recently, and both men are relatively durable. Fisher has only one knockout loss to Artem Lobov, and Korkmaz is yet to be finished across six losses. 
For that, we see the Over 2.5 Rounds prop as an easy choice. -220 for two decision fighters to make it to the third round!
PLACE YOUR BETS NOW!
Bellator 281 Odds for Charlie Ward vs Alan Carlos
Ward is on a two fight winning streak but hasn't been in the cage since October 2020. He's now 43 , but has gone 6-1 since his 38th birthday. Ward fought for the UFC, going 0-2 in 2017. Carlos is a 38 year old Brazilian who lost to Jack Hermansson just before his UFC entrance in 2016. Carlos hasn't fought since September 2018. 
Top Bellator 281 Betting Odds for Ward vs Carlos
Betting Pick  
Odds 
Ward Money Line
-550
Carlos Money Line
+365
Ward has accomplished more in his career, fought more recently, and has more finishes over all. Carlos is a good BJJ style fighter, but will struggle against fighters with decent boxing. Ward still has knockout power, and we think it will be on display this Friday. 
PLACE YOUR BETS NOW!
Bellator 281 Odds for Lee Chadwick vs Maciej Rozanski 
Chadwick is on a two fight winning streak, as well as a 3-0 pro grappling run since 2019. He's a submission fighter with multiple losses to quality kickboxers. Chadwick has one focus, finding the submission early. 
Rozanski has three decision losses. He fought Hermansson and lost the decision but survived his submission attempts. Rozanski has submission skills, but a more complete MMA game including three knockouts. 
Top Bellator 281 Betting Odds for Chadwick vs Rozanski
Betting Pick  
Odds 
Chadwick Money Line
+170
Rozanski Money Line
-225
Rozanski is the obvious pick at -225. He's the favorite for a reason, and generally loses to fighters with well rounded games, while Chadwick has fumbled multiple decisions against fighters with little future in the sport. 
PLACE YOUR BETS NOW! 
Bellator 281 Odds for Chiara Penco vs Lanchanca Green 
The opening fight of the night shows Green, a finisher with a 1-2 record over her last three, and Penco, a fighter 2-3 over her last five. She faced Karolina Wojcik right before her UFC entrance to a split decision loss. 
Green was on TUF 23, but lost in the semi finals back in 2016. In the six years following, she would rack up another submission loss. Penco's submission style has made her the favorite. 
Top Bellator 281 Betting Odds for Penco vs Green
Betting Pick  
Odds 
Penco Money Line
-250
Green Money Line
+185
Surely Green is working on her BJJ, but at Rendoki Dojo in Italy it's an afterthought. Penco should take advantage of the holes in Green's ground game for an easy win. I'm skeptical of parlaying this fight, but Penco is a decent choice if you're building a three fight Parlay on the Bellator 281 betting odds alone. 
PLACE YOUR BETS NOW!