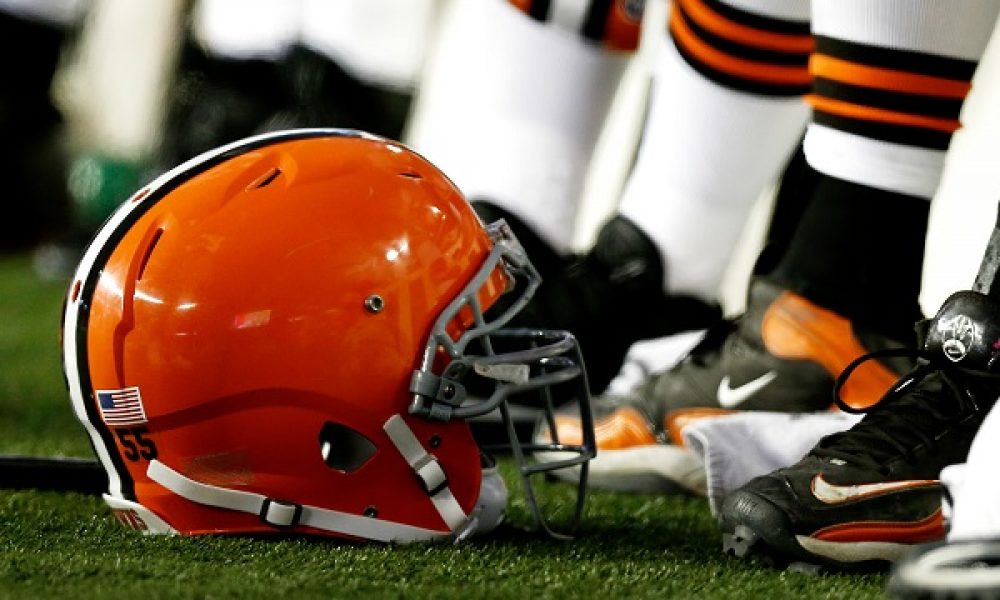 Dec 8, 2013; Foxborough, MA, USA; A Cleveland Browns helmet sits on the sidelines during the fourth quarter of New England's 27-26 win at Gillette Stadium. Mandatory Credit: Winslow Townson-USA TODAY Sports
The Cleveland Browns are likely without Deshaun Watson for 2022, so now they must decide who will replace him for the season.
Barring a stunning decision, the NFL is going to ban Cleveland Browns quarterback Deshaun Watson for the majority (or entirety) of the 2022 season, if not longer.
With Watson likely sidelined for the second straight season, the Browns must figure out what's next. Currently, Cleveland has Baker Mayfield and Jacoby Brissett on the depth chart, but how long will that last?
Mayfield has publicly stated his hurt feelings with the team after it aggressive pursued and ultimately traded three first-round picks for Watson this offseason. Can the proverbial fence be mended? Perhaps, but it doesn't seem likely.
On Tuesday, Mayfield spoke from his youth football camp in Oklahoma and talked about his belief the relationship is severed. However, he also gave a few nice words about the city, maybe leaving the door slightly ajar, per ESPN:
"I'm thankful for my four years in Cleveland. A ton of ups and downs and learning experiences I'll forever keep with me. … The people in Cleveland, it's a great sports town. I'm thankful for it and there's no resentment to the city of Cleveland by any means."
The Browns have a month until training cam begins, at which point Cleveland needs to have its plan figured out. Assuming Watson is suspended, Mayfield either needs to be the starter or be dealt away to a team with a need at quarterback such as the Carolina Panthers or Seattle Seahawks.
If Mayfield isn't around, the job goes to Brissett. Throughout his lengthy NFL career, Brissett has started 37 games across six seasons with the New England Patriots, Indianapolis Colts and Miami Dolphins. While his numbers are pedestrian — 7,742 yards, 36 touchdowns and 17 interceptions — this is easily the most-talented team he's ever been on.
With Cleveland, Brissett will be asked not to lose games while throwing behind an elite offensive line and handing off to the likes of Nick Chubb and Kareem Hunt. If Brissett can play a run-based game and allow the pieces around him to function, Cleveland can compete in the tough AFC North. If Brissett is asked to throw the ball all over, it'll be a tough season for the Browns.
Soon, we'll see Cleveland's cards. The Browns have no choice but to show them.
Facebook Twitter LinkedIn