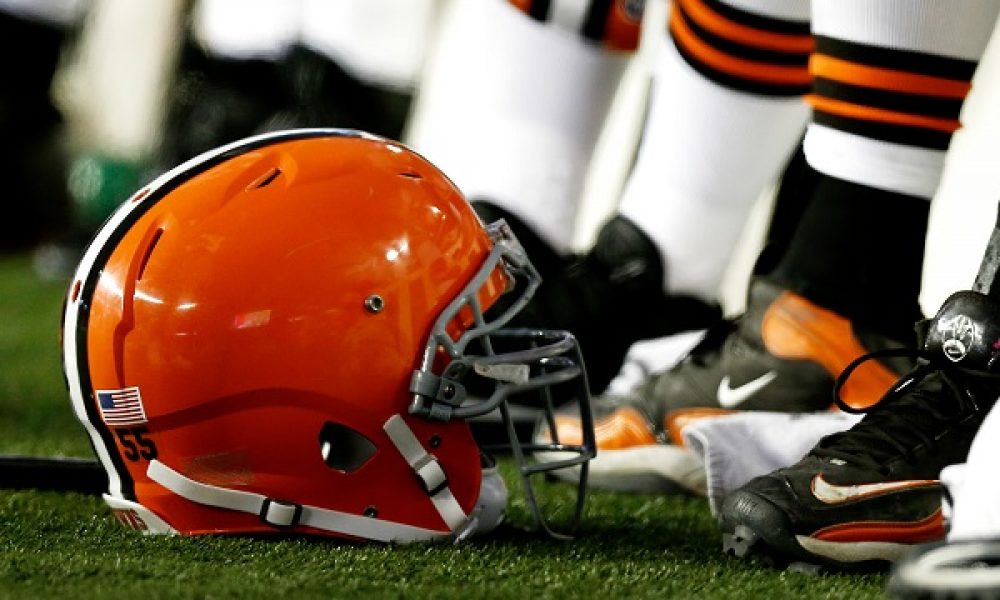 Dec 8, 2013; Foxborough, MA, USA; A Cleveland Browns helmet sits on the sidelines during the fourth quarter of New England's 27-26 win at Gillette Stadium. Mandatory Credit: Winslow Townson-USA TODAY Sports
The Cleveland Browns traded for quarterback Deshaun Watson and paid him $230 million. However, there's a growing chance he doesn't play in 2022.
Deshaun Watson didn't play in 2021. It feels very possible he's sidelined for 2022 as well.
Last season, Watson was sidelined by the Houston Texans due to his trade demand and the team's reluctance to move him. However, he was eligible each week, only to be made inactive.
This year, things could be far different. Watson is currently facing no criminal complaints, after the previous 10 were dismissed by two grand juries in Texas. When those decisions were reached, the frenzy to acquire Watson began across the NFL, with the Browns ultimately landing him for the price of three first-round, two fourth-round and one third-round pick, along with a five-year contract, fully guaranteed at $230 million.
Want $250 to bet on NFL futures?
Sign up here!
However, since the trade was completed, two more women have filed civil suits against Watson, bringing the total to 24. And there are reports the number will soon become 26.
As for Watson, he spoke to the media on Tuesday for the first time since his introductory press conference and expressed his thoughts on what has continued devolving as an increasingly ugly situation. Per ESPN:
"I do understand that I do have regrets as far as the impact that [it's had] on the community and people outside of just myself. And that includes my family. That includes this organization, that includes my teammates in this locker room that have to answer to these questions. That includes the fan base of the Cleveland Browns, that includes males, females, everyone across the, the world. That's one thing I do regret is the impact that it's triggered on so many people. It's tough to have to deal with."
All told, the NFL must make a decision soon on Watson's potential discipline. Although he's not facing criminal charges, the allegations against him are serious and many. Commissioner Roger Goodell must understand that the worst outcome from the NFL's perspective is the league appearing to be uncaring and/or unsympathetic to dozens of women who have allegedly been violated by Watson.
Read: Steelers Sign Pro Bowl Safety Minkah Fitzpatrick To Four Year Extension 
To that point, don't be surprised if Goodell takes the sweeping action of suspending Watson indefinitely. This allows the NFL to wait for the civil suits to be handled before deciding when to end the ban and reinstate. It also protects the league from Watson being a weekly storyline during the season on what could be a contending team.
For the Browns, there's no room to complain. They acquired Watson while he was embroiled in (most of) these civil suits. They knew the risk.
Now they may be without their star quarterback for 20 percent of his contract if Goodell decides to move strongly.
Facebook Twitter LinkedIn