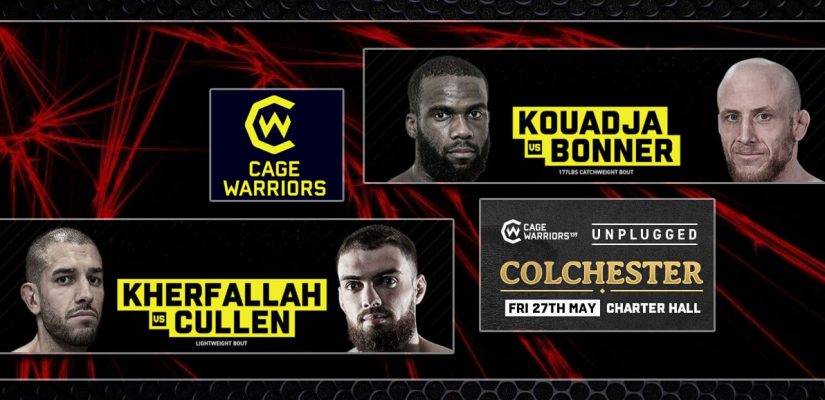 Cage Warriors 137 odds are up for all six fights on the main card. You'll see the show on UFC Fight Pass, May 27th, 2022 headlined by Kouadja vs Bonner. We're crunching the stats on all six fights to offer our top Cage Warriors betting picks. Betonline.ag is the only online MMA betting site with both money lines and prop bets for this Cage Warriors card, so we're using their odds in this Cage Warriors 137 prediction. 
Cage Warriors 137 Betting Picks
Main Event CW 137 Pick: Bonner vs Kouadja Over ½ Rounds -120
Co-Main Event CW 137 Pick: Under 1 ½ Rounds +115
CW 137  Kherfallah vs Cullen: Under 1 ½ Rounds -290
Upset Pick at Cage Warriors 137: Benoit Blanc +210
Parlay Pick at Cage Warriors 137: Shoaib Yousaf -900
Value bet at CW 137: Dedames vs Chaaban Over ½ Rounds -155
PLACE YOUR BETS NOW!
Cage Warriors 137 Odds and Predictions
We're listing the fights starting with the main event, working down to the CW137 opening bout. Cage Warriors 137 predictions will include both a fight pick and an over/under pick since limited options are available. 
Kouadja vs Bonner 
Our main event features a 177 pound catch weight. Bonner has been on a 5-1 tear over his last six, all for the Cage Warriors promotion. Joel Kouadja has been on a six fight finishing streak, knocking out five opponent's. Mostly, these are lower level fighters, and the CW 137 odds have little faith in his improvement against fighters on his level. 
CW 137 Main Event Odds
Bet
Odds
Bonner Money Line
-800
Kouadja Money Line
+500
Over 1 ½ Rounds
-120
Under 1 ½ Rounds
-110
Bonner is a massive favorite. He's never been knocked out, and his losses include names like Marc Madsen and Cage Warriors contender Jamie Richardson.
Kouadja has never faced a fighter at Bonner's level. Even in losses ranging back to his 2013 career start, he's mostly untested against top talent.
For your Cage Warriors 137 betting pick, consider Kouadja's 7-8 record above his finishing streak. 
Kouadja vs Bonner Key Stats
Bonner is a finisher as well, but his last four finishes have been in the second to fourth round. He's more grappling focus than Kouadja and will look to draw out the fight to the best of his ability, knowing that the later half of the fight is a better place for him to finish the less experienced Kouadja. 
Cage Warriors 137: Fighters make weight ahead of Colchester fight night #CW137 https://t.co/i8sOUzPBkf pic.twitter.com/fvelqOJZhi
— Simon Head (@simonhead) May 26, 2022
Atch Academy vs Next Gen Liverpool
Bonner trains out of Next Gen, alongside Paddy Pimblett and Molly McCann. He's at a top talent school that's focused on grappling wins. Kouadja's Acth is home to Gregory Babene and other Bellator and CW level talent. Next Gen gets the advantage in your betting pick. 
CW 137 Main Event Predictions
We're betting the Over 1 ½ Rounds prop if you're interested in a slightly better payout than the Bonner Moneyline. The over maps onto Bonner's finishes and decision focused style. Kouadja shouldn't land any lucky shots early, so I see a longer fight for the strategy focused Bonner. Bonner is the top money line pick at -800, paying out $12.50 per $100 wagered. 
PLACE YOUR BETS NOW!
Barbu vs Duijs 
Barbu is a replacement fighter with a 17-12 record. He fights out of an unknown Romanian school called Metalbox Arad. Barbu is a featherweight, cutting to 135 over his last two fights. 
Duijs is the 7-1 favorite, a grappler from the Netherlands with viscous submission work, finishing seven of his nine pro and amatuer opponents.
CW 137 Co-Main Event Odds 
Bet
Odds
Duijs Money Line
-800
Barbu Money Line
+525
Over 1 ½ Rounds
-145
Under 1 ½ Rounds
+115
Duijs is a strong favorite despite his one loss via decision in 2019. His opponent, 5-1 Shamil Banukayev was a strong grappler and came with a  winning game plan against Duijs. Barbu has lost twice by submission in his last ten, while also finishing twice by submission. It's tough to tell who will have the upper hand in submission work. 
Barbu's Kill or be Killed Style
Barbu will shoot for takedowns on superior grapplers, leading to his submission loss on two occasions. The fighters who take Barbu to a decision are neutralizing him on purpose. His decision loss to Pawel Politylo was a bad one, and he had Pawel running the whole fight. I see this match up clashing in unexpected ways, with someone taking the finish on the ground. 
Betting Prediction for CW 137 Main Event 
I see a narrow Dujis win at -800, but our betting pick is the under.
Under 1 ½ Rounds is a +115 betting pick, a $115 per $100 wager payout. Barbu has been submitted by multiple high quality grapplers and Duijs will engage with him on the ground. However, after watching Barbu vs Jovanovic, I believe Barbu can win a footlock shootout and an early upset submission win. 
PLACE YOUR BETS NOW!
Kherfallah vs Cullen 
Kherfallah is another Atch Academy fighter with four guillotine wins. His last loss was to the always threatening Magomed Magomedov, but Kherfallah has taken four years to develop his game. 
Cullen is an undefeated pro at 4-0 with four first round finishes coming off a 14 second knockout. He lost multiple times as an amatuer while learning BJJ, but has solidified his style and athletic energy. 
Cage Warriors 137 Odds for Kherfallah vs Cullen
Bet
Odds
Cullen Money Line
-1200
Kherfallah Money Line
+650
Over 1 ½ Rounds
+230
Under 1 ½ Rounds
-290
Cullen is a massive favorite, but given Kherfallah's history, I don't think he would come back to the cage unless he thought he could win. This is a former M-1 fighter at a high level. The under is the favorite given that Cullen has blasted through everyone he's faced, but this is far and away the toughest opponent of his pro career. 
Kherfallah Fight Tape
Arnaud Kherfallah struggled in striking in the majority of his bouts. He was getting beaten multiple times before finding the submission against fighters like Shankhoev. Kherfallah repeatedly comes back with wins after losing early on, it's practically his favorite way to win. 
Betting pick for CW 137 Main Card
Our betting picks are the Under 1 ½ Rounds at -290 as a top betting pick, but we're giving a slight advantage to Kherfallah. He's more experienced and has a very scrappy and elusive style of BJJ that fighters seem to fall into with ease. Cullen has lost to submission artists before and we give it a 51% chance that his undefeated run comes to an end. 
PLACE YOUR BETS NOW!
Pagliariccio vs Blanc 
Pagliariccio is 2-2 over his last four, struggling to find his rhythm against mid level competition. He faces Blanc, an underdog on a four fight winning and finishing streak. Blanc hasn't competed since 2019, and is now working with Bulgarian top team on his striking. 
Betting Odds for Cage Warriors 137, Pagliariccio vs Blanc
Bet
Odds
Pagliariccio Money Line
-270
Blanc Money Line
+210
Over 2 ½ Rounds
-110
Under 2 ½ Rounds
-120
Blanc is the underdog despite his finishing record. The over under is split at the 2 ½ Rounds mark, indicating near even chances of decision and finish. It's not surprising to see faith in Pagliariccio because he's an SBG fighter, but that affects my CW 137 betting pick less than the oddsmakers. 
Straight Blast Gym
SBG is home to fighters like McGregor, Johnny Walker, and Pedro Carvalho. These fighters have something in common- they all lost their last bout. Looking at SBG's 2021-2022 record you can see there is an issue at the gym. I think SBG is running on momentum right now, not ability. 
Betting Pick for CW 137 Pagliariccio vs Blanc
Blanc is an underrated athlete. I expect this bout to be competitive, going the distance. Bet the Over ½ Rounds at -110 if you're nervous about another underdog call. Our betting pick is the Blanc Money line at +210. 
PLACE YOUR BETS NOW!
Yousaf vs Folc 
Shoaib Yousaf is a strong favorite, but is coming off three decisions going 1-2 overall. He's ranked up six pro career finishes since 2017 and hopes to get back on the winning track against 6-4 Maichal Folc. Folc is a polish fighter on a local two fight winning streak.
He's been finished before, and has never fought a fighter with Yousaf's experience and finishing power. 
Bet
Odds
Yousaf Money Line
-900
Folc Money Line
+550
Over 2 ½ Rounds
-105
Under 2 ½ Rounds
-125
The odds point to a long fight, but Yousuf is likely to put the brakes on Folc's Cage Warriors debut. Against fighters with finishing rates like Folc, Yousaf has a 100% finishing ratio. Basically, Folc is out of his league. 
Our betting pick is the Yousaf money line. Look to parlay and don't bother with the Over/Under props. 
PLACE YOUR BETS NOW!
Dedames vs Chaaban
Dedames is undefeated going 5-0 in pro and amatuer MMA with five finishes. He faces "the Lebanese Gorilla" Omran Chaaban. Chabaan has lost three times in his six MMA showings. 
It's unclear why he's the favorite, but after a bit of digging we see it's Dedames legitimacy in question. 
CW 137 Opening Bout Odds
Bet
Odds
Chaaban Money Line
-600
Dedames Money Line
+425
Over 1 ½ Rounds
-155
Under 1 ½ Rounds
+125
Chabaan has fought far tougher fighters than Dedames, who has only faced fighters with massively losing records and even has wins flagged as unsactionable because they're so one sided. I don't see an area where Chabaan has an obvious advantage other than kickboxing technique at distance.That's not to say he won't outwork Dedames, but just that Dedames has never really been tested in a way that would show off his technique. 
CW 137 Prediction
Dedames is a finisher, but Chaaban has only been defeated via decision as a pro. Consider the  Over 1 ½ rounds prop bet. Since we can't know how Dedames will perform under pressure, I see these athletes making it to the third round at least due to durability alone. The Over prop pays out at $64.52 per $100 wager. 
PLACE YOUR BETS NOW!