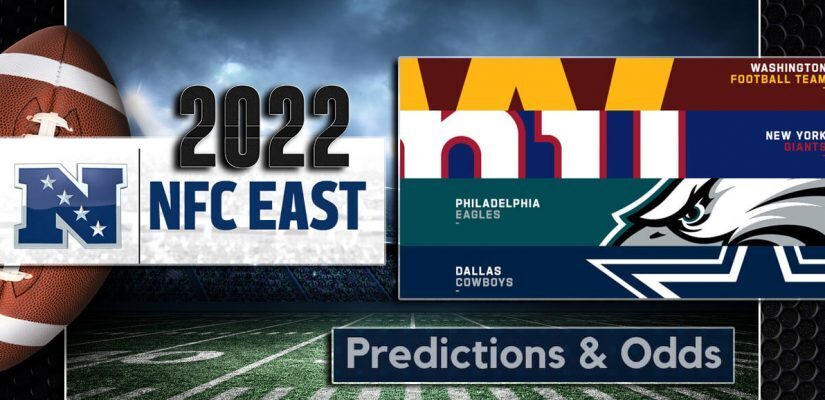 Since the NFL-AFL merger, the NFC East has actually been the most successful division in football. NFC East teams have won 13 Super Bowls along with 21 conference championships in that time.
The Philadelphia Eagles are the most recent Super Bowl champion from this division. Philly toppled New England in a memorable Super Bowl 52 back in 2017, but the division has fallen on hard times ever since. No NFC East team has even won a playoff game since the Eagles and Dallas Cowboys both did so in 2018.
NFL betting sites think this has the chance to be a very competitive division in 2022, however. The Cowboys are solid -140 favorites, per the latest NFC East division odds. However, none of the other three teams has odds longer than +800.
Can Dallas win the NFC East for the second year in a row? Or will a new champion emerge?
NFC East Division Betting Odds
Dallas Cowboys (-140)
Philadelphia Eagles (+160)
Washington Commanders (+500)
New York Giants (+800)
Dallas Cowboys (-140)
The Cowboys topped the NFC East with little drama a season ago. Their 12-5 record was three games better than that of the second-place Eagles, though Dallas' season was marred by yet another early playoff exit. The Cowboys fell in an upset at home to the 49ers in the NFC Wild Card round.
Dallas is still trying to make "America's Team" happen despite the fact that they haven't won a Super Bowl in nearly 30 years. This team has actually won just three total playoff games in that span without advancing to a single NFC Championship Game.
The 'Boys traded Amari Cooper to Cleveland this offseason, which means CeeDee Lamb will take over as Dak Prescott's No. 1 target. Michael Gallup and new signing James Washington should play big roles, though both are dealing with injuries early in training camp.
Cowboys TE Dalton Schultz on the velocity on Dak Prescott's throws at training camp: "Trust me, if I close my eyes and I set up on a jugs machine and I have Dak throw, I don't know if I'd be able to tell the difference. He can really rifle them in there."
— Jon Machota (@jonmachota) August 10, 2022
This could be Ezekiel Elliott's final season with the team, and with good reason. Zeke has been a reliable bell cow for Dallas for years, but he's averaging just 4.1 yards per attempt over the past two seasons. Tony Pollard, who averaged a whopping 5.5 yards per tote a season ago, will likely see a larger share of the work out of the backfield.
The offense should put points on the board, while the defense has made major strides over the past couple of years. Second-year pro Micah Parsons looks like a potential Defensive Player of the Year contender after an outstanding 13-sack rookie campaign. The Cowboys have Pro Bowl players at every level of the defense, and there's still some room for improvement overall.
It seems as though things tend to go awry for the Cowboys once the playoffs roll around, but this roster looks like one of the deepest in the NFL. The Cowboys' -140 NFC East division betting odds do still offer a bit of upside entering the preseason.
Philadelphia Eagles (+160)
If the Cowboys fail in their quest for another division crown, oddsmakers think the Eagles have the best chance to overtake them. Philadelphia's +160 NFC East division odds imply the Eagles are a team ticketed for improvement in 2022.
Philly finished 9-8 a season ago, which was actually somewhat impressive after an inauspicious 2-5 start.
Plenty of questions remain regarding whether Jalen Hurts is the long-term answer at QB, but he acquitted himself reasonably well last term. Hurts threw for over 3,100 yards and rushed for 784 more with 26 total touchdowns. His ability to make plays with his legs gives the Eagles' offense a unique wrinkle.
Philly made one of the offseason's splashier trades by nabbing Pro Bowl wideout AJ Brown from the Titans. Brown started his career with consecutive 1,000-yard seasons with the Titans before injuries limited him to just 13 games last season. Still only 25, Brown gives the Eagles' offense a big, game-changing presence it's lacked since Terrell Owens was in town.
Iron Sharpens Iron‼️ both AJ Brown and James Bradberry both win a 1 on 1 rep in #Eagles practice‼️ pic.twitter.com/ywu4LDtbSh
— Philly Talk Podcast (@Philly_Mike25) August 10, 2022
Along with DeVonta Smith and Jalen Reagor, the Eagles suddenly have some impressive weaponry flanking Hurts in the passing game.
Philadelphia quietly ran for the most yards and scored the most rushing touchdowns of any team in the league last season. Miles Sanders has quietly averaged north of five yards per carry in each of the last two seasons, which means Philadelphia's offense should be decently balanced moving forward.
The Eagles needed to upgrade the pass rush after finishing next-to-last in sacks (28) last year. Enter newcomer Haason Reddick, who has a total of 23.5 sacks over the past two seasons combined as a member of the Cardinals. Brandon Graham's return should also help after he missed all of last season with a torn Achilles.
The defense may prove to be the key to whether the Eagles can overtake the Cowboys. At the +160 NFC East division odds, Philly is worth a flier bet.
Washington Commanders (+500)
So they're really calling themselves the Commanders, huh? Long live the Washington Football Team!
Washington made a surprise playoff berth in 2020 despite a 7-9 finish. That was good enough to win an incredibly weak division, but they stumbled to a 7-10 showing a season ago.
The Commanders will hand the reins of the offense to Carson Wentz, who hasn't been able to get it together since falling out of favor in Philadelphia a few season ago. Wentz is likely still an upgrade over the QBs the Commanders have trotted out there over the past few seasons, but there's still reason for skepticism.
Wentz's arm strength should make life easier for Terry McLaurin, one of the game's more underappreciated star receivers. Antonio Gibson and JD McKissic give Washington good versatility out of the backfield, while first-round rookie Jahan Dotson gives Wentz another intriguing speed threat.
Looks like it's going to be another disappointing year from Washington this season pic.twitter.com/NZ7MIYd6gT
— 🦀💵 (@Krabs_Bets) August 7, 2022
The defense is headlined by Chase Young, who will be back after tearing his ACL last season. The former No. 2 overall pick was quietly having a down year before the injury, however, with just 1.5 sacks through his first nine games.
Washington desperately needs Young to return to form this season if they're going to turn things around on defense. Landon Collins' departure could be a major blow, while the linebacking corps is seriously lacking in both quality and depth.
It's just hard to imagine the Commanders giving either Dallas or Philadelphia a serious run over the course of a full season. There is some talent here, but Washington's +500 NFC East division odds look a little shorter than they probably should be. If anything, this is a Wild Card team, at best.
New York Giants (+800)
There's really nowhere to go but up for the New York Football Giants, who haven't made a playoff appearance since 2016. The G-Men have also lost at least 10 games in each of the last five seasons, including a disastrous 13-loss showing a season ago.
That was enough to cost Joe Judge his job after two forgettable seasons. In comes Brian Daboll, who has helped mold the Bills into one of the league's most prolific offenses over the past several years. He'll have his work cut out for him, though, as Daniel Jones does not look like the long-term answer at quarterback.
Jones hasn't improved in any regard in any of his first three NFL seasons, and the Giants have already declined his fifth-year option for 2023.
#Giants HC Brian Daboll on Daniel Jones and the offense: pic.twitter.com/sOiMIbnueo
— Hank "The Stank" Brown (@stankthehank) August 9, 2022
The Giants haven't given him much to work with, however. The offensive line has been disastrous. The pass-catching group is sorely lacking. Saquon Barkley was great, but struggled considerably last season after tearing his ACL in 2020.
New York worked to upgrade the offensive line this offseason, which should help. Kenny Golladay, Kadarius Toney, and Sterling Shepard really isn't a terrible group of receivers, but health is a concern. Golladay was terrible last season after inking a big-money free-agent deal to come over from Detroit. Toney, however, showed promise in 10 games as a rookie.
First-round rookie Kayvon Thibodeaux should form a nice partnership with second-year man Azeez Ojulari in the pass rush. New York also plucked decorated defensive coordinator Wink Martindale away from the Ravens, so perhaps his blitz-heavy scheme will make the Giants' defense a bit more plucky this season.
Until we see Jones actually make strides, though, it's hard to imagine this team seriously contending for a division title. The Giants' +800 NFC East division odds are surprisingly favorable, which probably shouldn't be the case.
NFC East Division Prediction
Oddsmakers are a little more bullish on the Commanders and Giants than I am. Perhaps that's a sign they don't have quite as much faith in the Cowboys or Eagles at the top.
That said, this looks like it's shaping up to be another two-team race. The Cowboys are justifiable -140 favorites in the latest NFC East division betting odds, but the Eagles loom as a solid value at +160. Philadelphia should have enough ammo to contend for a Wild Card spot, at worst.
I don't mind betting on Dallas' -140 odds because this is the most talented team of the group, on paper. Injuries will always play a role, so Philadelphia's +160 odds are admittedly tempting, too.
Best NFL Bet: Dallas Cowboys (-140)