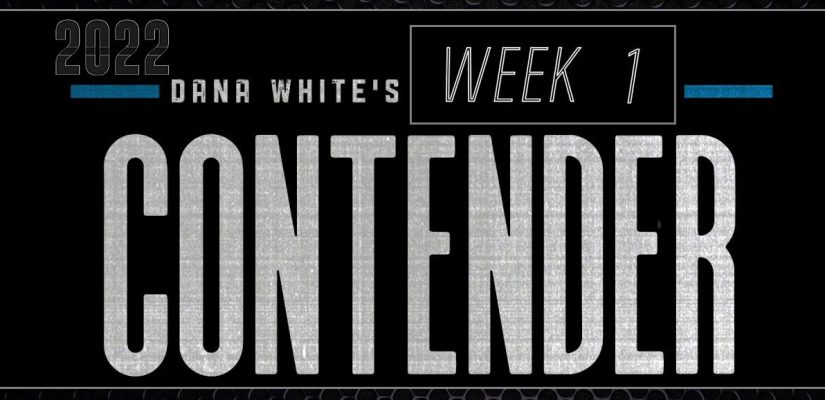 DWCS is back, and we've got five betting picks for the Contender Series 2022 Week 1 odds provided by Betonline.ag. Click any of our place bet buttons to go to one of the top UFC betting sites and build a ticket for a low risk parlay or a high risk underdog. You'll find both in our DWCS 2022 week 1 predictions.
Dana White's Contender Series Week 1 Predictions
We offer high and low risk predictions in the article. Listed here is our lowest risk, highest likelihood prediction for each fight. 
Diaz vs Pyfer Fight Goes to Decision, No -325
Anton Turkalj Money Line -207 
Romero vs Buzukja Over 1.5 Rounds -155
Martinetti Point Spread +3.5 Pts +120
PLACE YOUR BETS NOW!
DWCS 2022 Week 1 Main Event: Ozzy Diaz -115 vs Joseph Pyfer -105
Diaz is from California MMA, a school with a group of rising talent but no real top level representation. His teammate Chase Gibson lost a Decision in his DWCS appearance in 2020. Diaz is on a five fight winning streak since 2018. 
Pyfer's Rocky Rise
After losing his last DWCS fight due to a slam, Pyfer has a knockout win for CFFC. He's lost to UFC fighter Jhonoven Pati, but has a similar finishing rate to Ozzy Diaz. The DWCS 2022 Week 1 odds reflect his finishing power. 
Dustin Stoltzfus dislocates Joseph Pyfer arm⚔️ #DWCS #UFC #MMA @ufc pic.twitter.com/ckuGMwtEFs
— MMA Real Time (@mmarealtime) August 12, 2020
An unfortunate end to Pyfer's first DWCS showing.
Key Stats for DWCS 2022 Week 1 Predictions
Fighter 
Ozzy Diaz 
Joseph Pyfer 
Finishes by TKO, Submission
5, 2
5, 2
Time Active 
12 years 
6 years 
Age 
31
25
Both fighters show a very high finishing rate, and both fighters have been finished in their losses. Pyfer is the only fighter that has been in a pro decision, and that was in 2018. These Middleweights are big, and there has been only one fight to make it to round three in either man's career. 
High Risk Prediction: Under 1.5 Rounds -165, Pyfer TKO Win +275
Better than either fighter's money line is the under. It matches up with their losses and the majority of their wins. Bet the under before you even consider a money line.
A runner up bet is the Pyfer TKO win for nearly triple your wager.
He's a knockout machine, and more so than Santiago Diaz, who knocked Diaz out in fifteen seconds. 
Prediction: Fight Goes to Decision, No -325
Given these fighters are finishing machines and have recent finished losses, I don't see anything but a finish between them. Neither has a patient style, and both fighters have the tendency to skip any feel out periods or range finding. 
PLACE YOUR BETS NOW! 
Anton Turkalj -207 vs Acacio dos Santos +177
Santos was injured in his last loss, but prior to that was on a winning streak that started in 2015 lasting eight fights. Anton is undefeated, but has only ever fought in Poland and surrounding areas. 
Key Stats for DWCS 2022 Week 1 Predictions
Fighter 
Anton Turkalj
Acacio dos Santos 
Finishes by TKO, Submission
5, 2
5, 0
Time Active 
5 years 
9 years 
Fighter Team 
GBG
Power Lotus 
Record 
7-0
14-4
Santos trains at Power Lotus, a team that has local prestige but very few fighters on the world stage, and is yet to create UFC level talent. Turkalj's GBG is an even smaller team, with no major fighters in any promotion. 
High Risk Prediction: Turkalj Inside the Distance +100
Fight tape exposes Turkalj to be a terror inside the cage. He's an athlete, and his style is tough for any fighter to prepare for. Most of Santos' wins are over moderate fighters, but he tends to lose in steps in competition.
Prediction: Anton Turkalj Money Line -207 
This undefeated fighter should keep his winning streak. He'll struggle at the UFC level, but beating Santos is a great next step.
PLACE YOUR BETS NOW! 
Kaleio Romero +175 vs Dennis Buzukja -205
Buzukja is from the growingly prestigious Longo Weidman MMA. His two losses are via decision, and he's on a three fight winning streak.
Romero was a high level collegiate wrestler in California.
He's now 6-1 with four submission finishes, including an undefeated amatuer run in 2016-2017. 
High Risk Prediction: Romero by Submission +650
Kaleio Romero is severely underrated in this fight. His submission work and wrestling is an equalizer that Buzukja may not be ready for. If Romero can get into a finishing sequence, we'll see a late round finish from the underdog. 
Prediction: Over 1.5 Rounds -155
With Dennis going to submission against most high level grapplers, we'll see a grinding performance. Buzukja has a better gym and more knockout power, but Romero's struggled to get high level opponent's, facing mostly low level local talent because people are so afraid of his wrestling. 
PLACE YOUR BETS NOW! 
Alessandro Costa -270 vs Andres Luna Martinetti +230
Our underdog is an undefeated fighter from Ecuador. At 12-0, Martinetti has fought for Latin American promotions, finishing with an armful of submission wins. Costa has proved himself in the Lux Fight League, besting Kike Gonzalez and other top Mexican Talent. It's unclear if outside of his last two fights, Costa's opponent's have been any more talented than Martinetti's. 
High Risk Prediction: Martinetti +230
Undefeated underdogs are always a good bet. Both fighters have a grappling and submission based style that could leave either fighter looking for the stand up win assuming they neutralize each other. Martinettis the larger framed fighter, with a six inch reach advantage at 125, a huge advantage. 
Prediction: Martinetti Point Spread +3.5 Pts +120
This covers Martinetti's decision loss. If we see a majority decision for Costa, you'll still get paid. I think we could see an upset finish, but the win is hedged, losing only +110 in return. 
PLACE YOUR BETS NOW!