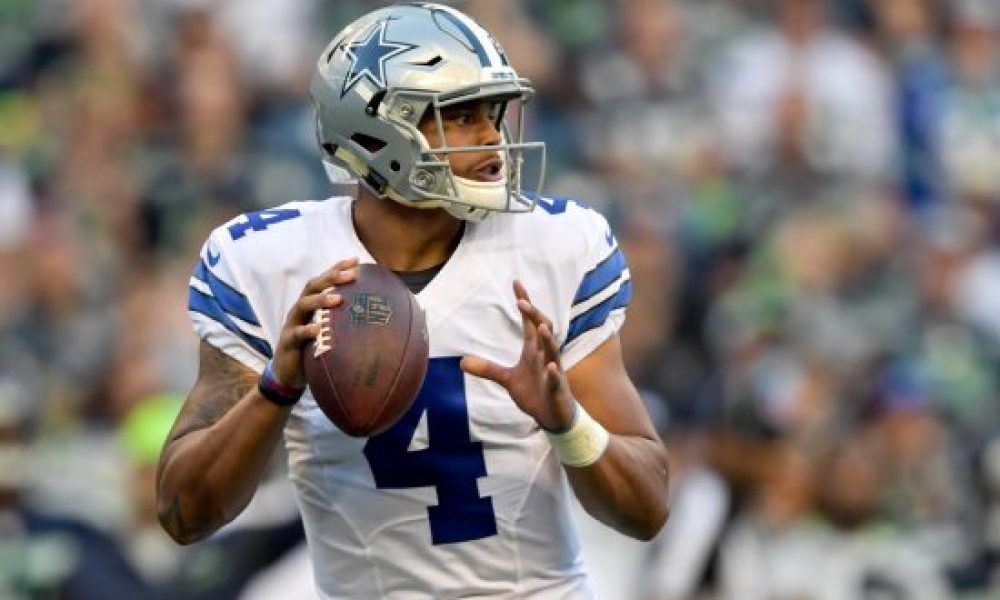 Kirby Lee-USA TODAY Sports
Dallas Cowboys quarterback Dak Prescott and coach Mike McCarthy are optimistic as a result of their first full offseason together.
In 2020, the offseason program was virtual due to the limitations of the Covid-19 pandemic. Last year, Dak Prescott did not take part in minicamp as he was still recovering rom a compound fracture and dislocation of his right ankle.
Dak Prescott says his preparation for next season is way ahead of schedule compared to last year. 
Despite weighing the same at 228 pounds, he has been able to fine tune his entire body rather than focus on his leg.
Want $250 to bet on NFL futures?
Sign up now!
"I think I'm so, so much further along than I was last year at this time," Prescott said. "I mean just being able to get the team reps, being able to move more, take care of my whole body and just focus on everything and not just my leg is a huge difference.
"People tell me that [he looks leaner], I say thank you," Prescott said. "It's a product of working on everything and not just on my leg. Whether it be diet or whatever, just focused on every way I can get better."
"Just training a little bit different, doing a lot more rotational things that I think dropped some of the baby fat, I guess, off," Prescott said.
Read: Bruce Smith Is Wrong About Tony Boselli's Career
"It's been huge for everybody," McCarthy said. "So I think all the little things that we do, particularly the meetings, in the walkthroughs, they're important obviously but just for him to have no limits has been outstanding. And I think you can clearly see it in the way he's moving this year with his body. He's clearly different than he was last year. He's had a heckuva offseason."
Facebook Twitter LinkedIn