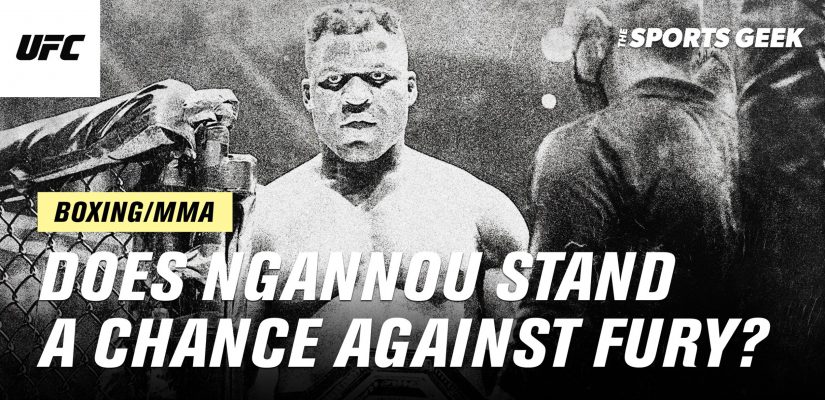 Francis Ngannou vs. Tyson Fury is one of those "what if" fights and match-ups, a clash so alluring one cannot help but start watering at the mouth; the odds of it actually delivering, however, are quite slim.
You can't just put two of the biggest dudes you can find inside a cage or ring and call it a day — even if both of them are amongst the most capable fighters on the planet. It's all a matter of styles and match-ups, of skillsets and abilities. If there's an insurmountable gap between the two contestants then the fight simply isn't going to live up to the hype.
Granted, most folks will tune in regardless if the match-up makes any sense or not, but the point stands nonetheless.
Francis Ngannou is, without a shadow of a doubt, one of the most frightening individuals on the face of the planet. There's really no other way to say it. He's not a boxer, though, nor is he even remotely close to mastering the "sweet science." The fact that he can trade blows and turn someone's lights off changes very little in that regard — there are levels to boxing, and no one understands it better than the "Gypsy King," one of the greatest heavyweights who've ever put on a pair of 10-ounce gloves.
Now, we're not saying that Ngannou wouldn't stand a chance — far from it, in fact. He's a towering giant, one of immense strength and agility. He's a specimen, a one-in-a-million, and, as such, would no doubt present a very peculiar threat to Tyson Fury.
Whatever Francis might lack in nuance or finesse, he more than makes up for in sheer power and the ability to knock your head off in a split second.
FURY KNOWS HIS WAY AROUND AN 'ATOMIC' PUNCHER
But the same holds true for Deontay Wilder and many other heavyweights whom Tyson Fury outclassed, often with ease. They didn't lose to Fury because of their lack of power, but rather because they couldn't compete in other (perhaps even more crucial) areas. You're not going to knock out the "Gypsy King" and be done with it; many have tried and just as many have failed.
And all of them were exceedingly confident in their ability to "seal the deal," too, which only further adds to the legend that is Tyson Fury.
How could one, therefore, ever side with Francis Ngannou, exceedingly dominant though he has been?
Ngannou vs. Fury Odds | Will They Box In 2022/2023?
Crossover Fights — Entertaining But Unnecessary
The biggest reason why MMA's biggest stars want to clash off with those of boxing isn't because of their legacies or any mouth-watering narratives — it's all about the money and little else. The money one can earn in boxing (at the highest of levels, of course) is many, many times greater than that in MMA.
Ngannou, for instance, only made $600,000 for his win over Cyril Gane (show and win money). That's without any "backroom" bonuses and pay-per-view points which he supposedly declined. Tyson Fury, on the other hand, made over $33 million for his win over Dillian Whyte.
Let that sink in.
To make things even more interesting, that number does not include his PPV cut. He's the very best in the world so of course he deserves such a hefty paycheck, but so is Ngannou, and yet his bank account is nowhere near as populated or overflowing with Benjamin Franklins.
What's With the Hold-Up?
Well, there's a slew of obstacles standing in the way. First of all, Ngannou has torn both his ACL and MCL right before UFC 270 and is currently convalescencing. Tyson Fury, on the other hand, is happily retired and is currently mulling over his options (of which there are many). He's also very much interested in facing Ngannou but his hands seem to be tied.
IT SEEMS DESTINED
That said, both fighters have expressed interest in making this fight happen sooner rather than later and are, therefore, all but guaranteed to meet up at some point in the near future. Francis is currently in a very bad relationship with the UFC and has made his requests and demands as clear as day.
If the higher-ups aren't willing to budge, he will sit out his contract and then seek greener pastures. That, too, he has made clear.
Fury, on the other hand, is looking to channel all of his energy and time into other avenues and forms of entertainment — including a "crossover" fight with one of the most frightening UFC champions of all time.
Tyson Fury wrecked house, solidified his spot in the heavyweight pantheon, and is still looking to face one of the most dangerous fighters who've ever taken flesh. Say what you want about the "Gypsy King," but he sure isn't the one to shy away from a challenge!
And his ability to sell a fight and draw millions of eyeballs is equally as astounding. A whopping 94,000 tickets were sold for his fight with Dillian, a number high enough to fill out the Wembley Stadium "to the brim."
A MOST HISTORIC MATCH-UP
If they were to exchange a few harsh words — to say nothing of a little scuffle at a press conference — Fury vs. Ngannou would no doubt sell like hot cakes! The fight basically markets itself: one of the greatest heavyweight boxers of all time and one of the most powerful heavyweights in the history of mixed martial arts.
It probably wouldn't be all that competitive, though. Boxing isn't something one can fully learn or master "on the side." Guys like Fury have been doing it their whole lives; they've grasped its many nuances — details and tricks which can only be learned through decades-long repetition and fighting experience inside a ring.
Ngannou, being as powerful as he is, would definitely have a puncher's chance (to say the least), but the experience delta between him and Fury is gargantuan and, more likely than not, insurmountable. It is, therefore, incredibly hard to envision a world in which "The Predator" comes out on top.
That being said, this fight almost certainly will take place. There are never any guarantees, of course, but both men know it'd be a spectacular payday — and a wholly fascinating challenge, to boot; one that would no doubt further solidify their (already incredible) legacies.
FUTURES BETTING: Francis Ngannou vs. Tyson Fury Odds