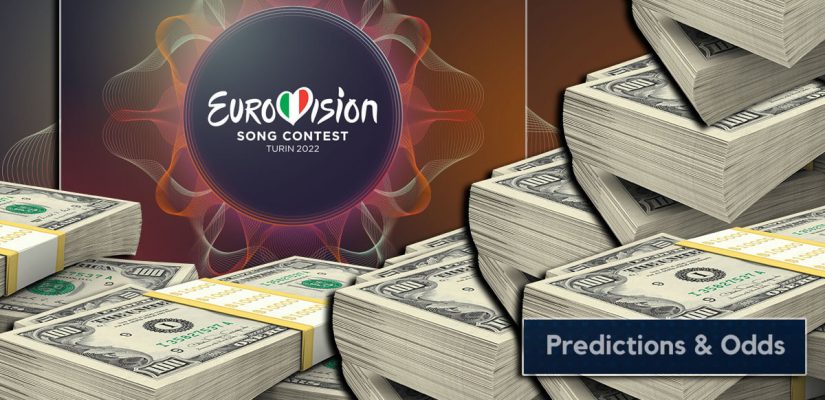 The 2022 edition of Eurovision is right around the corner which means it's time for us to take a closer look at who's favored, why, and what's most likely to happen at the biggest and most prestigious songwriting contest in the world!
We should be in for quite a spectacle — as always — so make sure to prepare ample popcorn and enjoy the show! If, by any chance, you're looking to bet on this year's contest, we have a fairly concise preview down below (a primer, if you will) that'll provide you with all the information you need and, hopefully, increase your chances at scoring a big payday!
There's quite a lot of ground to cover, so let's dive straight into it!
What Is Eurovision?
The Eurovision Song Contest, first held in 1956, was first conceived with two goals in mind: to unite European countries in the post-World War II era and also test the underlying technology behind cross-border television broadcasts. The Italian Sanremo Music Festival was used as a template but only as a starting point — the contest itself has evolved in numerous different ways since its inception.
It is one of the most popular music contests in the world and, much like any other competition of its size and scope (not to mention importance), betting on it has sort of become a tradition.
Each participating country is represented by either a solo act or a group of up to six people. These individuals get to perform their original song (which is up to three minutes in length) and then watch in either excitement or trepidation as professional juries and millions of viewers send in their votes.
For a more detailed explanation of this peculiar voting process, make sure to watch the following video:
How to Watch Eurovision in the USA?
You'll be able to catch all the "action" live on Peacock — no active subscription required! The internet will also be flooded with online streams from various different countries and broadcasts, so that's definitely a viable option as well (albeit not as simple and straightforward as the first one).
The Last Five Winners
The following five artists (and, by proxy, countries) have emerged victorious in the most recent past:
2016:
Jamala — 1944 [Ukraine]
2017:
Salvador Sobral — Amar pelos dois [Portugal]
2018:
Neta — Toy [Israel]
2019:
Duncan Laurence — Arcade [Netherlands]
2021:
Måneskin — Zitti e buoni [Italy]
This list, however, should in no way influence your betting endeavors; one cannot extrapolate any meaningful conclusion from these lines nor can they provide us with an indication of what'll happen this time around.
Eurovision 2022 Odds — Who'll Win?
This is never an easy question to answer as things can, at times, develop in an unexpected direction. That being said, we always know who the biggest favorites are, and this year's contest is no different in that regard.
Ukraine | Kalush Orchestra — Stefania
The Ukrainian representatives have a truly unique song, one that blends both ethnic motifs and a series of contemporary genres. Kalush Orchestra has an absolute winner on their hands and everyone knows it, too. And, well, we couldn't possibly ignore the current (and quite unfortunate) state of affairs — the Ukrainian people are currently suffering beyond all measure.
That, too, will affect voters and, well, rightfully so. Fortunately, if they do end up winning (which seems to be the most likely scenario), it won't be out of any pity or compassion — "Stefania" is an absolute masterpiece and is exactly the kind of song that deserves the highest possible accolade.
ODDS: -2000!
Italy | Mahmood & BLANCO — Brividi
Italy, too, has a shot at winning. "Brividi" has lit the musical world on fire and is the brainchild of two exceedingly popular young artists, both of which have risen to prominence thanks to their performance on The X Factor Italia. They also have a fair bit of Eurovision experience, too, what with them finishing second back in 2019.
We don't think they'll actually go the "whole nine yards" this time around, but that doesn't mean they're unworthy of our undivided attention. "Brividi" is an astoundingly beautiful ballad and has taken the world by storm for a very good reason.
ODDS: -1000!
Sweden | Cornelia Jakobs — Hold Me Closer
Speaking of exceptional artists and songs that are truly out of this world, "Hold Me Closer" by the spectacular Cornelia Jakobs stands out as one of the best and most well-rounded songs you'll hear at this year's Eurovision contest.
It might not be as popular as the two equally marvelous numbers listed above, but it, too, stands a very real chance at winning — and the odds reflect it as well.
ODDS: -1250!
United Kingdom | Sam Ryder — SPACE MAN
If you're a sucker for angelic voices — and, let's be real, who isn't — then Sam Ryder's "SPACE MAN" will be right up your alley. This exceptionally talented Brit from Essex is one of the most popular music artists from the UK on TikTok and his one-of-a-kind voice and on-stage persona have won over the hearts of millions of fans across the globe.
He echoes so much of his musical forerunners and is rightfully considered as one of the biggest frontrunners to win this year's Eurovision. That being said, he's going up against some mighty stiff opposition. A high placement is all but guaranteed, but we don't think he'll rank any higher than, say, third or fourth once everything is said and done.
ODDS: -300!
Spain | Chanel — SloMo
"SloMo" is a breakout hit worthy of the biggest stage in the world. There's really no other way to put it. And, well, it's sung in Spanish which instantly gives it a kind of allure that can seldom be found elsewhere. Chanel can command the stage with staggering ease and her song is equally as beguiling. Its melodic line and infectious chorus are as hip and contemporary as it gets.
And, well, it's mighty hard to listen to it without bursting into dance. How well the audience will react to it still remains to be seen, but one thing's for certain: "SloMo" is all but guaranteed to rake in a metric ton of attention.
ODDS: -280!
Eurovision 2022 Odds | Our Pick
This year's Eurovision contest is absolutely stacked with exceptional artists and songs that all stand a chance at winning. Predicting who'll come out on top, therefore, is quite a layered challenge, one that is made all the more intricate and complex because of the war-stricken world in which we now live in.
The Ukrainian representatives might not have the absolute best song, but they're nonetheless bound to get the most votes. The odds reflect this as well. We wouldn't necessarily peg them as such a big favorite, but we do understand the reasoning behind it.
Betting on the Kalush Orchestra, therefore, makes the most sense.
Eurovision 2022 Betting Odds Winner:
Kalush Orchestra, Ukraine!