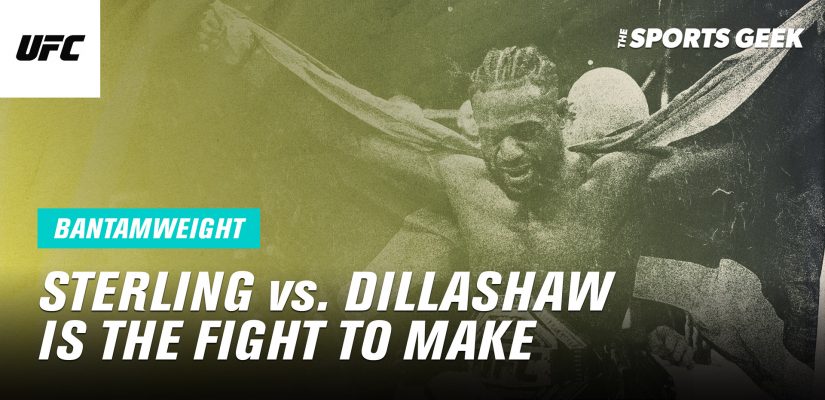 Now that the dust has settled, Aljamain Sterling vs. T.J. Dillashaw sure does look like the most logical match-up. There's really no other way to say it. The former bantamweight champion isn't the only option, granted, but he may well be the most appropriate one.
A lot has been said and written about Aljamain Sterling and the fashion in which he claimed the bantamweight throne back at UFC 256. It wasn't a good look nor was it an impressive performance. He seemed out of sorts and overwhelmed by Petr Yan, a juggernaut that was both unrelenting and highly nuanced in his approach.
A CHAMPION WORTHY OF RESPECT
And so, naturally, no one really thought he'd win the second time around. But lo and behold: Aljamain not only came out swinging, but totally outclassed "No Mercy." He was in control from start to finish, and the ease with which he handled his adversary left no one indifferent.
The fact that he won doesn't matter all that much; what does, however, is the fashion in which he pulled it off— in tremendous style with just the right amount of pizzazz. There was no doubt left by the time the final bell rang. And sure, some rounds were closer than others, but he obviously took his foot off the gas mid-fight and opted to cruise to a decision.
Was it a wise choice? Not really, but he got the job done so it's hard to really criticize him for it.
The most important thing is that he got the job done; his success is made all the more impressive because of the way in which it was attained. There's no denying it: Aljamain Sterling is the UFC bantamweight champion and he's earned his laurels fair and square. A trilogy fight with Petr Yan might still be lingering in the air (heck, it's bound to happen at some point), but there are other match-ups as well right now, all of which seem to be more pressing and, in a way, adequate.
The odds of Aljamain Sterling facing off against former bantamweight champion T.J. Dillashaw are most likely. It really is the next logical step for both men, even though Jose Aldo would surely like to have a say in the matter, and the same holds true for Henry "Triple C" Cejudo, who also plans on mounting a comeback in about six months' time.
Sterling vs. Dillashaw | This One Comes First
There's really no way for anyone to confidently predict what'll happen and who'll end up facing whom. That being said, the way things have been set up sort of paints a complete picture. Cejudo will return in no less than five or six months. Dillashaw, on the other hand, will supposedly be ready to compete mid-Summer — and he is, by all metrics, the next in line for a title shot.
That, too, was sort of implied by the higher-ups, although nothing has been yet made official nor is anything set in stone. As always, a lot can change in just a few weeks' time, so it'd be ludicrous of anyone to make sweeping statements or predictions this early on.
A clash with Cejudo also seems destined to happen at some point, and if both men stay healthy that fight will probably take place near the tail end of 2022. Cejudo's not the kind of fighter who'll come back and have a tune-up fight — nor should he.
A BONA FIDE LEGEND
We're talking about one of the greatest combat athletes of all time. So if he wants a title shot immediately upon returning to action, the UFC would be wise to listen. A fight with Sterling would also generate an incredible amount of interest, albeit more from the hardcore part of the community rather than the general public (the roaring multitude, if you will).
Still, before that takes place, Aljamain will probably have to go through Dillashaw first and that, in short, will be no easy task. In fact, we're not all that confident in the odds of him emerging victorious.
Most people tend to forget this, but Dillashaw has only lost three times in the last ten years and two of those losses came at the hands of Dominick Cruz and Henry Cejudo. Dillashaw, to his credit, didn't lose his bantamweight belt — he was stripped of it for doping.
That, while not necessarily any better or more commendable, certainly does change things.
He is, without a shadow of a doubt, one of the most capable fighters on the roster and an absolute legend in his own right. And even if that weren't the case he was still able to best Cory Sandhagen last July and is the number one contender for a very good reason.
A fight with Sterling needs to happen. That much is clear. There's also quite a lot on the line, too — Aljamain wants to further solidify his spot atop the division (and finally move on from Petr Yan), whereas Dillashaw wants to prove to the world (and his many doubters) that he's still an elite athlete, one that can deliver on the biggest of stages even without having to resort to EPO or any other banned substance.
Who'd come out on top, however, still remains to be seen. Sterling is as crafty and skilled as they come, but Dillashaw has weathered many a storm and was able to win the bantamweight belt on two occasions — an indication of his immense talent and ability to perform.
Sterling hasn't been favored by the oddsmakers in quite a while, and even though he's proven his mettle a few days ago, we'd still find it hard to bet against T.J. — what with his stacked resume and all. Then again, we don't know the extent of his most recent injury and whether it will affect his performance; that's something that may well end up being the difference-maker once these two men step foot inside the Octagon.
Either way, it'll be a clash worthy of the history books!
FUTURES BETTING — Sterling vs. Dillashaw Odds: