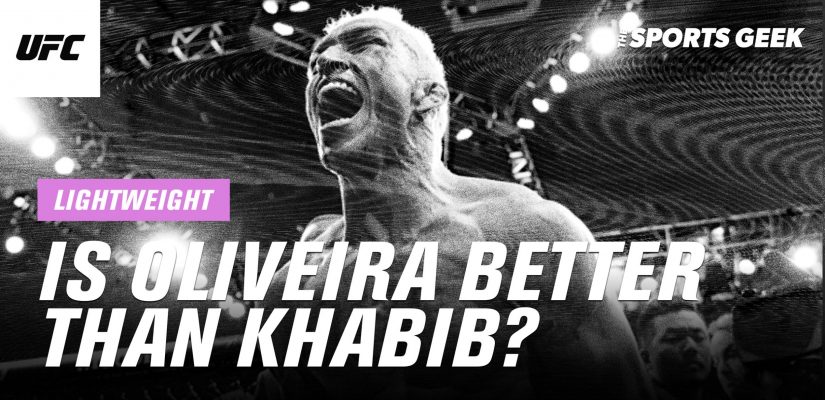 Odds are, once his career comes to an end, Charles "Do Bronx" Oliveira will be remembered as one of the all-time greats. And just writing such a sentence makes one feel… weird. We've been watching him fight for what feels like an eternity and never before could we have imagined him rising to such astonishing heights.
Heck, "astonishing" feels like an understatement. His "body of work" is one of a giant. And it's not just whom he holds wins over but also the fashion in which he attained said wins.
Oliveira is as dominant and capable as they come, and we're almost out of superlatives and adjectives with which to praise him.
His rise has been of the meteoric variety, and we're still somewhat baffled by ferocity and zest with which he climbed the ranks and claimed the lightweight throne — a throne most often held and occupied by UFC royalty.
And now, with so many wins and accolades, one cannot help but wonder: is Charles Oliveira better than Khabib Nurmagomedov? Can such a comparison even be made and, if not, why not?
Charles Oliveira vs. Khabib Nurmagomedov | What Are the Odds?
There aren't any, at least not right now. And, well, naturally so: Khabib has retired and, by the looks of it, his decision seems to be final. A rematch with Conor McGregor might happen at some point in the future, but that, too, seems rather unlikely.
Still, the thought of Oliveira vs. Khabib sort of conjures up on its own. It is a most natural question given their staggering resumes and ability to dominate. Khabib was a lot more precise and a lot less reckless; Charles, on the other hand, is much more exciting to watch. He's willing to trade blows, to throw caution out the window, to risk getting knocked out cold.
A UNIQUE KIND OF FIGHTER
That trait has been present for as long as we can remember, but there seems to be a method behind his madness.
He's not just throwing down without a plan in mind; he's not crazy by any stretch of the imagination. He is, however, endlessly confident in his ability to weather the storm and emerge victorious. And the fact that he's that self-assured — in the face of the stiffest opposition one can imagine — only further strengthens his personal narrative.
Charles Oliveira is a bona fide legend and people have only now begun to realize it. He's flashy, entertaining, skilled beyond measure and even a philanthropist, too. His fights are never boring nor is he the kind to shy away from a challenge.
In fact, Charles has faced Michael Chandler, Dustin Poirier, and Justin Gaethje all within a single calendar year. Let that sink in, we implore you. It is an astonishing fact, one that is almost unfathomable.
There's nothing else left for him to accomplish. He's been wrecking house in the de facto most stacked and dangerous division in the UFC — and he's managed to overcome each and every single hurdle that was thrown at him. And he didn't just squeak by, either: he dominated and styled over his opponents as if it were the easiest thing in the world.
That's what makes him such an exceedingly impressive champion, one that has earned all the praise and commendation in the world.
A Lightweight Giant Through and Through
Now, Khabib's importance cannot be overstated. He is, by all means, a legend of the sport. Still, if we were to judge his "body of work," one couldn't help but draw a few parallels between him and "Do Bronx."
Comparing their many wins isn't really the best way of going about it as they dominated in vastly different ways. Khabib was more controlling and physically dominant, but Olivera is as crafty and skilled as they come. The fact that he can trade blows with the best and most powerful punchers in his division (which is really saying something) and also submit them (seemingly at will) speaks volumes.
A TOWERING GIANT
He was miles better than Chandler, Poirier, and Gaethje, even though all three men seemed superior. They were supposed to knock him out. They were supposed to wrestle and "manhandle" him with ease. They were supposed to separate him from consciousness — and yet they never did, and it certainly wasn't for a lack of trying.
They came close, in all fairness, but Oliveira, being as dextrous as he is, always found a way to persevere and turn the tides — and he did so in the most tremendous of fashions, too.
Here's a fact few people are willing to say out loud: Oliveira would not only thrive in a fight with Khabib but would, without a shadow of a doubt, stand a very real chance of emerging victorious.
To some, that last statement was tantamount to heresy. And, in all fairness, it sure does sound ludicrous, what with Khabib having a perfect record and rarely (if ever) getting himself in harm's way, no matter whom he fought against.
Charles is an actual threat in all segments and areas of the MMA game. We're not saying that Khabib isn't, but we have come to a point where we can compare and talk about them as if they were equals — because they are.
A NEW CHALLENGER APPEARS
Islam Makhachev is next in line. That much is probably clear to everyone. And the interesting thing is that he not only shares Khabib's arsenal of weapons but is also mentored by "The Eagle" himself and is his protégé.
If Oliveira can beat Islam and, in doing so, get another high profile win on the board, it will be nigh impossible to deny it any longer: he'll be the greatest lightweight of all time and will have the resume to prove it, too.
And in that fight, "Do Bronx" will simply have to be deemed a favorite. If you're looking to learn more about UFC betting online, make sure to read our comprehensive piece by clicking on the link!
FUTURES BETTING — Charles Oliveira vs. Islam Makhachev Odds: