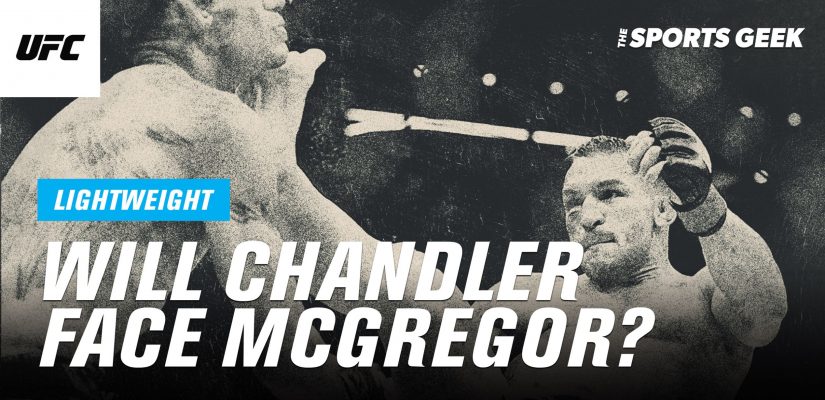 The odds of Michael Chandler fighting Conor McGregor seem to be rising by the minute. Or is that just something one would think based on a myriad of different news outlets and reporters? The reality of it all is that things are rarely that simple in the world of MMA.
Nothing has yet been decided on nor have any contracts been signed. Moreover, we're pretty darn certain that the higher-ups don't even want to match them up — they'd be shooting themselves in the proverbial foot.
IT MAKES SENSE… BUT ONLY ON PAPER
What does the UFC stand to gain, exactly? It's a mouth-watering match-up, there's no doubt about it, but the same can be said for any match-up involving Conor McGregor. The UFC could pair him up with a bunch of random people off the street and millions would still tune in and buy the pay-per-view.
Michael Chandler, however, is no mere "random." In fact, he's amongst the very best lightweight fighters who've ever walked the planet. Now, McGregor is no slouch either, but it's been over half a decade since the last time he beat a high-ranked opponent — a win over Donald "Cowboy" Cerrone is laughable at best.
Moreover, Conor has only fought four times in the last five years. Let that sink in. And his record? A pretty dreadful 1W-3L. All in all, one cannot, in good conscience, consider him as a threat to any title holder, be it Charles Oliveira or Kamaru Usman.
The best thing for Conor right now, at this point of his career would be to partake in "high profile" fights against the likes of Nate Diaz and Jorge Masvidal — that would not only yield an obscene amount of money, but, potentially, a win as well.
What Are the Odds of Michael Chandler Fighting McGregor?
They're next to non-existent, as far as we're concerned. Both fighters would surely love to square at some point, but they're at totally different trajectories career-wise and matching them up wouldn't make even the slightest sense.
A win for McGregor would instantly make him a title contender — but the odds of him winning are next to none. He is younger, but that alone means very little given the current state of things.
A peak McGregor who's in shape and focused would almost surely emerge victorious. A wounded, inactive, uninterested Conor, on the other hand, would be nothing but prey for a surging lightweight contender who's on the up-and-up — a powerful juggernaut with dynamite for knuckles and an ability to trade blows like his life depends on it.
And, well, with Charles Oliveira beating Justin Gaethje — in the most awe-inspiring of fashions, no less — one has to assume that Chandler's next. Or, at worst, that he's one fight away from getting another title shot.
And, well, if his callout of Nate Diaz is anything to go by, he's also looking for a hefty payday, too.
FUTURES BETTING — Michael Chandler vs. Conor McGregor Odds:
Who's Next for Chandler?
This question feels nigh impossible to answer. There are so many intangibles in play, so many moving pieces and potential opponents. We also don't know what Chandler wants to do next: will he take some well-deserved time off or, conversely, get back in the Octagon as soon as he is medically cleared and physically fit to do so?
We can see both options happening, which is why it's so hard to predict one over the other.
The good thing with Michael Chandler is that he has many different options available to him and, well, pretty much all of them are either mighty exciting or stupendously lucrative. He won't be fighting for much longer, so earning as much money as he possibly can is obviously at the top of his list of priorities (and rightfully so).
He's also willing to go up in weight and compete at welterweight which is also a most interesting option.
"Conor McGregor! You gotta come back and fight somebody! I am the most entertaining lightweight on the planet. I wanna up the stakes, Conor. I want you at your biggest, I want you at your baddest, and I want you at your best. You and me at 170! This summer, this fall, this winter," said Chandler during his post-fight interview.
His willingness to fight "The Notorious" needs no explanation. What is interesting, however, is that he's game to move up in weight and, by proxy, challenge one of the greatest fighters to ever do it: Kamaru "The Nigerian Nightmare" Usman.
A 'WIN-WIN'
This particular match-up would no doubt benefit both men; Chandler would face the stiffest test of his career and square off with a veritable GOAT candidate, whereas Usman doesn't really have anyone left to challenge him — he has pretty much "lapped" the entire division.
If he beats Leon Edwards (which he almost certainly will), then we really don't see who else would be willing and able to get in line and challenge for the welterweight throne.
Enter Michael Chandler.
We don't think he'd win, of course, but he sure would give "The Nigerian Usman" a run for his money. And that's enough, as far as we're concerned.
FUTURES BETTING — Michael Chandler vs. Kamaru Usman Odds:
A potential fight with Nate Diaz also seems quite likely. It's a strange match-up, no doubt, but also one that would sell like hotcakes; criticizing it, therefore, wouldn't make much sense given the UFC's proclivity for conjuring up "high profile" clashes based on hype rather than merit.
Michael Chandler has no shortage of options and, odds are, the UFC brass is already hard at work on his next big fight — the likes of which is bound to result in fireworks! And, on the off chance you're wondering where to bet on UFC fights, we have a very thorough list of options prepared!
FUTURES BETTING — Michael Chandler vs. Nate Diaz Odds: