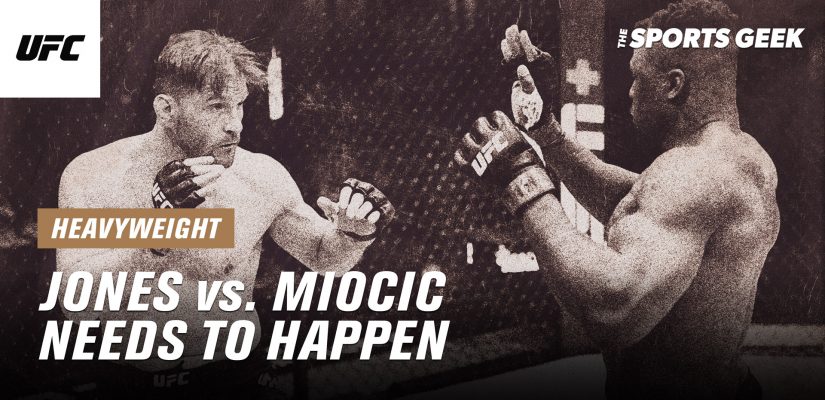 The mere mention of Jon Jones vs. Stipe Miocic is enough for us to start watering at the mouth. A clash this good and this promising simply has to materialize — there's really no other way to say it.
And it'd be in their best interest as well. By the looks of it, Francis Ngannou and the UFC will part ways. Nothing is yet set in stone nor has it been made official, but their relationship has gone sour quite a while ago and we're pretty sure the higher-ups aren't going to wait on "The Predator" much longer — the UFC machinery never stops and it sure doesn't wait for anyone.
And even if the two parties don't part ways, it'll still take a while before Francis can once again grace the Octagon.
So with the baddest guy on the planet — one with an uncanny ability to shut your lights out in a split second — out of the equation, both Stipe and Jon could use this opportunity to return back to action.
Heck, they'd be wise to use it, as they might not get a better shot at claiming the heavyweight throne any time soon.
That whole division's a mess right now, but that, too, will change. When that'll occur still remains to be seen, but it is inevitable. Jon and Stipe sure could help out in that regard — them returning would sort of put things into place, at least for a little while.
We know that Jon's targeting a Q3 return (July/September, to be more exact) which would, in theory coincide with Stipe's (ever-changing) plans as well.
So what's with the hold up?
Well, that's not exactly a simple thing to answer. Far from it, in fact.
Complications Galore
Much like Ngannou, Jones, too, has a very strenuous relationship with the UFC. And, well, it's only gotten worse and worse ever since he decided to take a "sabbatical" and bulk up. He will make his heavyweight debut in the near future, there's no doubt about it, but the details surrounding that event are yet to be ironed out.
A STATE OF LIMBO
And, frankly, there's no telling when it'll all transpire. The two parties could, by all means, meet up in a few weeks' time and figure out a lucrative new contract. They could also continue clashing heads for months to come. That, too, is possible (if not even more likely).
The higher-ups are also probably waiting to see whether they can figure something out with Francis Ngannou. He's made his demands clear but it still remains to be seen whether they're feasible or not. And, well, we're not particularly optimistic he'll be able to find common ground with the UFC after everything that went down — their relationship has gone sour, possibly beyond the point of saving.
Stipe, also, has been somewhat MIA. We know that he wants to return to action in the near future, but he hasn't been nearly as vocal as some of his peers. We also know that he wants to bulk up and would love to clash off with Ngannou one more time, although that match-up no longer seems possible given the current status quo.
I've been imagining it for over two years now, I genuinely believe winning this heavyweight championship is in my destiny. It's already been written. I just need to keep my nose in the dirt for now and keep working, everything else will take care of itself. https://t.co/9V41HVzpTy
— BONY (@JonnyBones) March 29, 2022
Jon Jones would then be the absolute perfect "consolation prize." A clash between one of the best heavyweights in history and a fighter most folks consider the greatest of all time? Where do we sign up!
That's a bona fide superfight! A clash of two titans, both of whom have etched their names in history many a time. Jon Jones would, perhaps, be an even more interesting match-up for Stipe compared to a trilogy fight with Francis. It's a lot more interesting, novel, perhaps even historic.
A SERIES OF QUESTION MARKS
It'd also be a favorable match-up for both, depending on how you look at it. Jon Jones has never fought at heavyweight. He doesn't know how he'll feel once he starts trading blows with another towering giant. He doesn't know whether he'll gas after a round or two.
He doesn't know how to best pace himself and to manage his output. He doesn't know what it's like to be locked inside the Octagon with a guy who's about as big as he is — and with a comparable reach, too.
The only two times he had experienced something akin to it were his fights against Thiago Santos and Dominick Reyes — and we all know how those clashes panned out. We didn't see the dominant, commanding Jon Jones we became accustomed to. He was flawed, outpaced, overwhelmed. He held his own, there's no denying it, but the gap wasn't nearly as big as was the case in the past — if there even was a gap.
Jones vs. Miocic Odds | A Wholly Interesting Match-Up
Stipe Miocic, however, isn't what one would deem a big heavyweight. If you were to see him on the street you certainly wouldn't engage in a battle of fisticuffs, but a giant he is not. He's actually the same height as Jon, although his reach is nowhere near as impressive — 80 inches compared to Jones' 84 and a half.
GOING IN 'BLIND'
So Jones would naturally find himself in a position he has never before experienced. He's as seasoned as they come, so he would adapt, there's no doubt about it, but there are still numerous potential problems which he could experience.
Miocic, on the other hand, is no spring chicken. At thirty-nine years of age, one could rightfully argue that his best MMA days are in the rearview mirror. He's fought just three times in the last three years. He's not exactly what one would deem an active fighter. And, well, the clock sure is ticking. He has very little left to prove — what with his legacy being solidified — and he's probably looking to go out on a "high note."
And, well, there's arguably no higher "high" than facing another legend in what would surely be one of the most alluring pay-per-views of the year.
My candle for light heavyweight blew out, it showed in my last fight, instead of being discouraged by a bad performance, I'm stoked about this new season. New energy. My time at LWH was over, I see that more clear today than ever
— BONY (@JonnyBones) March 29, 2022
Jones vs. Stipe Odds — Who'd Win?
That's quite a hard question to answer. We have one of the very best heavyweights in UFC's history and another guy who has no heavyweight experience whatsoever. On paper, it sounds like a recipe for disaster, but Jon Jones is no random mixed martial artist — he's as high profile and as capable as they come.
That's why we're all dying to see this particular match-up. There's so much on the line for both. A win for Stipe would pretty much solidify his spot as the greatest heavyweight of all time, rivaled perhaps only by the venerable Fedor Emelianenko. A win for Jones, however, would erase all doubt and make one thing perfectly clear: he'd be the best MMA fighter of all time, and it wouldn't be even remotely close.
They don't need this fight to happen — both men are set for life and their legacies are etched in the history books, too — but that's precisely why it should happen.
It is a challenge unlike any other, a once in a lifetime opportunity, if you will, a shot at testing one's mettle against another all-time great.
And it's a winnable fight for both men, too, which makes it all the more interesting. Jon Jones, however, being as crafty and dextrous as he is, would probably come out on top.
FUTURES BETTING: Jon Jones vs. Stipe Miocic — Fight Odds and Prediction: