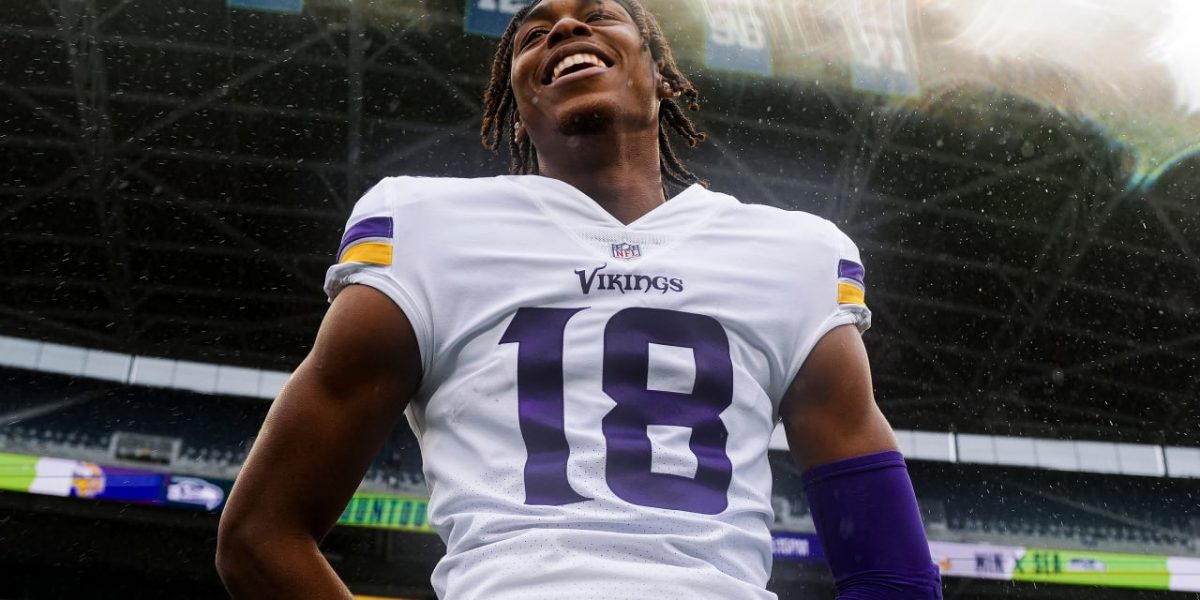 Minnesota Vikings wide receiver Justin Jefferson is confident in his own abilities, and it's easy to see why.
Justin Jefferson has been breaking records since he entered the NFL. His 3,016 yards over his first two seasons are the most by any wideout over their first two years.
Since 2020, nobody has had more receiving yards than Justin Jefferson. As well as that, he is tied with the Saints' Michael Thomas for most catches in a receiver's first two years.
With Minnesota's game due to become more passing-oriented under new head coach Kevin O' Connell, Jefferson is licking his lips at the prospect of surpassing himself.
Want $250 to bet on NFL futures?
Sign up now!
Not content to simply improve upon last year's yardage of 1,616, Jefferson wants to be the unquestionable No.1 WR in the league at the end of next season.
"I'll say after this year I'll be the best receiver in the NFL," Jefferson said. "I definitely have to give it to Davante Adams as of now, him being so crazy and dynamic on the field. His route running is crazy, so I definitely have to give it to him right now, but I'm pretty sure after this year, it's going to be me."
Read: Rams Newcomer Bobby Wagner Didn't Want To Leave Seahawks
"It's definitely tough to outdo 1,600 yards," he said. "It's not normal for people to get that many yards consistently, back-to-back like that. Really just working on my weaknesses that I felt that I had throughout the season, always working on my game. I'm always working on route running, always can work on catching the ball, so just trying to better my craft at all of those different categories. And with this new offense with coach (Kevin) O'Connell, all of us are excited about this new playbook and hopefully we have a better season this year."
Facebook Twitter LinkedIn