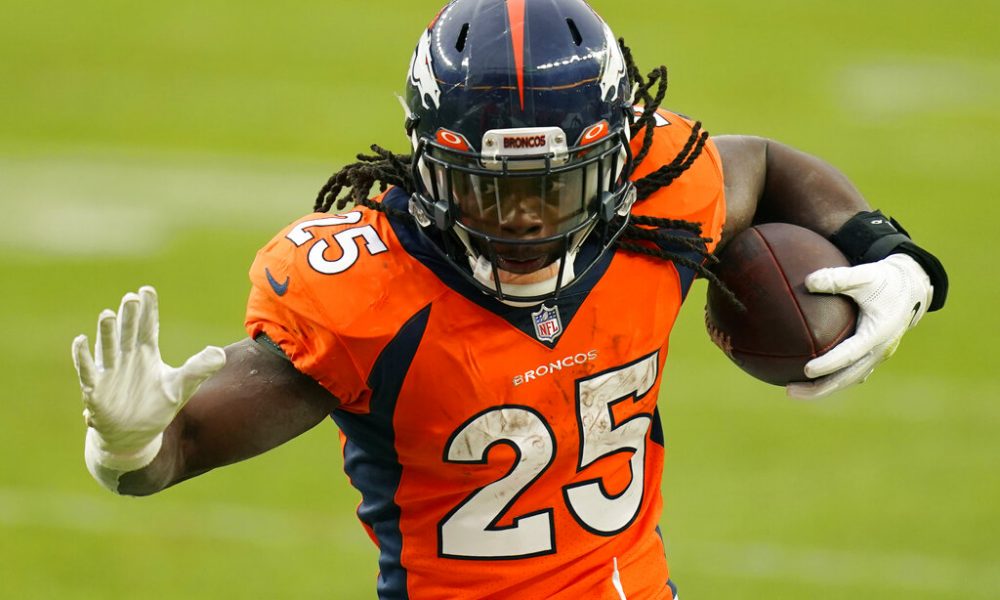 Denver Broncos running back Melvin Gordon (25) runs against the Las Vegas Raiders during the first half of an NFL football game, Sunday, Jan. 3, 2021, in Denver. (AP Photo/Jack Dempsey)
Melvin Gordon expects Denvers' running backs to thrive under new coach Nathaniel Hackett in the 2022 NFL season.
With Green Bay, Hackett helped Aaron Jones and A.J Dillon to wreak havoc as a running pair. He arrives in Denver with a duo that has already been developing for a season in Melvin Gordon and Javonte Williams.
Both Melvin Gordon and Javonte Williams rushed for 900 + yards last season. In his rookie season, Williams forced 63 missed tackles, behind only Jonathan Taylor in the entire NFL.
Want $250 to bet on NFL futures?
Sign up now!
Spurred on by the competition with Williams, Gordon signed a 1 year deal to remain with the Broncos for 2022.
"We're gonna go crazy, man," Gordon said. "We gotta go crazy. The young bull got so much talent, and we push each other every day in practice. We even got (Mike) Boone, who's a good player, too, that's going to help push us. I'm expecting the run game to be a lot better than it was last year for sure."
Read: Browns Have To Make Decision At Quarterback Soon
"That's why me and him both played so well last year, and if you ask him, I think that's the reason he felt he played so well," Gordon said. "In practice every day against each other. If I go 30, he wanna go 30 or 35. … We try to outdo each other with everything, so that carries over. That carries over when you're competing, and you've got a guy like me that's still hungry, and you've got a young bull that wants to show."
Facebook Twitter LinkedIn