Mitchell Trubisky To Sign Two Year Deal With Pittsburgh Steelers
March 15, 2022 By Connor Lynch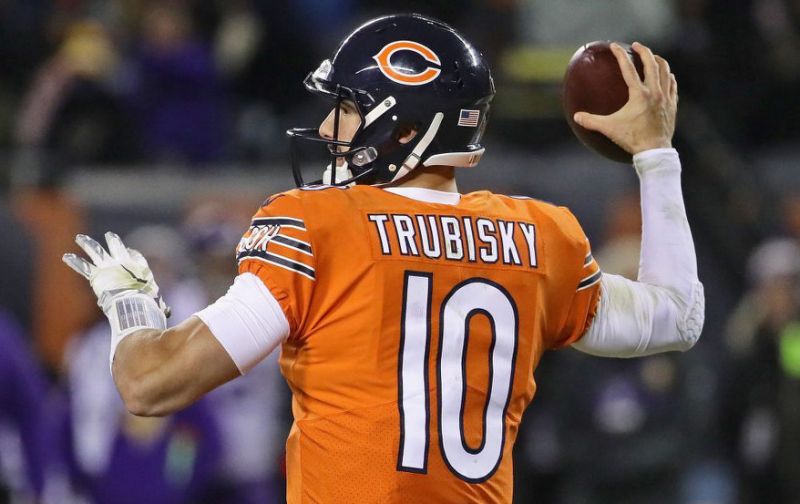 Free agent quarterback Mitchell Trubisky says his season as a backup for the Buffalo Bills 'opened his eyes'.
Mitchell Trubisky was speaking ahead of his reported imminent two-year deal with the Pittsburgh Steelers.
The 2017 second overall pick will compete with Mason Rudolph and Dwayne Haskins to fill the hole left by the retired Ben Roethlisberger.
In his career, Mitchell Trubisky has a pass completion rate of 64.1% with 64 touchdowns and 38 interceptions. As well as that, he has 1,081 rushing yards and nine rushing touchdowns.
Want $250 to bet on NFL futures?
Sign up now!
With the Chicago Bears, the 27 year old made the Pro Bowl in 2018. However in 2020 he was dropped by head coach Matt Nagy.
"Going to Buffalo really opened my eyes," Trubisky said. "… [Being] in Buffalo and [having] a different way of doing things, you learn what's possible. It helped me get back to instinctual football and using my talents rather than overthinking."
The quarterback room in Pittsburgh has a lot of room to do to replace Big Ben next season. Roethlisberger led the franchise to two Super Bowl titles and retired with the fifth most passing yards in history.
Read: NFL Free Agency Reaction Day 1 – Winners And Losers
According to Trubisky, the decision about where he would play next season came down to the Steelers and the Giants. 
"This was the best opportunity for me and my family … the best way to get back on the field and try to win games … You've got to go out and earn it," he said.
Facebook Twitter LinkedIn