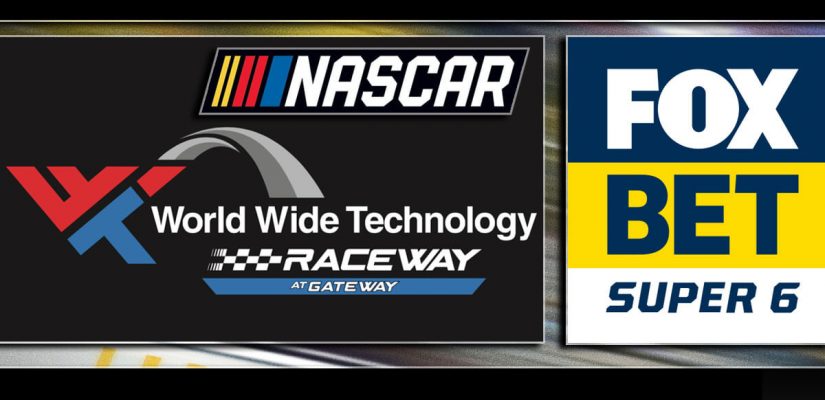 After years of debate about whether NASCAR would head to the St. Louis area, the Cup Series is at Gateway, and the green flag drops on Sunday. The NASCAR Cup Series cars will run laps around WWT Raceway for the first time. We will attempt to have the best NASCAR St. Louis Super Six picks for a winning day in the inaugural race.
Who'll be the first to add a NASCAR Cup Series arch to their collection? pic.twitter.com/2O9B6RAef0
— NASCAR (@NASCAR) June 5, 2022
The Fox Bet Super Six is a free prop contest app that doesn't require a fee to play. Even if you're not a NASCAR fan, it's a free contest, so take your best guess or follow our Cup Series St. Louis Super Six picks.
If you're a NASCAR fan, then this track may look similar to Darlington. A fast car isn't the only thing needed to win at Darlington and that's going to be the case at WWTR. Driver skills are important when it comes to a 1.25-mile track.
If you haven't played the Fox Bet Super Six before it's pretty easy. Answer six questions correctly and win the pool. There are likely going to be multiple winners, so the pool is then split up. Feel free to look at our Cup Series St. Louis Super Six picks below and use them at your discretion. For traditional NASCAR betting, check out our top NASCAR betting sites.
1. Where will the pole-sitter finish at the end of Stage 2?
The pole-sitter for the first race at WWTR is Chase Briscoe. For a race that runs a lot like Darlington, it's important to look at how drivers have done in South Carolina.
Briscoe has raced in three events at Darlington and hasn't finished in the top-10. He's finished P11, P19, and P20 most recently last month.
He's 13th in the Cup Series with four top-5 performances. Not too bad for Briscoe. I'm not sure he can get the most out of a new track at WWTR when the green flag drops.
I'm going with Briscoe falling out of the top-10 by the end of Stage 2 for F.
NASCAR St. Louis Super Six Picks
2. How many laps under caution will there be by the end of Stage 2?
The Nationwide/Xfinity Series ran at WWTR until 2010. The Truck Series has also made this track a stop on their schedule. So, this course isn't completely foreign to some drivers.
That being said, there are likely going to be mistakes at WWTR. Most of the indicients at Darlington are due to driver error and not running into an acident.
There may not be non-stop yellows at WWTR, but enough to bring out the pace car a few times. That should lead to 13-18 caution laps going into the Final Stage.
NASCAR St. Louis Super Six Picks
3. Which driver will have the fastest lap by the end of Stage 2?
I'm big on Denny Hamlin and Kyle Busch in this race at WWTR, so let's start there for our WWTR Race Super Six pick for the third question.
Hamlin ran well in qualifying, as he will start P6 on the grid. He's done well at Darlington in past races, so I can't see him running slow on Sunday.
In his last six races at Darlington, Hamlin finished in the top-5, including two wins. Everything has looked good for him in practice and qualifying.
The Coca-Cola 600 winner is expected to run hot again this weekend. Kyle Busch is well-liked in my book.
In fact, he can be the winner at St. Louis. However, I'm leaning toward Hamlin having the fastest lap through the first two stages.
NASCAR St. Louis Super Six Picks
4. Which manufacturer will have more cars in the top-10 of Stage 2 and how many will they have?
You can't go wrong with the Toyota cars. You have several top-notch drivers on your side with Toyota.
Ford is going to be the popular pick because of how many qualified in the top-10. Briscoe, Cindric, Logano, Almirola, and Burton will start top-10 for Ford.
Toyota has Christopher Bell and Denny Hamlin in the top-10. Just outside of the top-10 is where Toyota is lurking, though. They have Truex Jr. and the two Busch brothers.
Truex Jr. has liked racing at Darlington, as does Kyle, so they should be competitive. Let's go with Toyota having four drivers in the top-10.
NASCAR St. Louis Super Six Picks
5. Which driver will have a better finish at the end of Stage 2 and what place will they finish?
This is one of the trickiest Super Six pick at WTTR on Sunday. Expect Kyle Larson and Chase Elliott to run sharp races at Darlington.
This hasn't been Larson's season, but I liked what I saw from him in the Coca-Cola 600. Early on at Charlotte, Larson said that it was the worst race he's ever had in his career.
Larson fought back to take the lead. He ended up finishing P9, which is acceptable given what he was doing early in the race.
At a drivers' track, this will likely go well for Larson and Elliott. Larson had a bad engine at Darlington, but finished P2 in three straight races and P3 going back to 2018.
I'm going with Larson to have the advantage and 5th after Stage 2 at WWTR.
NASCAR St. Louis Super Six Picks
6. Which driver will have the better finish at the end of the race and by how many positions?
Our last Super Six question comes down to Bubba Wallace and Aric Almirola. Wallace was decent in qualifying for P18 on the grid, but the work from Almirola was especially promising.
Almirola qualified P8 with a solid time of 32.820. He is 11th in the Cup Series standings with one top-5 finish. Wallace has one top-5 finish as well, but hasn't been as consistent.
Wallace is 23rd in the Cup Series standings. He's finished P28, P10, P27 in his previous three runs.
Almirola has done decently well at a similar track in South Carolina, finishing in the top-15 in four of his previous six outings. I'm siding with Almirola finishing eight spots ahead of Wallace at the end of the Final Stage at WWTR.
NASCAR St. Louis Super Six Picks