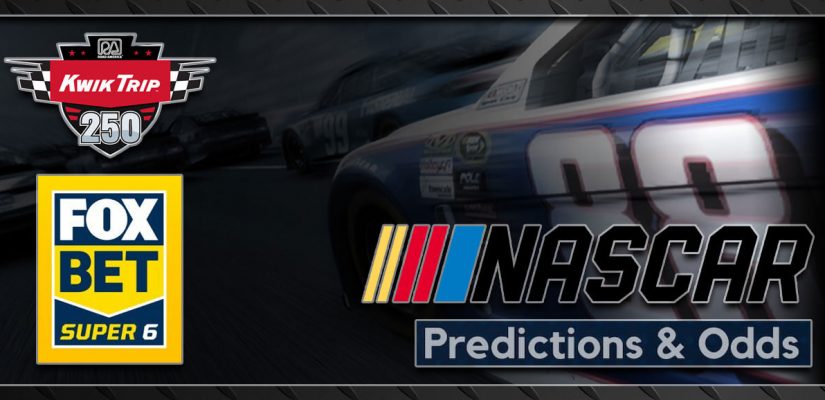 NASCAR is back on the road this weekend at Road America in Wisconsin. Road courses are a love-hate situation for NASCAR fans. Generally, not always, but generally, the casual younger fans like road racing, while older hardcore stock car fans do not like right turning.
WHAT 👏 A 👏 LAP@chaseelliott | @TeamHendrick pic.twitter.com/Ej3KzkDGd9
— NASCAR (@NASCAR) July 2, 2022
This is the third road race of the season, and more are coming this season. The Cup Series has signed up for six road races in 2022 whether you like it or not. If you don't like it, fine, but there are still betting opportunities.
We're at Road America for the Kwik Trip 250. To play the NASCAR Kwik Trip 250 Super Six, you must download the Fox Super 6 app. You won't find the free contest on a website. However, if you want a sports betting experience, that's covered with our top NASCAR betting sites.
The Kwik Trip 250 is a 14 Turn circuit at Road America. One lap takes 4.048 miles to complete with the Kink at Turn 11 out of a Carousel a tricky portion of the track.
Chase Elliott won at Road America after qualifying P34. He's on the pole for tomorrow afternoon and looking to follow up with back-to-back wins on the road course at Wisconsin. Head below for our best NASCAR Kwik Trip 250 Super Six picks.
1. Which of these Drivers will finish in the worst position at the end of Stage 1?
Including Chase Elliott in this question is an interesting choice. He will be overwhelmingly opposed to winning this question, which measures who will finish worst at the end of Stage 1.
Elliott won the pole and he won this race in 2021.
It's hard to see him finishing worse than any of the other drivers in this class. William Byron qualified P30, the worst of these six drivers.
Kurt Busch is next at P22 on the grid. He's finished P18, P32, and P25 in his previous three road starts. Byron was P9, P12, P11 in those three races.
He's not a road course specialist, but has been consistently good. I'm going with Busch finishing the worst going into Stage 2.
Kwik Wick 250 Super Six Picks
2. How many Chevys will finish in the Top 10 at the end of Stage 1?
Chevrolet will start the race dominating the front of the grid. They have three cars in the top-4, with Chase Elliott, Kyle Larson, and Tyler Reddick taking the green flag with great starting positions.
Alex Bowman starts P8 with four Chevys in the top-10 to open the Kwik Trip 250. Ross Chastain isn't that far back in P12 as well.
I'm high on Chastain having a solid run at Road America. Don't be surprised to see him run in the top-10, though there's one Chevy that likely drops back.
Four Chevys in the top-10 at the end of Stage 1 looks like a safe estimate. Let's roll with D for the second question of the Kwik Trip 250 Super Six.
Kwik Trip 250 Super Six Picks
3. Which of these Drivers will finish in the BEST position at the end of Stage 2?
None of the top-tier drivers are included in this question, so it requires having some NASCAR knowledge to at least be pointed in the right direction. I'm circling Michael McDowell and Tyler Reddick for the third question.
McDowell and Reddick have looked good this week, and qualified well for Sunday.
McDowell is P6 on the grid, while Reddick is P4 at Road America. McDowell is coming off a very strong showing at Sonoma this year.
He ran well to finish P3 for his first top-10 finish on the road in eight attempts at COTA. P3 is the best finish of his career, which began in 2008.
He looks like the safest pick for the third Super 6 question. Reddick didn't have a strong effort at Sonoma, but he's been more consistent. He has finished at least P8 in four of his previous eight races on the road.
Kwik Trip 250 Super Six Picks
4. Which Stewart-Haas Driver will finish in the Top 10 at the end of Stage 2?
Chase Briscoe had a nice Saturday in qualifying. He will be close to the front on the grid at the green flag.
Briscoe qualified P2 and will be next to Chase Elliott going to green. Running that well in qualifying is a small surprise, but this isn't like Briscoe has been bad on the road in his career.
He has finished a minimum of P13 in four of ten races on the road. Briscoe finished a respectable P13 at Sonoma two races ago.
Briscoe started P15 in that race and held pretty well throughout. It's hard to see him maintaining a top-5 finish, but top-10 looks possible. Kevin Harvick has a good history on road courses, so he could be a wildcard.
Cole Custer had a solid qualifying session in P10 and might be able to lurk as well. We'll go with more than one driver.
Kwik Trip 250 Super Six Picks
5. Which manufacturer will have more cars in the Top 10 and how many cars will they have?
I'm usually a Toyota guy, but a road course can change your perspective. This isn't a typical Cup Series race on an oval. Chevrolet ran well in qualifying and should continue on Sunday, but what about Toyota and Ford?
The first 11 drivers on the grid are littered with Ford Mustangs. There are seven Ford cars that qualified at least P11.
There are no Toyota Camrys in the top-10, with Kyle Busch at P13 the best qualifier. Martin Truex Jr. and Denny Hamlin aren't far off and will be lurking. However, let's go with four Ford drivers in the top-10 at the end of Stage 2.
Kwik Trip 250 Super Six Picks
6. Which driver will have the better finish at the end of the race and by how many positions?
The sixth and final question is a Kyle Larson vs Chase Briscoe showdown. I'm confident in Kyle Larson on Sunday, so looking at him to run well at Road America isn't a bad option.
Larson qualified well, as he'll start P3 to open the Kwik Trip 250. He's done well at road courses before, and I'm sure Larson will have a quality run at Road America on Sunday.
Larson has three wins on the road since last year at Sonoma. He's finished at least P3 in five of his previous eight road races.
Larson has a serious chance of winning this race on Sunday. He should have a fine race, but not up to Larson's standard. Briscoe qualified a spot ahead of Larson on the gird, but it should be tough to hold that spot.
I'm picking Larson by eight spots ahead of Briscoe at the end of the Kwik Trip 250.
Kwik Trip 250 Super Six Picks