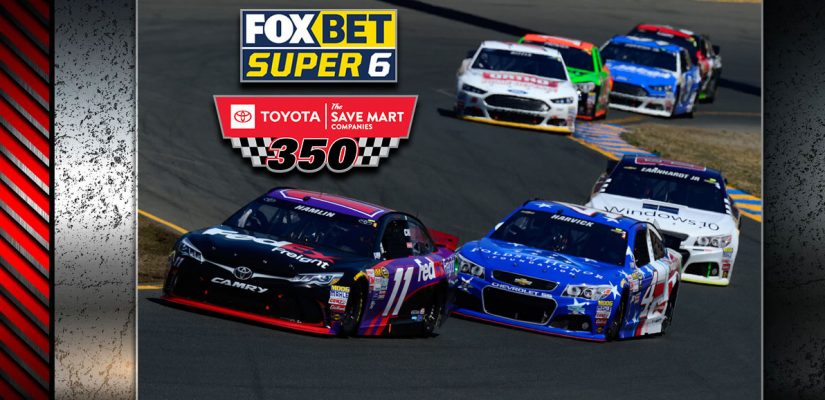 The NASCAR Cup Series is back on the road in California at Sonoma Raceway. Road courses aren't for everyone, but they are refreshing from the typical ovals.
There is one camp of fans who believe we need fewer road races. However, NASCAR wants to try to take some of the F1 crowd. We are looking at Toyota Save Mart 350 Super Six picks on The Fox Bet Super Six app.
P1!🏁@KyleLarsonRacin earns the #BuschLightPole at @RaceSonoma! pic.twitter.com/IKoNbPFjjs
— NASCAR (@NASCAR) June 11, 2022
This free prop contest can only be found on the Fox Bet Super Six app. It doesn't cost a penny to play, so it's worth a look even if you're not a NASCAR fan. The questions are part skill and part luck.
There are some questions where you will have to get lucky to win the pool. That's just the nature of NASCAR racing and the way the questions are presented. For more traditional sports betting, check out our NASCAR betting online page.
Kyle Larson and Chase Elliott qualified 1-2, which almost aligns with the odds to win the Toyota Save Mart 350 before qualifying. Elliott was the favorite, while Larson was the second favorite. Larson will open the race at P1 and Elliott P2.
We'll do our best to have a clean sheet for our Toyota Save Mart 350 Super Six picks. The pool is at $5,000 for this contest. If there's one winner, he or she will take down all of the $5,000. Head below for our NASCAR Sonoma Super Six picks for June 12, 2022.
1. Where will the pole-sitter finish at the end of Stage 2?
Kyle Larson will lead the cars around at Sonoma Raceway for the green flag. He doesn't mind going to road courses, and Larson has a fast car for Sunday.
Larson is the defending winner at Sonoma Raceway in 2021. His career didn't start off too well, finishing outside of the top-10 in his first five races at this track.
He finished in the top-10 for the first time in his career in 2020 and then struck for a win last year. At COTA this year, Larson didn't run his best race and settled back in P29 at the checkered flag.
I can see him running much better this time. We'll go with Larson in the hunt in P5 or P6 going into the Final Stage.
Toyota Save Mart 350 Super Six Picks
2. Which of these drivers will have the fastest lap by the end of Stage 2?
A fast car hasn't been Kyle Larson's problem this season. He's had a good Chevy from his team to race this year. Bad luck and mental errors have primarily hampered Larson.
Even when Larson has dropped back in races, he's done well fighting back with a strong car. However, something typically arises and bites Larson and his team.
After winning the Cup Series Championship, Larson is struggling for consistency this year. He's 7th in the standings with 444 points.
In any event, Larson is running a fast car at Sonoma, and it should be tough to top his speed on Sunday.
Toyota Save Mart 350 Super Six Picks
3. Which of these drivers will have the most laps led by the end of Stage 2?
The third question is one I like between Ross Chastain and Kyle Busch. Chastain won at COTA on the road in Texas earlier in the season. After a solid qualifying session, he should be in the mix again in a road course race.
Chatain will start P7 on the grid after running well on Saturday.
Chastain has been one of the more consistent drivers this season. He is P3 in the Cup Series standings with two wins and seven top-7 finishes. However, Kyle Busch has the upper hand on Chastain.
Busch qualified in P12, but I have more confidence in him being ahead of Chastain and leading some laps in this one. He's liked going to Sonoma, finishing in the top-5 in five of his previous six races here, including a win in 2015.
Toyota Save Mart 350 Super Six Picks
4. Which manufacturer will have more cars in the top-10 of Stage 2 and how many will they have?
Toyota only has one top-10 car on the grid to open the race, but along with Denny Hamlin in P10, Toyota has P12 and P13.
Ford has four cars starting in the top-10, which includes Chris Buescher, Michael McDowell, Joey Logano, and Cole Custer. I will take Hamlin and Busch moving into the top-10 by the end of Stage 2.
Logano will likely be competitive, but I'm not as confident with the other two drivers. My pick is Toyota, with three drivers in the top-10. Chevrolet is probably the best overall, with Toyota second.
Toyota Save Mart 350 Super Six Picks
5. Which driver will have a better finish at the end of Stage 2 and what place will they finish?
I'm high on Kyle Busch in this race, so naturally, I'm leaning towards the Toyota in this one. As noted above, Busch has done well at Sonoma Raceway in past races. He should feel comfortable and has a good car again this week.
Busch has been a consistent driver at Sonoma since winning in 2015. He hasn't finished outisde of the top-10 in six attempts.
Being consistent has been a theme for his 2022 campaign. He's 2nd in the standings and coming off a P2 finish in a duel against Joey Logano in overtime.
Busch has finished P2, P2, P3 in his previous three Cup Series races. Siding with the No. 18 is never a bad option.
Toyota Save Mart 350 Super Six Picks
6. Which driver will have the better finish at the end of the race and by how many positions?
Ross Chastain is coming off a win on a road course at COTA, but Denny Hamlin has run well at Sonoma consistently.
Hamlin has finished P8, P5, P10, P4, P2 in his previous five trips to Sonoma. He qualified P10 while Chastain starts P7 on Sunday.
Chastain has made two starts at Sonoma, finishing P33 and P7. He continues to improve as a driver, and these two likely won't be too far off from each other. I will go Hamlin by 1 to 2 positions at the end of the race.
Toyota Save Mart 350 Super Six Picks