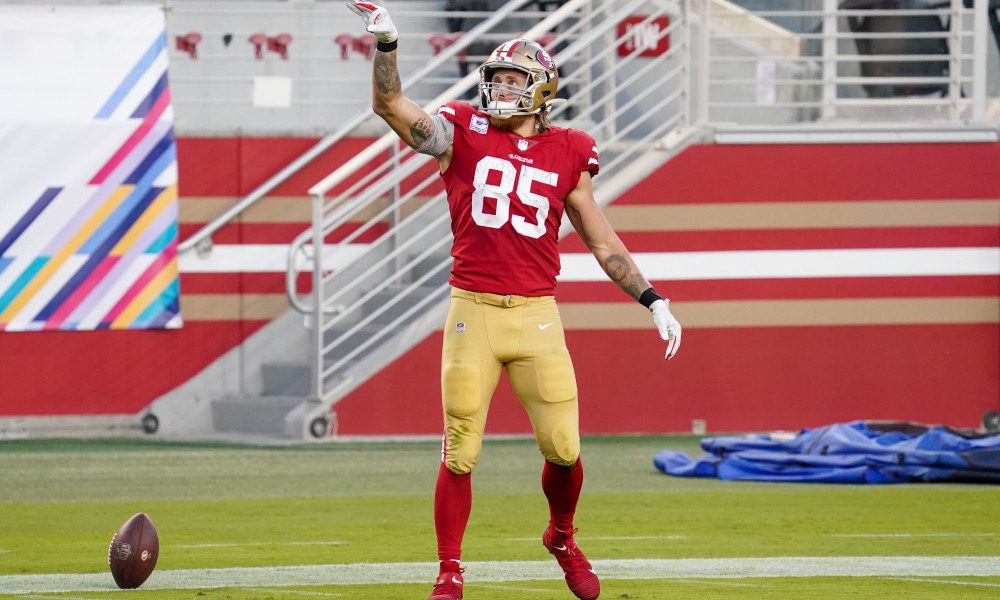 October 4, 2020; Santa Clara, California, USA; San Francisco 49ers tight end George Kittle (85) celebrates after a first down against the Philadelphia Eagles during the second quarter at Levi's Stadium. Mandatory Credit: Kyle Terada-USA TODAY Sports
In this latest edition of our NFL power rankings, we determine which five tight ends are the best in the NFC.
5. Zach Ertz, Arizona Cardinals
Ertz was dealt to Arizona at midseason in 2021, with many believing he was done. Not the case. Perhaps not once he once was, Ertz is still one of the best in the game, amassing 74 catches for 763 yards and five touchdowns. After the campaign, he stayed with the Cardinals on a new deal, continuing to work with quarterback Kyler Murray and fellow receivers DeAndre Hopkins, A.J. Green and Hollywood Brown. Not a bad gig.
4. Dalton Schultz, Dallas Cowboys
Schultz is playing the 2022 season under the franchise tag, largely because he's been very productive over the past two campaigns. After breaking out in 2020 with more than 600 receiving yards, Schultz took it to the next degree in 2021 with 78 receptions, 808 yards and eight touchdowns. Looking to earn a long-term contract, Schultz could be even better once more this year, especially as Dallas needs more from him after the trade of receiver Amari Cooper to the Cleveland Browns.
3. Dallas Goedert, Philadelphia Eagles
Goedert has been a quality player for years in Philadelphia after entering the league as a second-round selection, but he's started to level up. Now the only true option at the position on his team (following the Ertz trade last year), Goedert could improve upon last year's numbers which saw him total 56 receptions for 830 yards and four touchdowns. With the Eagles also adding receiver A.J. Brown, there should be more space for Goedert to work against overmatched linebackers.
2. Kyle Pitts, Atlanta Falcons
Pitts was expected to be incredible coming onto the scene as a No. 4 overall pick last season, and he didn't disappoint. Although the Falcons had little in the way of drawing coverage away from him, Pitts was still able to go over the 1,000-yard threshold as a rookie on 68 receptions. If there's one area for Pitts to improve, it's the red zone. In his first season out of the University of Florida, Pitts only caught one touchdown. Room to grow for the young star.
1. George Kittle, San Francisco 49ers
Kittle remains the best tight end in the NFC, despite some injury woes in recent years. Nobody is a better blocker and few cause more destruction once they've caught the ball than the former Iowa Hawkeyes star. Kittle notched 71 passes for 910 yards and six touchdowns last season, even though he only played 14 games for San Francisco. If he can stay on the field for a full year in 2022, he could reclaim the First-Team All-Pro live he displayed in 2019.
Facebook Twitter LinkedIn