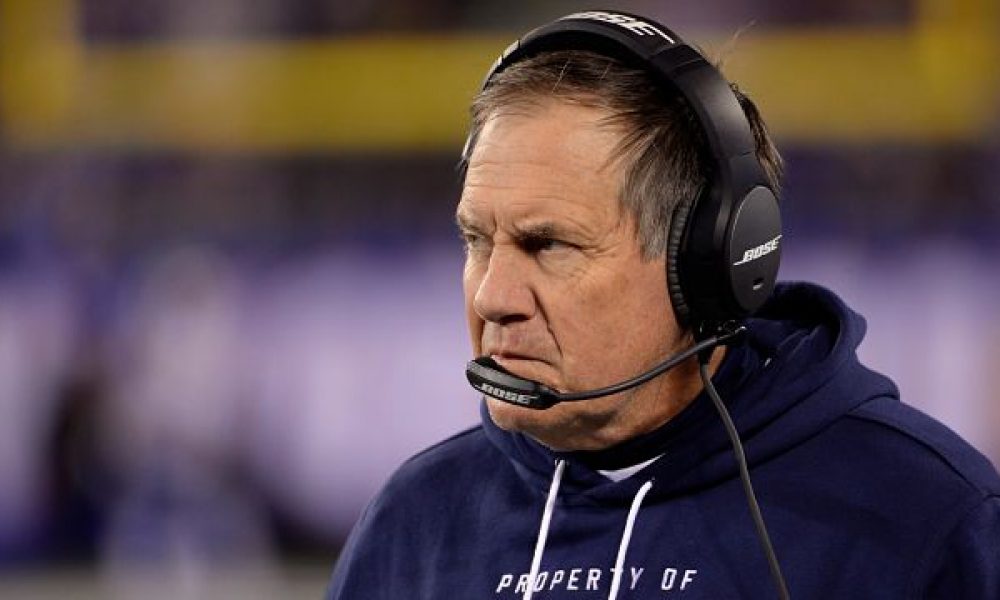 Nov 15, 2015; East Rutherford, NJ, USA; New England Patriots head coach Bill Belichick during the game against the New York Giants at MetLife Stadium. Mandatory Credit: Robert Deutsch-USA TODAY Sports
The New England Patriots are hoping for a big jump from second-year quarterback Mac Jones, and the team seems to believe.
Last season, the New England Patriots shocked many by winning 10 games, competing for the AFC East title to the end, and reaching the playoffs.
Yes, the postseason trop was one-and-done with a 47-17 thrashing at the hands of the Buffalo Bills, but it was a successful campaign nonetheless. Rookie quarterback Mac Jones shined as a Pro Bowler, the defense was terrific and the offense did enough.
However, the picture is a bit bleaker entering 2022.
The offseason saw departures in free agency from star corner J.C. Jackson and linebacker Kyle Van Noy. Offense coordinator Josh McDaniels took the head coaching gig with the Las Vegas Raiders. Standout guard Shaq Mason was sent to the Tampa Bay Buccaneers.
Now, more than ever, the Patriots will need Jones to elevate a weakened roster in a much-tougher AFC if they're going to get back into the playoffs.
Yet despite the elongated odds, there's ample hope. This is showcased by New England tight end Jonnu Smith, who on Monday, spoke with Good Morning Football about his signal-caller, per NFL.com:
"Honestly, man, just the way he can turn it on. Mac is definitely one of the most goofiest guys in the locker room, to be honest, man. But when he steps on that field, he's a different character. He's just got so much ability and so much dog in him. Once he flips that switch, he's a whole different character. Some guys don't know how to cut that on and cut that off when it's time to do it. He's so young. He's poised. He's got a little swagger to him, man. I'm glad he's throwing us passes. That's my guy."
It'll be interesting to see how much Jones improves after getting a year of pro football behind him. Last season, Jones threw for 3,801 yards with 22 touchdowns against 13 interceptions. Can he add another 300-500 yards to the total with getting near 30 touchdowns and shaving off a few picks? If so, perhaps the Patriots will be well-positioned to reach the postseason, despite most prognosticators seeing it as a long shot.
As training camp nears, Jones will soon have the ball and a chance to prove he's more than the game-manager some have made him out to be.
If he can do so, the Patriots have a chance of being dangerous once more.
Facebook Twitter LinkedIn