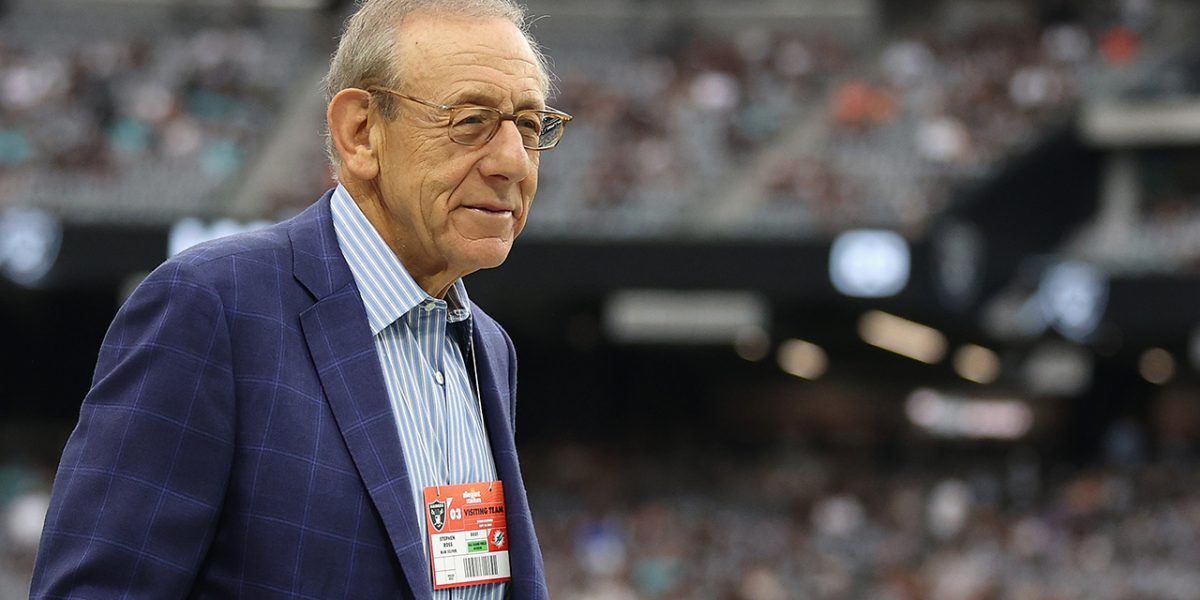 LAS VEGAS, NEVADA – SEPTEMBER 26: Miami Dolphins owner Stephen Ross on the field before the NFL game against the Las Vegas Raiders at Allegiant Stadium on September 26, 2021 in Las Vegas, Nevada. The Raiders defeated the Dolphins 31-28 in overtime. (Photo by Christian Petersen/Getty Images)
Miami Dolphins owner Stephen Ross has been fined $1.5 million after a six-month long NFL investigation into tampering.
Stephen Ross is also suspended through Oct 17, and cannot attend a league meeting before 2023.
The Dolphins have been stripped of its 2023 first-round pick as well as its 2024 third-round pick.
Commissioner Roger Goodell called the findings of the investigation, involving conversations with Tom Brady and Sean Payton 'unprecedented'. 
Want $250 to bet on NFL futures?
Sign up now!
"The investigators found tampering violations of unprecedented scope and severity," Goodell said in a statement. "I know of no prior instance of a team violating the prohibition on tampering with both a head coach and star player, to the potential detriment of multiple other clubs, over a period of several years. Similarly, I know of no prior instance in which ownership was so directly involved in the violations."
Although no evidence backs it up, the claims of ex-coach Brian Flores are what led to the eventual sanctioning of Stephen Ross. Flores alleges he was offered financial incentives to tank when he worked for the franchise.
Read: Titans Should Be Excited About Malik Willis
"Every club is expected to make a good faith effort to win every game," Goodell's statement read. "The integrity of the game, and public confidence in professional football, demand no less. An owner or senior executive must understand the weight that his or her words carry, and the risk that a comment will be taken seriously and acted upon, even if that is not the intent or expectation. Even if made in jest and not intended to be taken seriously, comments suggesting that draft position is more important than winning can be misunderstood and carry with them an unnecessary potential risk to the integrity of the game.
Facebook Twitter LinkedIn