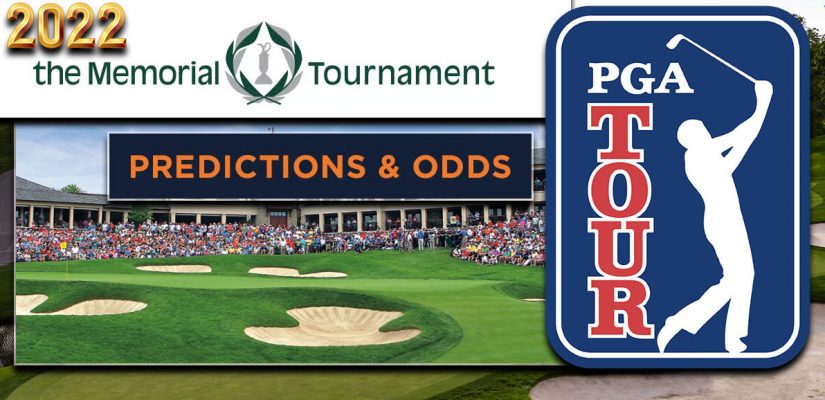 The PGA is at Muirfield Village for one of the biggest non-major purses on the schedule. The Memorial Tournament comes with a $12,000,000 purse for winning the Memorial in Dublin, Ohio.
TheSportsGeek has the best Memorial Tournament odds for this event. The Memorial Tournament odds can be found at the top golf betting sites online.
Third victory of the season 🏆🏆🏆 @SamBurns66 overcomes a 7-shot deficit to defeat Scottie Scheffler in a playoff @CSChallengeFW! pic.twitter.com/mjriXBasmP
— PGA TOUR (@PGATOUR) May 29, 2022
We are coming off a playoff between Sam Burns and Scottie Scheffler in a thriller. Burns edged out for a 3-4 win in the playoff. I've had Burns circled for a couple of recent tournaments, but missed out on that one.
Scheffler is deserving of his No. 1 ranking on the PGA Tour. He is the best in the world at the moment and leads Jon Rahm and Collin Morikawa.
Morikawa has to be the most disappointing player recently. He's T40, T55, T26 in three tournaments following the Masters. That doesn't look like a top-3 player on the PGA Tour. This is a player that has typically done well at Colonial, too, but he finished T40.
Scheffler did not commit to play the Memorial at Muirfield, but Rahm and Morikawa will be in Ohio for the opening round Thursday.
Where Is The Memorial Golf Tournament Played
The Memorial Tournament is at Muirfield Village Golf Club in Dublin, Ohio. Dublin is a suburb north of Columbus.
Counting down the top 10 shots from Muirfield Village Golf Club. pic.twitter.com/WzM95pyTwN
— Presidents Cup (@PresidentsCup) May 31, 2022
This is one of the wealthiest areas in Ohio, with Jason Day calling Muirfield Village his home course.
How To Watch The Memorial Tournament
The action on Thursday and Friday is on the Golf Channel. Early day coverage will resume on the Golf Channel from 12:30-2:30 p.m. EST on Saturday and Sunday, with CBS picking up after 2:30 p.m. EST.
Who Won The Memorial Golf Tournament
Collin Morikawa and Patrick Cantlay went to a playoff in the Memorial at Muirfield in 2021. Cantlay won 4-0 in the playoff, with Morikawa settling for 2nd and Scottie Scheffler 3rd.
Jon Rahm had no issues winning the Memorial Tournament two years ago. Rahm cleared Ryan Palmer and Matt Fitzpatrick by 3 shots for a -9 win. Note that he was ready to defend his title last year, with a 6-shot lead, but had to withdraw due to Covid-19.
With Cantlay going into a playoff last year, it's the second win for him in this tournament since 2019. He also won three years back with a final score of -19 over Adam Scott's -17.
Let's examine who won the Memorial Tournament in most recent years. This likely going to be another close Memorial in 2022. Just check out all of the playoffs were required to decide a winner.
Year
Golfer
Final Score
2021
Patrick Cantlay
-13 (4)
2020
Jon Rahm
-9
2019
Patrick Cantlay
-19
2018
Bryson DeChambeau
-15 (7)
2017
Jason Dufner
-13
2016
William McGirt
-15 (8)
2015
David Lingmerth
-15 (12)
2014
Hideki Matsuyama
-13 (4)
2013
Matt Kuchar
-12
2012
Tiger Woods
-9
2011
Steve Stricker
-16
2010
Justin Rose
-18
2009
Tiger Woods
-12
2008
Kenny Perry
-8
The Memorial Golf Tournament Odds
The Memorial Tournament odds are wide-open without Scheffler in the field. Some of the biggest players on the PGA Tour are looking for the top prize out of the $12,000,000 purse.
Rory McIlroy is in the field and is one of the Memorial Tournament Golf Tournament odds favorites. Only Rahm has better odds to win the Memorial Tournament.
Given his recent success here, it's hard not to put Patrick Cantlay high on the shortlist. We've had five playoffs in the Memorial Tournament since 2014, so don't be surprised to see another close event in Ohio.
Odds
Golfer
PGA Ranking
+1000
Jon Rahm
2
+1100
Rory McIlroy
8
+1600
Patrick Cantlay
6
+1800
Cameron Smith
3
+1800
Collin Morikawa
3
+1800
Xander Schauffele
11
+2000
Jordan Spieth
10
+2200
Viktor Hovland
7
+2500
Hideki Matsuyama
12
+2500
Matthew Fitzpatrick
15
+2500
Shane Lowry
27
+2800
Will Zalatoris
14
+3300
Cameron Young
-12
+3300
Joaquin Niemann
18
2022 The Memorial Tournament Best Picks Jon Rahm (+1000)
It's hard to say no to Jon Rahm at Muirfield in the Memorial Tournament. He was well on pace last year to repeat as the champion, but had to withdraw with a 6-shot advantage.
Rahm left the tournament following three rounds of action in Dublin. It was a brutal blow to Rahm, who won in 2020.
He fired off a -9 to win without going to a playoff two years ago, which has been commonplace in this tournament.
With Scheffler opting out of the Memorial, Rahm rates as the highest-ranked player in the world going into Thursday. He has a recent win on his resume, with a win in Mexico last month.
Rahm won the Mexico Championship with an impressive round of -17 golf. He was disappointing in the PGA Championship at +4 following four rounds, but stands a good chance of rebounding.
If he didn't drop out of the tournament last year, we're most likely looking at Rahm aiming for his third straight win in the Memorial Tournament. He has clear claims as a frontrunner, and his Memorial Golf Tournament betting odds look worth a bet at +1000 or better.
The Memorial Tournament Odds
Patrick Cantlay (+1600)
Patrick Cantlay is another golfer that has enjoyed a lot of success at Muirfield in his career. He's in good form with two wins in the Memorial since 2019.
Cantlay benefited from Rahm dropping out last year, as he beat Collin Morikawa in a playoff for the win. He's won here before and didn't do it because of a leader withdrawing.
Cantlay won in 2019 over Adam Scott by 2 shots, -19 to -17. That was an impressive effort from Cantlay. He didn't play his best at the PGA Championship, but was in the hunt before that outing in the RBC Heritage.
He was in the hunt and then beat Jordan Spieth in a playoff. It was a close one, with Cantlay winning by a shot at +13 (5).
This is a course where Cantlay feels comfortable, and he can get back to form after crashing out of the PGA Championship after two rounds.
The Memorial Tournament Odds
The Memorial Tournament Prediction
Matthew Fitzpatrick (+2500)
Matthew Fitzpatrick is still looking for a PGA title, but is going to get there eventually. He has been consistent and in the mix often. However, Fitzpatrick hasn't been able to get over the hump on the final day and finish his fourth round.
Fitzpatrick will be rewarded for his patience and consistency soon at this rate.
He held strong in the PGA Championship to finish at -3 for T5. Fitzpatrick was happy with the performance and did about all he could at Southern Hills.
Fitzpatrick was close again at the Wells Fargo Championship in his previous tournament before the PGA Championship, this time -6 behind Max Homa's -8 in the Wells Fargo Championship.
Fitzpatrick has finished T5, T14, CUT, T2, T5 in his previous two tournaments. T14 at Agusta National in the Masters and T5 in the PGA Championship were quality performances against though competition.
If you want the best value on the Memorial Tournament odds board, it has to be Fitzpatrick at +2500. Fitzpatrick has a better chance to win than the odds suggest. There are nine golfers with better odds, which I see as some disrespect to him.
The Memorial Tournament Odds