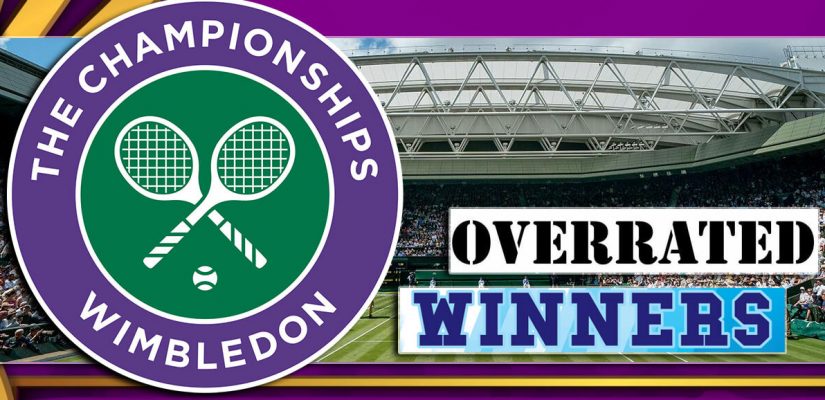 You can make a pretty compelling argument for Wimbledon as the most prestigious tennis competition on the planet. While there is certainly something to be said for the other three Grand Slam events – the Australian, French, and US Opens – Wimbledon is on a different plane.
Wimbledon is the oldest tennis tournament in the world. The All-England Club in London has hosted the event in all but 11 years since its founding in 1877. The two World Wars forced cancelations between 1911-15 and 1940-45, while the event was called off in 2020 as a result of the Covid-19 pandemic.
If you're looking forward to the 2022 event, you can find Wimbledon betting odds at these top-ranked tennis betting sites.
However, we're not here to look forward. We're here to take a look back at some of the most overrated Wimbledon winners of the modern era.
Recent Wimbledon Winners
While there is still a good amount of parity in the women's game, the Wimbledon men's bracket has been dominated by the same handful of players for the past two decades or so. A new name will break through every so often, but Roger Federer, Rafael Nadal, Novak Djokovic, and Andy Murray have owned the All-England Club since Federer's first triumph back in 2003.
In fact, those are the only four players to win the Wimbledon men's title in the past two decades.
2021 – Novak Djokovic
2019 – Djokovic
2018 – Djokovic
2017 – Roger Federer
2016 – Andy Murray
2015 – Djokovic
2014 – Djokovic
2013 – Murray
2012 – Federer
2011 – Djokovic
2010 – Rafael Nadal
2009 – Federer
2008 – Nadal
2007 – Federer
2006 – Federer
2005 – Federer
2004 – Federer
2003 – Federer
The Wimbledon women's division hasn't been quite as top-heavy, but Venus and Serena Williams have captured the title a total of 10 times since Serena's first in 2002:
2021 – Ashleigh Barty
2019 – Simona Halep
2018 – Angelique Kerber
2017 – Garbine Muguruza
2016 – Serena Williams
2015 – Williams
2014 – Petra Kvitova
2013 – Marion Bartoli
2012 – S. Williams
2011 – Kvitova
2010 – S. Williams
2009 – S. Williams
2008 – Venus Williams
2007 – V. Williams
2006 – Amelie Mauresmo
2005 – V. Williams
2004 – Maria Sharapova
2003 – S. Williams
Most Overrated Men's Wimbledon Winners
Jimmy Connors (1974, 1982)
Jimmy Connors had a great career. Labeling him as "overrated" may be a bit unfair, but it is what it is. Most remember Connors as the hot-headed rival to another hot-head, John McEnroe.
Connors won a total of eight Grand Slam titles in his career, five of which came at the US Open. He first won Wimbledon in 1974 before claiming his second title eight years later.
1974 may have been the best year of Connors' career. He went 99-4 overall and won 15 of the 21 tournaments in which he played. However, he didn't face much resistance at the All-England Club that year.
Connors needed five sets to get past sixth-seeded Jan Kodes in the quarters that year. Following a four-set win over Dick Stockton in the semis, he swept his way past No. 9 Ken Rosewall in the final. Rosewall was a great player, but he was also 39 and in the twilight of his career by that point.
Lleyton Hewitt (2002)
Lleyton Hewitt spent a short amount of time as the world's top-ranked men's player. His peak came shortly after the end of Pete Sampras' career, and shortly before Federer took the reins. Hewitt was actually the youngest top-ranked men's player ever when he earned the honor as a 20-year-old in November of 2000.
However, in spite of all of the hype, he would go on to win just two Grand Slam singles titles in his career. He claimed the US Open crown in 2001 before winning Wimbledon the following summer.
If you thought Connors' road to the 1974 Wimbledon men's crown was underwhelming, just listen to Hewitt's opponents in '02: Jonas Bjorkman, Gregory Carraz, Julian Knowle, Mikhail Youzhny, Sjeng Schalken, Tim Henman, and David Nalbandian.
Hewitt did dominate that year, losing just two sets in the entire tournament, but look at the competition! Henman and Nalbandian are probably the only recognizable names there if you're someone that has followed the sport over the past few decades.
Goran Ivanisevic (2001)
Much like Hewitt, Goran Ivanisevic made the most of the few years between Sampras and the Federer/Nadal/Djokovic era. The Croatian pro won just one Grand Slam in his career, the 2001 Wimbledon men's title.
It was Ivanisevic's fourth and last appearance in the Wimbledon final. He fell to Andre Agassi in 1992 before losing to Sampras in both 1994 and 1998. In 2001, however, he was fortunate to face Patrick Rafter in the final round.
Ivanisevic actually entered the competition as a wild card, but got a bit lucky along the way. Sampras, the top seed, would go on to lose to a 15th-seeded Austrian upstart named Roger Federer in the fourth round. Ivanisevic, meanwhile, faced a fairly easy road early on, getting through Fredrik Jonsson, Carlos Moya, and an unseeded Andy Roddick before defeating Greg Rusedski in the fourth round.
Ivanisevic then upset fourth-seeded Marat Safin and Henman before his aforementioned win over Rafter in the final. Rafter had knocked out the second-ranked Agassi in his own semifinal clash before that. Ivanisevic didn't have to go through any of tennis' true heavy hitters in order to claim his first and only Wimbledon title.
Honorable Mention: Tim Henman
Tim Henman is an honorable mention in this category because he never actually won a Wimbledon men's title. However, because Wimbledon takes place in England, British players are almost always overhyped when it comes to this tournament.
In the Open Era, Andy Murray is still the only British men's player to ever win the competition. Ann Haydon-Jones (1969) and Virginia Wade (1977) are the only British Wimbledon women's winners in the same span.
For years, Henman was billed as the most likely Brit to break through. While he was a consistently good player with 11 career singles titles in all tournaments, Henman never even reached a Wimbledon final. He advanced to the semifinals on four separate occasions in a five-year span between 1998 and 2002, but could never get over the hump.
Two of Henman's defeats came to Sampras in the semis before his aforementioned setbacks at the hands of Ivanisevic and Hewitt.
Most Overrated Women's Wimbledon Winners
Maria Sharapova (2004)
Maria successfully completed the career Grand Slam between 2004 and 2012, but she may go down as one of the more overrated players of her era. She rose to No. 1 in the world as an 18-year-old in 2005, a year after her first and only Wimbledon women's title.
Sharapova became the third-youngest woman to ever win Wimbledon in '04 behind Lottie Dod and Martina Hingis. She certainly earned it, with a triumph over the heavily-favored Serena Williams in the final. That came after an impressive victory over former champion Lindsay Davenport in the semis.
While Sharapova did go on to win a few other Grand Slams and enjoy quite a bit of commercial success, her playing career will go down as something of a disappointment. Back in 2016, she was suspended by the International Tennis Federation (ITF) after testing positive for a banned substance at the Australian Open.
Sharapova is still only 35 years old, but the fact that she never won another Wimbledon title after bursting onto the scene in 2004 likely means she'll go down as one of the more underrated women's players of the Modern Era.
Petra Kvitova (2011, 2014)
Petra Kvitova has only won two Grand Slams in her career, but both came at Wimbledon. The Czech Republic native won it for the first time in 2011 before another triumph three years later. However, she hasn't advanced beyond the semis in any other major to this point.
Like Sharapova, Kvitova may go down as a bit of an underwhelming talent. She was clearly one of the best players in the world at her peak, but we didn't see her performing at that peak often enough. She first garnered headlines in 2009 with an upset victory over then-top-ranked Dinara Safina in the third round of the US Open.
Kvitova advanced to the Wimbledon women's semis for the first time a year later, where she lost to the great Serena Williams. Kvitova then defeated Sharapova in the final the following year, becoming the first player of either gender born in the 1990s to win a Grand Slam title.
Great things would surely follow, right?
Well…not so much. Kvitova enjoyed a pretty easy path to another Wimbledon women's title in 2014, where she knocked off Eugenie Bouchard in the final.
Kvitova is still only 32, so there is still time for her to add to her resume. For now, however, it's hard not to think of her as a bit of a letdown on the Grand Slam stage.
Garbiñe Muguruza (2017)
Garbiñe Muguruza is still just 28 herself, and she rose up to No. 1 in the Women's Tennis Association rankings for the first time following her lone Wimbledon title in 2017.
Muguruza won Wimbleton that year as the No. 14 seed in the tournament, which was no small feat. Her path was a fairly easy one, however, with wins over Ekaterina Alexandrova, Yanina Wickmayer, and Sorana Cirstea before an upset over then-No. 1 Angelique Kerber. Victories over the No. 7 and No. 87 seeds followed before Muguruza topped 10th-ranked Venus Williams in the final.
Muguruza earned the distinction of becoming the first player to beat both Willams sisters in Grand Slam finals after topping Serena in the 2016 French Open. However, she subsequently dropped out of the WTA top 10 with an inconsistent 2018 campaign, and she fell out of the top 30 in 2019.
Muguruza has bounced back since, but she has yet to reach the heights she saw earlier in her career. She may eventually get back into the No. 1 spot, but her early success looks like more of a blip on the radar than anything else these days.
Conclusion
As you can see, not every Wimbledon winner is destined for success following their title. Sometimes, the tremendous weight of expectations proves to be too much to handle.