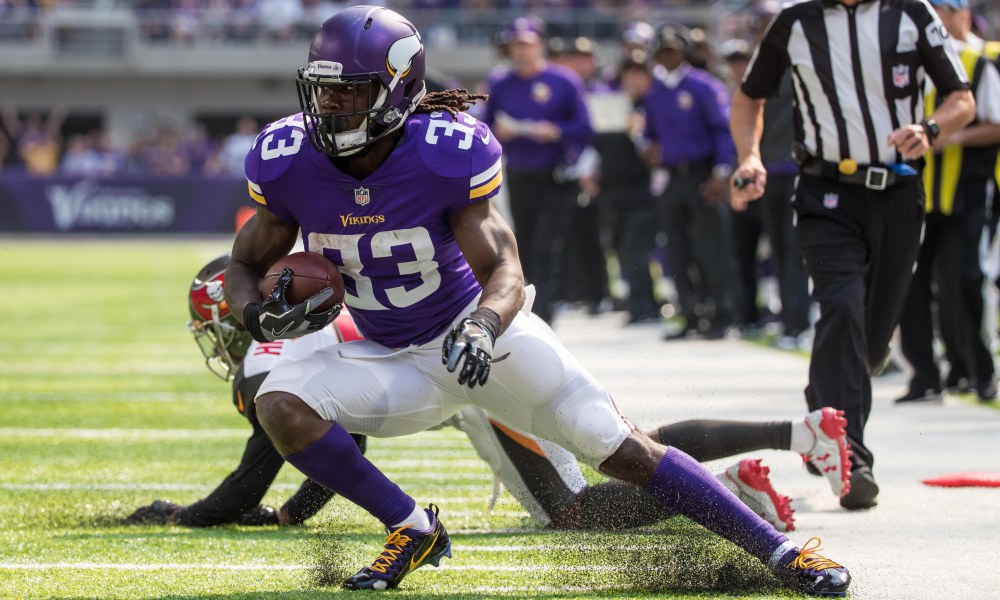 Sep 24, 2017; Minneapolis, MN, USA; Minnesota Vikings running back Dalvin Cook (33) carries the ball during the first quarter against the Tampa Bay Buccaneers at U.S. Bank Stadium. Mandatory Credit: Brace Hemmelgarn-USA TODAY Sports
The Minnesota Vikings are a perennial underachiever, but that could change with great weapons and a new head coach in 2022.
Kevin O'Connell is taking over the Minnesota Vikings after eight years under Mike Zimmer. He's hoping to take a talented roster to the next level.
After missing the postseason each of the past two seasons, the Vikings enter 2022 with weapons most teams would die for. Minnesota has quarterback Kirk Cousins, running back Dalvin Cook and receivers Justin Jefferson and Adam Thielen, each capable of Pro Bowl honors. Jefferson, in particular, is a tremendous youngster, already amassing a pair of 1,000-yard seasons as he works towards being the league's best.
Last week, Jefferson talked about his potential and how there's more ahead even after a phenomenal first two seasons, per Complex:
"It's definitely tough to outdo 1600 yards. It's not normal for people to get that many yards consistently, back-to-back like that. Really just working on my weaknesses that I felt that I had throughout the season, always working on my game. I'm always working on route running, always can work on catching the ball, so just trying to better my craft at all of those different categories. And with this new offense with Coach [Kevin] O'Connell, all of us are excited about this new playbook and hopefully we have a better season this year."
While it would be aggressive to label Minnesota as a Super Bowl contender until it wins a few big games with this group, it's not hard to see a sleeping giant. The Vikings have stars on all three levels of their defense, and offense teeming with potential, and a quarterback who despite his unevenness at times,  enjoys some of the best statistics of any signal-caller over his tenure with Minnesota.
With the Green Bay Packers losing Davante Adams and both the Chicago Bears and Detroit Lions still working towards respectability, Minnesota has an opening in the NFC North. The Vikings face the Packers at U.S. Bank Stadium in Week 1, giving them the ability to make a statement to the team which for so long has lorded over the division.
For O'Connell, a rookie coach, it's an opportunity to make an immediate and lasting impact for a franchise long used heartache and disappointment. Maybe for once, the Vikings can overachieve and pleasantly stun their fan base.
Facebook Twitter LinkedIn