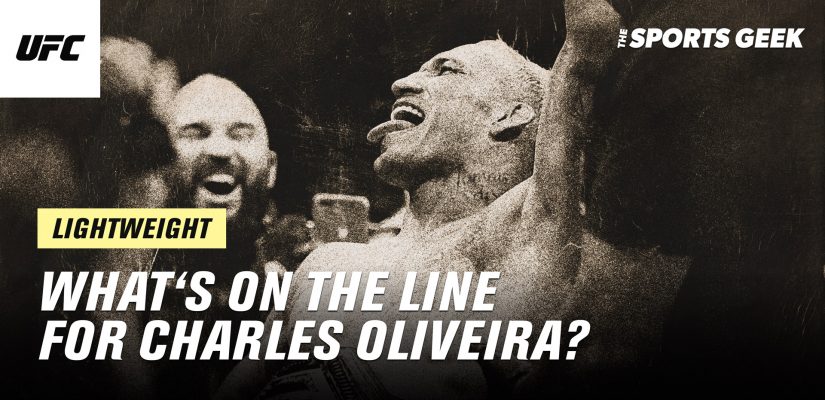 Charles Oliveira is, without a shadow of a doubt, one of the most underrated fighters on the UFC roster. For some odd reason, he still hasn't gotten his due. Is it because of his hectic style of fighting? The fact that most of his fights could've gone either way? Or for some other, equally obscure and inexplicable reason?
Be that as it may, he will carve out a spot for himself on the list of all-time greats should he end up beating perennial title challenger Justin Gaethje. This Arizona native is as tough as they come and will no doubt pose an incredibly stiff challenge for "do Bronx."
If Charles finds a way to win — much like he did so many occasions in the past — he will erase any and all doubt. In fact, his resume (to say nothing of his personal narrative) is second only to the venerable Khabib Nurmagomedov.
Let that sink in.
Consecutive wins over Tony Ferguson, Michael Chandler, and Dustin Poirier speak volumes. He has matured like fine wine and is truly a complete fighter — one of the very best, in fact. He's crafty, too, and can do wonders both on the feet and on the ground as well. And yet he's only thirty-two years of age.
That, too, is downright incredible.
And so is the fact that he holds multiple UFC records: most subission wins (15) and most finishes (18). We all know just how stacked the lightweight division currently is, and the fact that he's getting wins left, right, and center against the stiffest of opposition warrants a metric ton of praise and commendation.
Oliveira's a beast and his upcoming fight with Justin Gaethje could, by all means, end up being an absolute barnburner. Scratch that — a barnburner is guaranteed!
Oliveira vs. Gaethje Odds | Still In Khabib's Shadow
Khabib's presence still lingers in the air and that, in short, is a problem. His dominance, to be more exact, is still etched in everyone's consciousness. It wasn't that long ago that he "disposed" of Connor McGregor, Dustin Poirier, and Justin Gaethje — in the most dominant of fashions, too.
Then again, if Charles can add a win over Justin to his resume, he, too, will have a pedigree of equal weight. That is a fact, although we doubt he'd get recognized as an all-time great, despite having the most awe-inspiring of records.
This one's for all the marbles then. A fight that would solidify his spot on the lightweight Mount Rushmore. And, who knows, maybe it would bring Nurmagomedov out of retirement? It's not the most outlandish idea, even though it is, in all fairness, pretty darn unlikely.
CLEANING OUT THE DIVISION
The list of potential challengers is dwindling, too. Islam Makhachev is the only true challenger that remains. Everyone else has either already been beaten or simply lacks the tools and weapons to truly rub shoulders with a titan like Charles.
Oliveira could, therefore, be all out of opposition come 2023. He is a dominant champion, even though his style of fighting can, at times, be a bit too reckless. But if he can get away with it — and he seemingly can — then who are we to object and give him "pointers?" It's not a flaw or a weakness if there's no one who can exploit it.
Gaethje is an incredible athlete, but he, too, tends to engage without thinking about any potential consequences. He has slowed down a bit and is ever so slightly more tempered and restrained, but he still has a most theatrical proclivity for throwing caution out the window and trading blows like there's no tomorrow.
It might not be the best strategy one can imagine, but it sure has garnered him a fan following.
So, to get back to our initial question: does he stand a chance against a champion as layered and versatile as Oliveira? We doubt it, but a guy like Gaethje always has a puncher's chance — both figuratively and literally.
Oliveira vs. Gaethje Odds | A Spectacle in the Making
Just the thought of Charles Oliveira duking it out with Justin Gaethje is enough for us to start watering at the mouth. It is a clash of epic proportions, a spectacle for the ages and perhaps a fight of the year candidate in the making.
Both fighters have a penchant for the theatrical and they're also more than willing to eschew all strategy and logic in favor of a good old-fashioned brawl. And in that kind of setting, Justin certainly thrives, but it'd be foolish of us to bet against a seasoned veteran like Oliveira. He's weathered many a storm and has beaten some of the best and most accomplished fighters in the history of the sport.
AS EVEN AS IT GETS
Will Gaethje really bring something unique to the table? Something that Chandler and Ferguson and Poirier didn't? It's not an "apples to apples" comparison, of course, but the point stands nonetheless. He might be a better striker, but it's highly debatable whether he's as well rounded as "do Bronx."
Oliveira is currently favored at -205 and, well, it's easy to understand why. He's as crafty and versatile as they come and it's just hard to envision a world in which he comes unprepared for all the craziness that comes whenever Gaethje steps foot inside the Octagon.
It's not going to be an easy night out for the Brazilian champion, but he's the favorite for a reason and, barring any unforeseen twist for the ages — or perhaps an atomic punch from the Arizona native — he will come out ahead. Battered and bruised beyond measure, yes, but victorious nonetheless.
UFC 274 | Oliveira vs. Gaethje Odds: