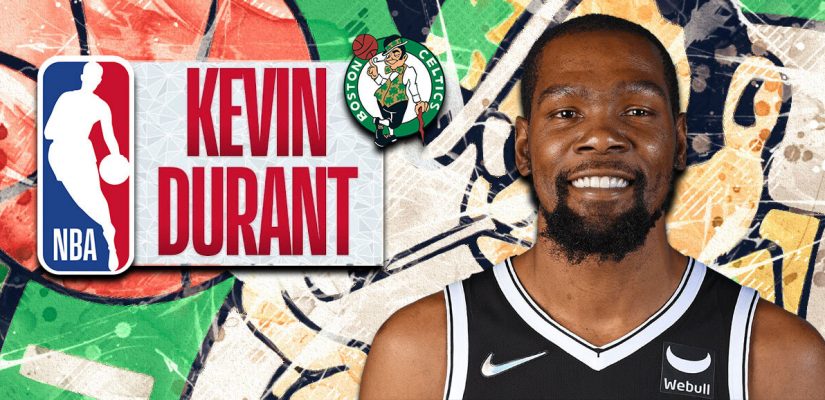 These days, it wouldn't be a real NBA offseason without one of the league's biggest players switching teams. So far this summer, however, we haven't seen a single earth-shattering move.
Jalen Brunson signed with the Knicks. The Celtics traded for Malcolm Brogdon. Jerami Grant moved from the Pistons to the Trail Blazers. All of these moves caused slight ripples in the NBA futures betting markets, but we're still waiting on a seismic move capable of shifting the balance of power.
Based on a few leaks that surfaced on Monday morning, that major move could be imminent. The aforementioned Celtics have reportedly set their sights on trading for the Nets' Kevin Durant. The Brooklyn star reportedly told the Nets late last month that he'd prefer to be traded, but we haven't heard as much as a peep on the KD trade front in recent weeks.
Both ESPN's Adrian Wojnarowski and The Athletic's Shams Charania said Monday the Celtics have reportedly offered a package centered around Jaylen Brown to Brooklyn in exchange for Durant. Brown offered his apparent reaction to the rumor on Twitter shortly thereafter:
Smh
— Jaylen Brown (@FCHWPO) July 25, 2022
Just hours later, NBA betting sites updated their Kevin Durant next team odds dramatically. As of now, BetOnline has the Celtics as massive -200 favorites to land the former two-time NBA Finals MVP. Is Boston a good bet to trade for KD this offseason? Or can you find better value elsewhere in the updated Kevin Durant odds?
Kevin Durant Next Team Odds
Boston Celtics (-200)
Golden State Warriors (+350)
Phoenix Suns (+700)
Miami Heat (+850)
Portland Trail Blazers (+900)
Toronto Raptors (+900)
Memphis Grizzlies (+1100)
Los Angeles Clippers (+1200)
Atlanta Hawks (+1600)
Los Angeles Lakers (+1600)
New York Knicks (+1600)
Chicago Bulls (+2200)
Oklahoma City Thunder (+2200)
Boston Celtics (-200)
When the news of Durant's trade request initially broke, the Celtics weren't on anybody's radar. Boston was just days removed from losing in the Finals to the Warriors. After stealing Brogdon from Indiana, most believed the Celts would make a few minor tweaks to the roster here and there without doing anything earth-shattering ahead of the 2022-23 campaign.
However, the tide seems to have turned considerably since then. The Suns opened as favorites to land Durant via trade after KD reportedly expressed interest in Phoenix as a destination. Nothing seems to have happened in prospective trade talks between those two sides, however, which has led to something of an impasse in Durant's situation in Brooklyn. With nobody emerging as a strong frontrunner, the Celtics seem to have taken it upon themselves to try and make a splash.
The Celtics' Kevin Durant odds opened at +2800. They're now incredibly heavy -200 favorites. Brown is one of the best trade chips around which any team can build a viable offer that could tempt Brooklyn into making a deal. Durant has four years left on his deal with the Nets, which only adds to his value in a trade. Brown, meanwhile, has a couple of years and $56 million remaining on his current contract.
ESPN's Brian Windhorst on @AZSports says the Celtics' trade offer to Brooklyn for Kevin Durant is likely weeks old:
"I don't think the Nets are involved in active talks right now. … I know it came out today so it's front of mind, but those are not fresh talks."
— Sarah Kezele (@SarahKezele) July 25, 2022
Wojnarowski added the Celtics could be tempted to part ways with as many as three unprotected future first-round picks and a couple of pick swaps in addition to Brown in a trade. Jayson Tatum, meanwhile, is reportedly said to be untouchable in any deal. One would imagine Marcus Smart would also be on Brooklyn's wish list, but the Celtics would strongly prefer to keep the reigning Defensive Player of the Year in town.
Could NBA betting markets be overreacting to the news? It's possible. We haven't heard of any momentum in these trade talks in weeks, so the mere mention of the Celtics getting involved is surely the catalyst for the major movement in Kevin Durant odds. Boston does have the assets to potentially get Brooklyn to pull the trigger on a trade, but those -200 Kevin Durant betting odds certainly don't offer much upside.
Golden State Warriors (+350)
Earlier this month, we heard that Stephen Curry had reportedly reached out to Durant in order to gauge his interest in a potential reunion. Durant helped lead the Warriors to a pair of championships a few years ago before leaving for Brooklyn as a free agent in 2019. Golden State just went on to win another title without Durant last month.
Things didn't end too well when Durant last left the Bay Area. While cooler heads have presumably prevailed, it's hard to imagine the Warriors making a serious pitch to trade for KD fresh off of another championship. This team is built to contend for as long as Curry, Klay Thompson, and Draymond Green can stay healthy. Golden State has also drafted quite well in recent years, which is something that could extend that championship window even further.
I just think the Warriors' +350 Kevin Durant betting odds are a bit inflated. Golden State has zero urgency, and torching their roster just to bring a 34-year-old KD back into the mix makes little sense. Fully fade the Dubs at these odds to trade for Durant.
Phoenix Suns (+700)
Did the Suns miss their chance to nab Durant? KD was reportedly interested in teaming up with Chris Paul and Devin Booker in the desert, and Phoenix had plenty of reason to be interested. Youngsters like Deandre Ayton and Mikal Bridges should be just what a team like the Nets is looking for.
However, the Suns matched the Pacers' four-year, $133 million offer to Ayton just last week, which means he can't be included in any trade until December 15th. Charania reported on Monday morning that the Ayton news means the Suns are "all but eliminated" from the KD trade discussions this offseason.
Boston offering Jaylen Brown in any trade is more than Miami offering Tyler instead of Bam, Phoenix offering Ayton (not eligible anymore) or even Toronto offering Scottie.
If Brad is really willing to trade him w/ two years on his deal plus more…it's the most appeasing package.
— Matt Hanifan (@mph_824_) July 25, 2022
As of now, the Suns' best hopes at landing Durant will come if this drama extends into the regular season. Brooklyn is ultimately the party with the most leverage here, as Durant is still under contract for the next handful of years. The Nets don't have to trade Durant this summer if the right offer doesn't come along, but a resolution before the 2022-23 campaign does still seem to be the most likely outcome.
As a result, the Suns' +700 Kevin Durant odds are likely still higher than they should be.
Miami Heat (+850)
Woj mentions the Heat, Suns, and Raptors as three teams other than the Celtics that have registered interest in a Durant trade. Miami is always willing to aggressively pursue any star that becomes available, but the Heat don't really have enough ammo to tempt the Nets into making a deal.
With Ben Simmons on the roster, the Nets are legally barred from acquiring Bam Adebayo in any trade. Adebayo is the Heat's most tantalizing trade chip. With Bam out of the picture, Miami is left with the likes of Tyler Herro, Max Strus, Duncan Robinson, and Kyle Lowry as their most impressive trade pieces. They're all fine role players, but the Nets would be insane to reject a deal built around Jaylen Brown in order to take Miami's pu pu platter, instead.
The Heat can say they want Durant, but that doesn't mean they stand much of a chance at actually getting him. I want a mansion on the coast of Maui.
Toronto Raptors (+900)
If there's any team with long-shot Kevin Durant odds worth a shout, it's the Raptors. Just a couple of years ago, we saw Masai Ujiri shock the basketball world by trading for Kawhi Leonard. The circumstances were a bit different, but it's still noteworthy. Ujiri traded for Kawhi knowing full well that Leonard could have left Toronto after just one season. That's ultimately exactly what happened, but Kawhi led the Raptors to a championship in his lone season in town.
Durant, of course, won't become a free agent next year, so there's less risk involved if Ujiri wants to make a move for the Nets' sharpshooting forward. Toronto also happens to be well-stocked with intriguing trade pieces, with Scottie Barnes looking like the obvious top target for Brooklyn in a prospective Durant deal. Trading Durant to another team within the division is certainly risky for Brooklyn, but it's in the Nets' long-term interests to take the best deal they can get. It just so happens Boston and Toronto are Atlantic Division bunkmates with the Nets that can offer the most in return for a player of KD's caliber.
July 18th, 2018: Masai Ujiri and the Raptors trade for Kawhi Leonard and Danny Green.
What was your first reaction to the trade? pic.twitter.com/cDxkGB2dpo
— TSN (@TSN_Sports) July 18, 2022
The Raptors are understandably reluctant to part ways with Barnes, but adding Durant next season would vault Toronto right back into the NBA title picture. In the end, winning championships is the whole point, right? Even if trading Barnes makes the Raptors look a little worse in five years, nobody will care if they win even one title with Durant leading the way in the meantime.
At their +900 Kevin Durant odds, we shouldn't be sleeping on the Raptors.
Which Team Will Trade for Durant?
At long last, we finally appear to be trending toward a resolution in the Durant trade saga. Where the Nets will send the former MVP is anybody's guess, but there is plenty of reason to believe there's fire to the new smoke surrounding the Celtics as a potential destination.
After coming to within a couple of games of a championship, the Celtics know their title window is wide-open right now. Even after adding Brogdon, it's unclear whether Boston is good enough to actually get over the hump, as presently constructed.
If they trade for Durant, however, the Celtics would likely become the new betting favorites to win it all next season. If the Celtics make it worth the Nets' while, we could see a deal come to pass pretty quickly. A team like the Raptors should have plenty of motivation when it comes to keeping KD away from Boston, so perhaps Toronto will get back into the picture in light of Boston's latest offer, as well.
If you want safety, the Celtics' -200 Kevin Durant odds make sense. If you're shooting for a little more upside with your wager, however, it's hard to overlook the Raptors at +900.