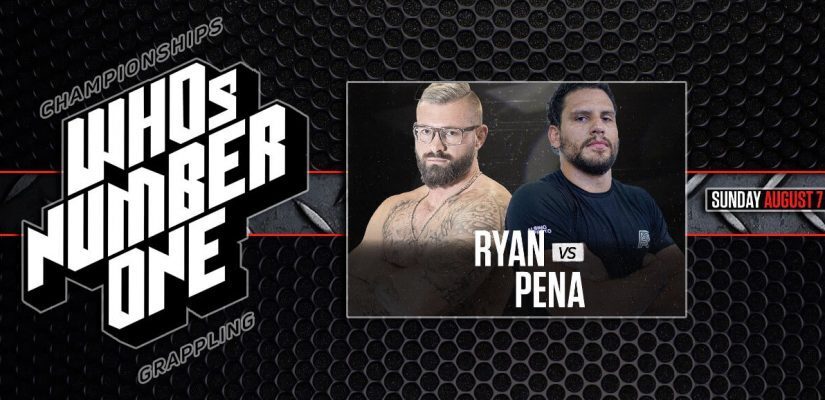 WNO is back with one of the most stacked fight cards we've ever seen. The WNO: Ryan vs Peña odds proved by betonline.ag offer money lines and prop bets for each match, and we're offering our top betting pick for each of the seven matches on the main card. Place your bets for August 7th, 2022 by 12 PM ET. 
WNO: Ryan vs Peña Predictions 
Below each bout, click the place bet button to build your betting ticket at one of the top BJJ betting sites. We go into detail for each prediction under the fighter's and money line odds. 
Gordon Ryan -3300
Lovato jr. +220
Galvåo -900
Bia Mesquita -270
Couch +120
Martinez vs Reis: Over -400
Ramirez vs Andrey: Under -160 
PLACE YOUR BETS NOW!
WNO: Ryan vs Peña Odds
At WNO, the majority of the matches have a twenty minute time limit before a decision will be made. The final match has a one hour time limit between Peña and Ryan. The prop bets reflect over or under half of the time limit given. 
Felipe Peña +1400 vs Gordon Ryan -3300
The final match of the evening is the third meet between Peña and Ryan. Their first two matches ended in Peña winning, but this was five years ago. Since that time Ryan has become the most dominant BJJ practitioner in history. 
Pretty similar trip to back exposure in Gordon Ryan's last match pic.twitter.com/8rMkgrNpnL
— 🤷🏿‍♂️ (@VnPatrick) August 1, 2022
Peña's Recent Performances
Peña has performed well in the competitive scene for gi BJJ, taking second in the 2021 World's. He lost two matches back to back in his 2019 ADCC run, the last major no-gi tournament he partook in. 
Money Line and Prop Betting Odds for Peña vs Ryan 
Bet
Pena 
Ryan
Money LIne 
+1400
-3300
Over/Under 30 Minutes 
Over +150
Under -180
Ryan was looking for specific submission, doing his best to make the match interesting in past bouts. Something tells me he'll be looking for the early finish against Peña. The majority of Peña's recent matches have been by decision or disqualification wins. He's submitted four of his last six opponents at a professional level as reported by FloGrappling. 
Prediction: Gordon Ryan Money Line -3300
Ryan has become one of the more dominant players in all of BJJ. As Peña focuses more on gi jiu-jitsu, expect Ryan to look like the more prepared athlete. We're looking closely at the Under -180 bet for those who aren't looking to add Ryan to a parlay betting ticket. 
PLACE YOUR BETS NOW! 
Rafael Lovato Jr +220 vs Nicholas Meregali -280 
For many, Lovato is the #1 BJJ GOAT, above Gordon Ryan, above anyone. He was the Bellator champion through the middle of his career and returned to competition with a 2022 second place medal at World's. Meregali is a world champion in his own right, and Lovato is now 39 years old and must be feeling his age. 
Money Line and Prop Betting Odds for Lovato Jr. vs Meregali 
Bet
Lovato 
Meregali 
Money LIne 
+220
-280
Over/Under 10 Minutes
Over -300
Under +240
On average, Lovato finishes about 33% of his matches by submission. Over the last ten fights,  that number rose to 50%.
Meregali has a massive 84% finishing ratio among wins in FloGrappling ranked matches. Their biggest difference is no-gi accolades, with this being Meregali's third ever pro no-gi match. 
Prediction: Lovato Jr. +220
We see an upset. Meregali is one of the best gi fighters to do it, but his no-gi performances have been understimulating. Expect Lovato to win the top position and grind out a mounted submission or decision win. 
Alan Sanchez +550 vs Mica Galvåo -900
Galvåo is quickly becoming the youngest star in BJJ. He faces Sanchez, a 10th Planet Black belt with a 20-10 Flo record. The WNO: Ryan vs Peña odds are surprising, and we'd expect to see Galvåo at closer to -2000. 
Money Line and Prop Betting Odds for Sanchez vs Galvåo
Bet
Sanchez 
Galvåo 
Money LIne 
+550
-900
Over/Under 10 Minutes
Over +130
Under -160
Sanchez has lost five career matches via decision, and he plays the kind of bottom game that Galvåo has struggled with in the past, the kind of submission sniping guard pulling that forces him to win top position and wait it out. I'm tempted to bet the Over +130. 
Prediction: Galvåo -900
This 18 year old hasn't lost a match in his 2022 World's run or ADCC trials. He's at the top of his game this year and it's only looking up. 
PLACE YOUR BETS NOW! 
Elizabeth Clay +210 vs Bia Mesquita -270 
Mesquita is an eight time IBJJF champion with a massive experience advantage over Clay. Bia hasn't been submitted since Davies armbarred her at the 2019 ADCC Championships. She lost to fighters similar to clay before, like Musumeci, but we failed to find any history of a leg lock loss from Bia. 
Money Line and Prop Betting Odds for Caly vs Mesquita 
Bet
Clay 
Mesquita 
Money LIne 
+210
-270
Over/Under 10 Minutes
Over -350
Under +275
The over is a bet for Mesquita. If Clay is to win this, it will be by leg lock. She's at a disadvantage in all other categories. Expect her to pull guard and go straight to work on the legs. 
Prediction: Bia Mesquita -270
We're tentative on this one, but Clay has lost three of her last ten by decision and struggles to find a consistent strategy against top tier fighters. 
PLACE YOUR BETS NOW! 
Jacob Couch +120 vs Jay Rodriguez -150
Couch is now 16-6 in FloGrappling's record keeping, losing most recently to Gordon Ryan. He's been working in the local scene, smashing opponent's who aren't pro. He faces the smaller Rodriguez, who's recent Who's Next appearances have been followed with back to back losses to Bodoni and Taza. 
Money Line and Prop Betting Odds for Couch vs Rodriguez 
Bet
Couch 
Rodriguez 
Money LIne 
+120
-150
Over/Under 10 Minutes
Over -225
Under +185
We see the under as the top bet. We have a leg locker versus a back chaser, and it's a recipe for an early submission. 
Prediction: Couch +120 
Coach beat Taza, who went on to beat Jay. Couch is always underestimated, and his dead last underdog status in the WNO 2021 tournament proved it, as he went on to take third. Expect the upset leg lock. 
PLACE YOUR BETS NOW! 
Estevan Martinez +275 vs Diogo Reis -350 
Reis 'Baby Shark' got the upset in her last WNO appearance. Both competitors are action packed but with low submission rates. 
Money Line and Prop Betting Odds for Martinez vs Reis 
Bet
Martinez 
Reis 
Money LIne 
+275
-450
Over/Under 10 Minutes
Over -400
Under +300
Our prediction for this match up is the Over at -400. Neither competitor has an above 50% finishing rate at any ten fight span of their BJJ career. The WNO: Ryan vs Peña odds support the Over, paying out better than the Reis' favorite position. You'll see $25 in winnings per $100 wager.
PLACE YOUR BETS NOW! 
Fabian Ramirez +375 vs Fabricio Andrey -500
It's leg locker versus ADCC qualifier as Ramirez will look to finish Andrey. I'm tentative to bet against Ramirez, who has a history of comeback leg locks after getting smashed into the mat for five minutes. 
Money Line and Prop Betting Odds for Ramirez vs Andrey 
Bet
Ramirez 
Andrey
Money LIne 
+375
-500
Over/Under 10 Minutes
Over +130
Under -160
Our prediction is the under. Andrey will look to dominate the position and win via back take or counter leg lock. I give Ramirez a 40% chance of an early leg lock finish.