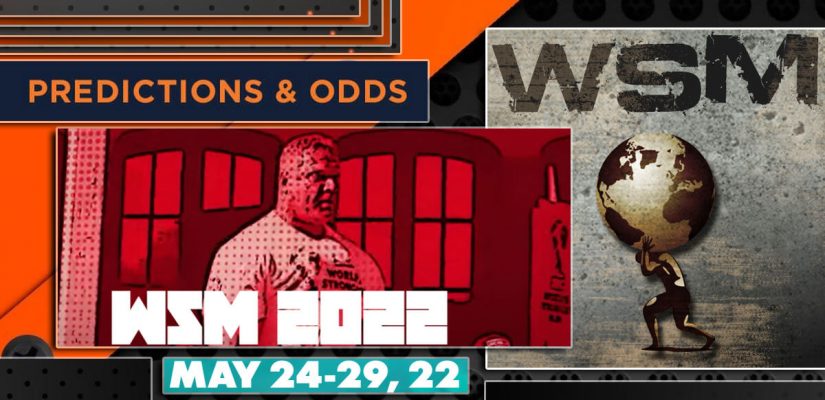 World's Strongest Man is underway! The heats are ending and the finals happen over the weekend, crowning 2022's World's Strongest Man. Betting options for the finals haven't been posted, but could open up through the weekend at our favorite Online sports betting sites. If you're looking to bet on the World's Strongest Man, we're highlighting our top competitors going into the finals, including stats for each competitor and a look at their performances in the qualifier days this week. 
World's Strongest Man TV
World's Strongest Man air's Tuesday May 24th to Sunday May 29th. The athletes take the day off on Friday, May 27th, and pick back up for the Finals on May 28th through the 29th. The event is happening at Capitol Mall, Sacramento California. 
PLACE YOUR BETS NOW!
How to Watch 2022 World's Strongest Man
No live streams are available for the event. The live results are posted here alongside clips and highlights of the event. Backstage Live! Will be hosted on Youtube and fans can tune into CBS this Summer for full coverage. 
World's Strongest Man Winners 
Let's do a recap of the last six tournaments, detailing the rise of some of the biggest names in Strongman competitions. You'll see some trends as to whose winning, and why Tom Stoltman has such a strong chance of doing it again. 
World's Strongest Man 2021 Tom Stoltman 
Last year's winner Stoltman is the youngest competitor on the list. The now 27 year old is one of two strongman brothers. His older brother Luke is his trainer and coach, and the two live together for training purposes. 
Stoltman didn't show betting odds for World's Strongest Man in 2021. He beat out the four time champion Brian Shaw. Stoltman beat him in Titan's Turntable, Atlas Stones, and Super Yoker.  The champ took second in Keg Toss as well. 
His top lifts include personal records of a 631 lbs atlas stone lift and a 1,995 powerlifting total. Sloltman is a shoe-in for this year's World's Strongest Man and has devastated the qualifying rounds, coming in first at 25 points leading up to the weekend, with rival Brian Shaw in seventh place, training far behind him at 17.5 points total. 
𝗕𝗢𝗢𝗠 all the way to the #WSM2022 Final 😎 pic.twitter.com/Icd2k4FYtN
— SBD World's Strongest Man (@WorldsStrongest) May 26, 2022
Stoltman looking better than ever on the stones.
Stoltman Competition History
Stoltman started placing in competition at only 21, taking 2nd in Scotland's Strongest Man at 21. He saw the podium in international Strongman qualifiers as early as 2019, and took first in four ranked competitions from 2018 learning up to his 2021 World's Strongest Man. At WSM, he took 5th in 2019 and 2nd in 2020. 
World's Strongest Man 2020 Oleksiy Novikov 
This Ukrainian Strongman beat Sloltman in 2020. At 24, he was the youngest ever winner of the World's Strongest Man tournament. He beat Stoltman 47 to 43.5. With Shaw training at 35.5 points overall. Currently, Novikov is ranked 1st in Group 3 leading up to the 2022 weekend, with 24.5 points overall, just half a point behind Sloltman. 
Novikov Competition History
Novikov was Ukraine's Strongest Man from 2016 to 2019, taking second in his title winning year. He placed fifth at the Arnold Classic in 2022 and 2nd this year in his only competition of 2022. 
He qualified but did not place in the 2021 WSM. Novikov's inconsistency can be attributed to his military training this year and last, as well as injuries. 
Group 4: pic.twitter.com/DC1Iv1vWLp
— SBD World's Strongest Man (@WorldsStrongest) May 26, 2022
Novikov leads his group, crushing former top three Bodreault.
World's Strongest Man 2019 Martins Licis 
Licis is 32 this year, and one of the smaller competitors at 6'3'', 335 pounds. He has some of the top strongman Deadlifts and Squats, at 970 pounds and 956 pounds respectively. Licis is leading Group 4 at 25.5 points total. Somehow he's ranked fourth overall, but has the most points of any competitor. World's Strongest Man odds in 2019 had him as a +350. 
Licis Competitions History
Licis placed in the 2016-2018 WSM tournaments. He's fantastic at choosing which competitions he enters, winning first in eight of the nineteen tournaments he's entered since 2015. He's won the Arnold Pro 2018-2020 and the Rogue Invitational 2021. 
Licis is a shoe-in for top three, and World's Strongest Man betting odds should reflect that, despite Licis low fame. Licis is a good value to bet ratio because many bettors don't know who he is. It should be no surprise that the last three years' winners are rallying for first place. 
World's Strongest Man 2018 Halfjor Bjornsson (Thor) 
Bjornsson is likely the most famous strongman, known for his time on Game of Thrones as The Mountain. Thor has switched to boxing since his last strongman win in 2018, seeing a third place podium in 2019. He placed first at his last competition, the Arnold Strongman Classic in 2020. As a boxer, he recently defeated fellow strongman Eddie Hall, the 2017 WSM winner. Thor has many claims to fame in the Strongman world, but his five step carry of a 1433 pound log broke a thousand year old record, essentially making Thor a living legend. 
Thor's Strongman Competition History
Thor is one of the most decorated athletes from his intensity of competition. He's won Iceland's Strongest Man five times, and has been active in competition since placing 3rd in WSM in 2012. The 34 year old has placed at World Strongest Man eight times. Thor is retired from Strongman to pursue other sports and focus on healthy living.  
World's Strongest Man 2017 Eddie Hall 
Eddie Hall has a spectacular 1102 pound deadlift and 661 pound bench press. His eleven year professional Strongman career has come to an end, citing health concerns as the reason for walking away from the sport. 
Hall's Strongman Competition History
Hall Won UK's Strongest Man for six years in a row and placed four times at WSM, as well as qualifying twice. Hall is yet another example of the trajectory of most Strongman champions: multiple wins inside their own country and several WSM podium performances followed by a single win 
World's Strongest Man 2016, 2015, 2013, 2011 Brian Shaw 
Brian Shaw is still active, but it's unlikely he'll win this weekend. Brian has been qualifying since 2008, and is the most decorated active competitor in terms of total strongman podium showings. At 5'11'', he's compact in comparison to other modern Strongman champs, Shaw's all time records were mostly set in 2017 or prior, however he has moments of championship material. Last year he broke the Keg Toss world record at 7.75 meters. 
This year, Shaw is in seventh place with seventeen points. He may be conserving his energy for the remaining events. 
World's Strongest Man Betting Odds had Shaw as the favorite overall as recently as 2019, and Shaw placed second in 2021, so don't count out Strongman's reigning champion and all time placer.
World's Strongest Man Odds 
There are currently no strongman odds. Here's The Sports Geek's handicap odds, taking the top ten competitors for this coming weekend and our estimated odds for each competitor. 
We'll do a quick justification of our top picks. 
Competitor and Ranking 
Money Line Odds 
#1 Tom Stoltman
-100
#2 Mitchell Hooper 
+110
#3 Oleksii Novikov 
+150
#4 Martins Licis 
+110
#5 Luke Stoltman 
+200
#6 Garbriel Rheaume 
+400
#7 Brian Shaw 
+600
#8 Trey Mitchell 
+600
#9 Maxime Boudreault 
+800
#10 Eythor Ingolfsson Melsted 
+1000
Take a look at your official #WSM2022 Finalists 💪 pic.twitter.com/0iCOt4eKvK
— SBD World's Strongest Man (@WorldsStrongest) May 27, 2022
You can't count anyone out in this group of elite athletes.
PLACE YOUR BETS NOW!
World's Strongest Man Top Betting Picks
If Stoltman did win, he'd be the first man since Brian Shaw to win two years in a row. He would join Savickas, Pudzianowski, and Magnus Magnusson- the short list of men to win two years in a row in modern WSM tournaments since international competition was introduced. 
Stoltman looked great in the qualifying rounds, and through the weekend he'll be our top betting pick at -100. 
Our picks for second and third place are Licis followed by Luke Stoltman. 
World's Strongest Man Runner Up Picks
Licis should come up short given his age and conditioning. Many of the new strongman events are focused on muscular endurance, something Licis has struggled with in the past. 
Hooper has failed to podium in the past, and no competitor has ever jumped from qualifier to 1st place in a single year. Our World's Strongest Man odds have him below Licis for this reason. 
Novikov has struggled with the Ukrainian conflict and simultaneous military service. His showings in late 2021 and early 2022 were lackluster and the efforts outside of strongman should affect him as a betting pick. 
PLACE YOUR BETS NOW!
World's Strongest Man Upset Betting Picks
Our top upset pick is Brian Shaw. As the former champion, he understands the pacing of the event, and a pick for Shaw would only mean that he has a clear plan of how to pace himself in each event to achieve the most points. The finals are worth far more than the qualifying days, essentially 2:1 overall. If Shaw shows up and crushes these events, we could see an incredible comeback. If you're up for a longshot, the World's Strongest Man odds should give a good return on Shaw.
Bovada for World's Strongest Man 2022 Odds
Check in with Bovada and our other top online sports books for World's Strongest Man odds through the weekend. Bovada currently offers deposit matching at 50% up to $250.